Movie Rob and I are continuing our journey through potential Oscar contenders with this one Legend.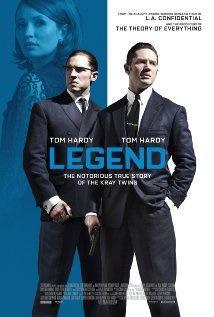 Director: Brian Helgeland
Writer: Brian Helgeland (Screenplay) John Pearson (Book)
Starring: Tom Hardy, Emily Browning, Paul Bettany, Taron Egerton, Christopher Eccleston, David Thewlis, Colin Morgan, Paul Anderson
Plot: The film tells the story of the identical twin gangsters Reggie and Ronnie Kray, two of the most notorious criminals in British history, and their organised crime empire in the East End of London during the 1960s.
There may be spoilers the rest of the review
Verdict: Great Gangster Biographical Picture
Story: Legend starts as we meet Reggie Kray (Hardy) the calm polite of the twins as he goes about his everyday routine being followed by detective Nipper Read (Eccleston). We also meet Ronald Kray (Hardy) who upon his time in jail he ends up in mental home after being declared insane showing the difference between the two.
We get to see the Kray twins start off as just men running the East end to rise up to become the most notorious gangsters in London as well as being untouchable within the City, but what rises always falls all told from the love of Reggie, Frances (Browning).
Legend gives us a look at two of the most famous gangster that ruled London in the 1960-70s that show how the rise of power became too much for the twins. Their different styles really are what makes this interesting see how one being calm and the other on edge shows that the two complement each other nicely. When it comes to the gangster side of the story I do think this will come off slightly short for the fans because we learn more about the men than what they did. We have enough different versions of this story following these characters and this is the only one I saw so I can't judge how well this stands up against others.
Actor Review
Tom Hardy: Ronald and Reginald Kray, Ronald is the psychopathic brother that wants to be a real gangster, Reggie is the calm business like side of the twins who wants to rule London but follows the calmer approach. They can both handle themselves in fights and have very different interests in life but they both are part of the most notorious gangsters London has ever seen. Tom is brilliant in this role playing both these brothers.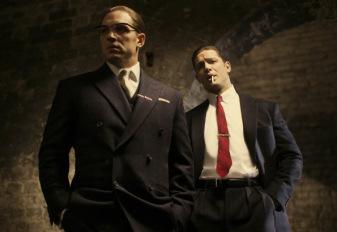 Emily Browning: Frances Shea is the love interest of Reggie Kray she is from a normal family and is the sister of his driver. She helps keep him from becoming like his brother but will not stay with him if he keeps returning to jail. Emily is good in this role playing the narrator to the story.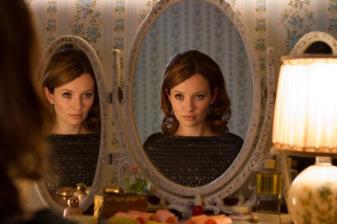 David Thewlis: Leslie Payne is the public relations man for the Kray's while Reggie picks him Ronny doesn't get along with his ways of doing things. David is good in this supporting role.
Taron Egerton: Teddy Smith is one of Ronny's boys that also is his love interest, he is happy to get his hands dirty when it comes to doing the dirty work for Ronny. Taron is great in this supporting role showing he can play two different roles after his performance in Kingsman.
Support Cast:  Legend has a great supporting cast that all help show the storyline of the brothers.
Director Review: Brian Helgeland – Brian gives us a good look at two iconic men in British history.
Biographical: Legend shows us two iconic men in British gangster history very well.
Crime: Legend brings us into the criminal underworld of the Kray Twins.
Settings: Legend recreates the settings to show us London for the same time period.  
Suggestion: Legend is one for all the gangster to enjoy without being too graphic. (Gangster Fans Watch)
Best Part: Hardy is brilliant.
Worst Part: We don't see enough of what the two get up to in the crime world.
Believability:  Based on the real criminal brothers.
Chances of Tears: No
Chances of Sequel: No
Post Credits Scene: No
Oscar Chances: Not likely but could have an outside shot.
Runtime: 2 Hour 11 Minutes
Tagline: Power. Fear. Family.
Trivia: Tom Hardy actually brought his wife to the film premiere as his date. They both also brought their dog.
Overall: Gangster film that really ends up showing two men in a positive light rather than the true criminals they really were.
Rating