Anthony's Restaurant Rating:
92/100 X
Welcoming:8/10 Menu Choices: 10/10 Food Presentation: 10/10
Food Temperature: 10/10 Food Taste: 19/20 Service: 8/10
Ambiance/Music: 9/10 Architecture/Interior: 9/10 Air Quality: 9/10
Total: 92/100
Considered in the top three best Japanese restaurants in Lebanon, Osaka has been on my to do list for a long time now. Last visited in March of 2012, everything has changed for the better… Today's lunch was exceptional on all levels.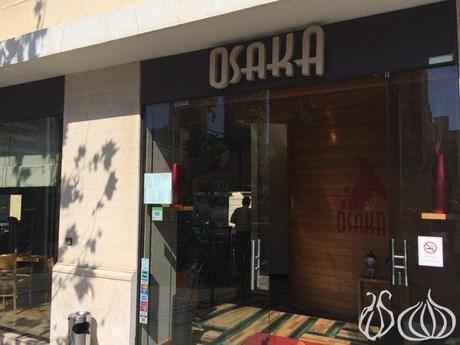 We arrived for a late lunch, around 2:30 PM and Osaka was busy, there was a large party on a number of tables who seemed to be having a good time. Choosing a corner as usual, I grabbed my phone and started taking some notes. The first impression I had were the high prices … but if the price scared me, the taste shut me up. Osaka Sushi Lounge, situated in the Kantari area of Beirut, at the entrance of Hamra Street, is one of the top five sushi restaurants in town. Osaka offers unequivocally the widest selection of sushi in Beirut. When it comes to quality sushi, freshness and taste, you are surely guaranteed an unforgettable dinning experience.
The architectural details:
The place is made up of a main dining space and another smaller one next to the entrance
Wood and black granite stones cover the floor
The space is filled with square, wooden tables surrounded by leather-covered chairs
The main item is the bar that's situated in the middle of the restaurant where the sushi is meticulously rolled
Brown lanterns hang from the ceiling, lighting every table individually
The ambiance is simple with a fresh wood feel and many pieces of artwork decorating the space. Grey wallpaper covers some of the walls
Japanese writing on all the windows give the restaurant a more intimate ambiance, while light brown curtains artfully shade the interior
Red paintings hang on the walls
The ceiling is decorated with wood panels eliminating all chance of echoes
To the right, facing the bar, is the cashier and a wall covered in wood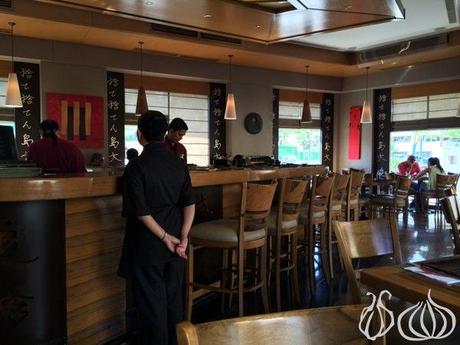 The menu has been changed since my last review. Following one of my recommendations the menu is printed on a carton:
Appetizers
Salads
Tempura
Soups and Ramen
Sashimi
Sushi
Gunkan
Temaki
Futo Maki
Hoso Maki
Ura Maki
Boats and Special Plates
Main Courses
Teriyaki
Side Dishes
Desserts
We ordered:
Spicy Crispy Salmon Salad 24,000L.L: Salmon, special sauce and tempura flakes. A mountain of salmon covered with a generous mix of crisps mixed in mayonnaise and their special sauce is served on a wooden stand. A subtle, fine spiciness embracing a premium salmon makes you drule for a very tasty plate. A great first impression that put a smile on my face.
Salmon Tataki 19,000L.L: Salmon, lemon, garlic, spring onions, and togarashi. That's a majestic plate: Five slices of raw salmon, lightly cooked in their lemon juice. Served warm and tender like butter, they are decorated with garlic slices and lemon cubes while the spices add a hint of enjoyment. I pushed the garlic away and enjoyed a fine innovation, great for its simplicity. The textures, the aromas, the feel under the palate are all excellent.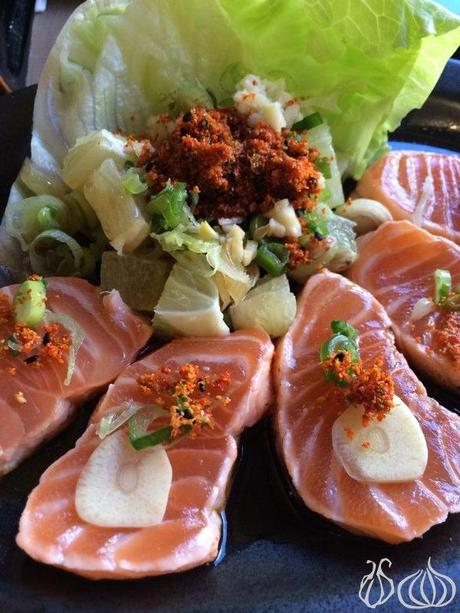 Salmon Skin Kawa Temaki 13,000L.L: Salmon skin with special sauce. Salmon skin temaki can become my index rating for Japanese restaurants because I order it everywhere. Two main criteria are to be considered: The quality and freshness of the nori and the dryness and mix of the salmon skin. Osaka's is excellent, even superb. A super fresh nori is filled with a special mix of salmon skin that's lightly crunchy while a subtle sauce adds the flavor, which I really enjoyed. It came with a small portion of rice, that was right size.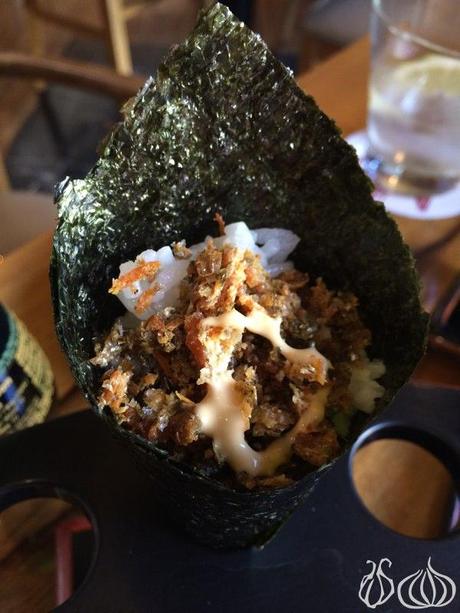 Orange Blossom Maki 20,000L.L: Salmon, avocado, crab, and mango. The mango, the quality of the rice, the juices, the finesse… simply extravagant. I'll come back again just to have this dish again. Just look at it, beautifully rolled and meticulously presented. Every bite is enjoyable, as if it was a jewel. I was honestly amazed.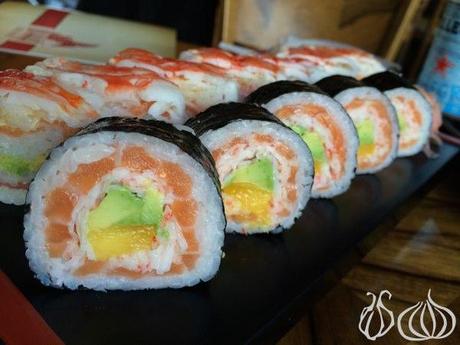 Dynamite 22,000L.L: Salmon, tuna, Osaka special sauce, cucumber, eel, crab and sesame seeds. That was a good one.
Osaka Box Club 24,000L.L: Shrimp, tuna, salmon, avocado, and special sauce. One layer on top of the other, this is not a rolled maki but more like a crab cake. Thanks to the layers on top of each other, each bite looks like a piece of art created in Pantone colors. Juicy and tasty, I'll simply say it was impeccable. No soy was needed, but a warm concentration of this cake's juices helped us enjoy this unique innovation. What's awesome is that every layer is felt distinctively and no flavor covers on its neighbor. I simply loved it.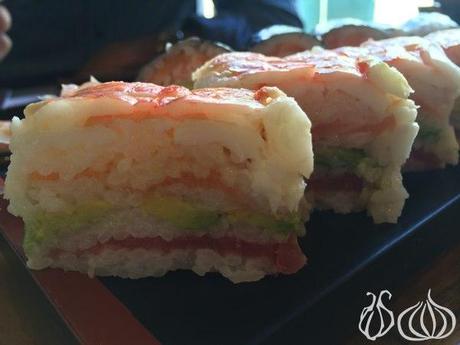 Dancing Eel 36,000L.L: Eel, crab, avocado, cucumber, sesame seeds, and teriyaki sauce. This roll will cost you 6,000L.L per piece and believe me, it's worth every penny. Warmth, enjoyable bitterness, flavors, sweetness, and, to top it all, the sesame seeds give it a touch of finesse. Large pieces covered with thick layers of eel that melt under your teeth in an enjoyable carnival of flavors.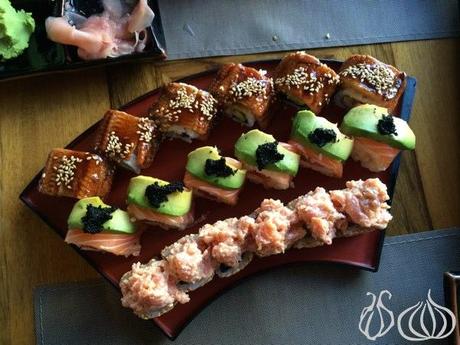 Naked Roll 20,000L.L: Shrimp, tuna, crab, salmon, avocado, special sauce, and black Tobiko. A fresh piece, full of taste. That's a simple one, yet very good.
Sea Scallop Sashimi 20,000L.L: Three pieces for 20,000 Liras, but I think it's worth it. So fresh and so good, the quality is impeccable.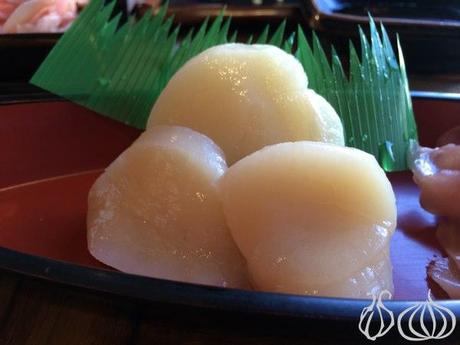 I was expecting to enjoy Osaka, but not to leave amazed. A place some have forgotten over the years is back, and back with a new menu and a new luxurious approach on sushi. No sauces and no sophistication, but flavors are trapped in every piece. I've had enough of those plates decorated with lines of sauce: in here, the rolls are simple and clear, without any need to sell you a design; the taste says it all.
The things I loved:
I liked the thickness and quality of the ginger
The presentation of the plates is so simple and so luxurious
The avocado deposited on the rolls gives it a unique touch of finesse
The presentation of the pieces makes them look like pieces of art
The quality of the ingredients is felt in every bite
The rice is excellent
The Ice Cream, Snowball Maki:
Chocolate vermicelli, six ice cream squares, a chocolate dip on two, three slices of orange, nuts and chocolate sauce, and two slices of lychee. Too sweet and doesn't have anything to do with Japanese cuisine or maki. Disappointing for a dessert after what had gone before. I'd definitely use something with less sugar, and add a different texture. Why is it called Maki anyway?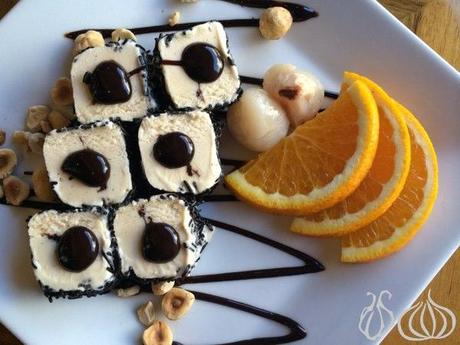 What I didn't like:
"Special sauce"? What is this special sauce found on almost all orders? Do they want everything to taste the same? People do have allergies and have the right to know what's in your special sauce!
Osaka's experience was unique, Japanese food at its finest. Nestled in the high-end category of fine Japanese restaurants, Osaka is, in my opinion, one of the top three Japanese restaurants in Lebanon. A must try for sure.
























Pages  [
1
]  [ 2 ]  [ 3 ]