These are where I stayed in in Osaka. In 2015, an airbnb apartment. In 2016, economy hotels. All three are near subway stations.
Osaka Airbnb Near Bentencho Station
Minato-ku, Osaka City
Nearest station: 700 meters from Bentencho Station (JR Loop Line and Subway Chuo Line)
My trip in November 2015 was with three friends and Osaka was our homebase for the last two nights in Japan. We stayed in an Airbnb apartment at Minato Ward, near Bentencho Station. Bentencho Station has no elevators and we had to climb up and down stairs lugging our heavy bags.
The apartment, an 8-minute walk from the station, was easy to find (clear directions were given upon booking). After going up and down the stairs in the station with our heavy bags, we were very happy to find that we didn't have to climb more stairs to get to the apartment: it was on the ground floor of a narrow building. (Right next door is an izakaya; a hundred meters away is a 7Eleven.)
The apartment was very clean and well equipped. Everything you'd need in your own house: stove, refrigerator, microwave, cooking and dining utensils, dining table, TV, washing machine, hangers, towels, soap, shampoo, air conditioner/heater, and WiFi (portable). We had futons for beds—when put away the small apartment became a spacious living room with a low table and pillows. The toilet and bath were separate which, for a group of four, was a plus.
For a little over 15,000 yen for two nights (minimum stay) for four persons, this apartment was a steal!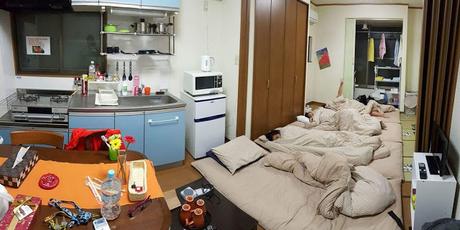 Please excuse our mess
Hotel Raizan
1-3-3 Nishinari-ku, Taishi, Osaka
Nearest station: 100 meters from Dobutsuen-mae Subway Station (Subway Midosuji Line and Subway Sakaisuji Line)
Other nearby station: 450 meters from Shin-Imamiya Station (Nankai Airport Line, Nankai Main Line, Nankai Koya Line, JR Osaka Loop Line, JR Yamatoji Line) and 200 meters from Shin-Imamiya-Ekimae Station (Hankai Tramway)
I stayed in Hotel Raizan in November 2016. Since my flight arrives at night and I was to travel to Mt Koya in the prefecture of Wakamaya early the next morning, I picked a place where I didn't have to make too many transfers going there and going to the next day's destination. The areas near Namba Station and Shin-Imamiya Station would be perfect: the Nankai Airport Line and the Nankai Koya Line stops in both stations—no transfer need to/from airport and to/from Koya!
A friend of mine who had lived in Japan for eight years and had traveled to Osaka suggested business hotels under the Chuo Group for inexpensive but clean accommodations. There were five near Shin-Imamiya Station. My first choice was to book Hotel Chuo, but it was full. I picked Hotel Raizan instead.
Hotel Raizan is a simple more-than-10-year-old hotel. In the ground floor are the reception area, kitchen, dining area, luggage storage, public bath, shower rooms, laundry room. Rooms are in the upper floors (there is also a Women Only floor). All upper floors have shared toilets, but no shower rooms. Everyone must go to the ground floor for the shower rooms.
I stayed in a Western-style single room (there are also Japanese-style single rooms). The room had a bed, air conditioner/heater, desk and chair, small TV, small refrigerator. Bath towel, face towel, toothbrush, robe, and slippers were provided. It was clean but very small. If you have a large luggage and will need to rummage through it often, I suggest booking the Japanese-style single room where you can fold and keep your futon to one side and will instantly have a bigger area.
The room price does not include breakfast, but there are some food items for sale at the lobby (cereal, milk, noodles). There is free water, coffee, and tea in the kitchen. There are also convenience stores nearby.
They have a luggage storage area, but it is in an open space (if you are uncomfortable with this arrangement, you can leave your bags at the coin lockers in Shin-Imamiya Station). They were kind enough to let me leave my bag overnight even if I wasn't going to check in again.
Bonus! Hotel Raizan sells discounted Nankai Tickets to Kansai Airport.
Price:
Single rooms start at 2400 yen.
Twin rooms start at 4200 yen. (Some twin rooms can accommodate three to four persons.)
Book Hotel Raizan South through booking.com
Book Hotel Raizan North through booking.com
* Hotel Raizan South and Hotel Raizan North are one and the same; North/South just means the wing the room is on.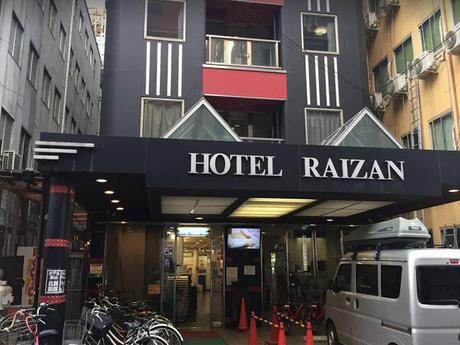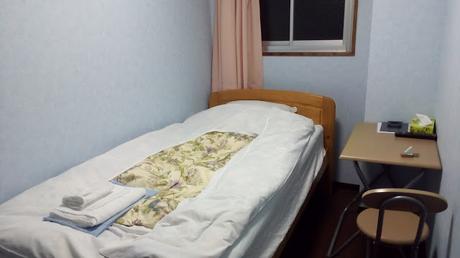 Western-style single room
Hotel Mikado
1-2-11 Nishinari-ku, Taishi, Osaka
+85 66 647 1356
Nearest station: 150 meters from Dobutsuen-mae Subway Station (Subway Midosuji Line and Subway Sakaisuji Line)
Other nearby station: 500 meters from Shin-Imamiya Station (Nankai Main Line, Nankai Koya Line, JR Osaka Loop Line, JR Yamatoji Line) and 250 meters from Shin-Imamiya-Ekimae Station (Hankai Tramway)
The last day of my Kansai Trip in 2016 was spent in Osaka. I picked the same location as when I arrived: near Shin-Imamiya Station. I decided to stay in another Chuo Group hotel: Hotel Mikado, just 50 meters from Hotel Raizan.
Hotel Mikado is set up in the same way as Hotel Raizan. All rooms are in upper floors with only shared toilets. All shower rooms and public bath, along with the laundry area, kitchen, and dining rooms are on the ground floor. Hotel Mikado's rooms have the same amenities as Hotel Raizan's. They also have a Women Only floor. What you can expect in Raizan, you can expect in Mikado too. Even the discounted Nankai tickets to Kansai Airport.
And like Hotel Raizan, Hotel Mikado will also keep your luggage for you. But this time they keep it in a closed area near the reception.
Price:
Single rooms start at 2400 yen.
Twin rooms start at 4400 yen.
Book Hotel Mikado through booking.com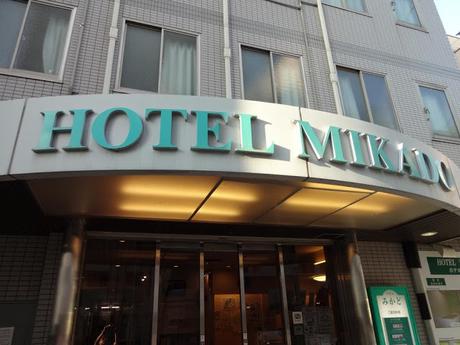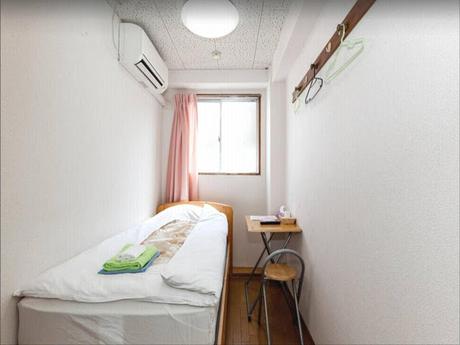 Western-style single room
JapanKnow Before You Go
Single Entry Tourist Visa for Japan
Roam Around Japan with a Swagger


From Tokyo to Hiroshima (2015)


10D/9N | Tokyo, Toyama, Kyoto, Hyogo, Osaka, Hiroshima
Tokyo Accommodation: Shinjuku Airbnb
Tokyo: Memorable Tokyo Eats
Tokyo: Odaiba
Tokyo: Doing Touristy Things in Tokyo
Toyama: A Hamlet Called Ainokura
Kyoto Accommodation: K's House Hostel Kyoto
Kyoto, Japanecdote: Wisdom from the Road: On exits #2
Kyoto: By the Thousands (Kyoto Imperial Palace, Sanjusangendo, Fushimi Inari Taisha, Arashiyama Bamboo Grove)
Kyoto, Japanecdote: Turning Japanese
Kyoto: Braving the Crowds at these UNESCO World Heritage Sites in Kyoto (Kiyomizu-dera, Nijo Castle, Kinkakuji)
Hyogo, Japanecdote: If Only I Could Speak Nihongo
Hyogo: Day Trip to Himeji: Himeji Castle and Shoshazan Engyoji Temple
Hyogo, Japanecdote: Am I an Alien?
Hiroshima: Strolling and Snacking in Miyajima
Hiroshima: Remembering the Past in Hiroshima
Osaka, Japanecdote: How to Lose Friends
Osaka Accommodation: Osaka Airbnb (you're here!)


Concentrate on Kansai (2016)


Kyoto Accommodations: Guesthouse Wind Villa, Shiori Yado
Osaka Accommodations: Hotel Raizan, Hotel Mikado (you're here!)