A fresh and delicious orzo pasta salad with orzo, cherry tomatoes, mint and feta cheese tossed in a tangy red wine vinaigrette. Similar to a greek salad, this orzo salad is refreshing and perfect for a picnic or potluck.
There's nothing quite like a refreshing pasta salad for potlucks, picnics, or just for lunch. This Healthy Greek Chicken Pasta Salad Recipe and Kale Chicken Pasta Salad are both great, as is this orzo salad!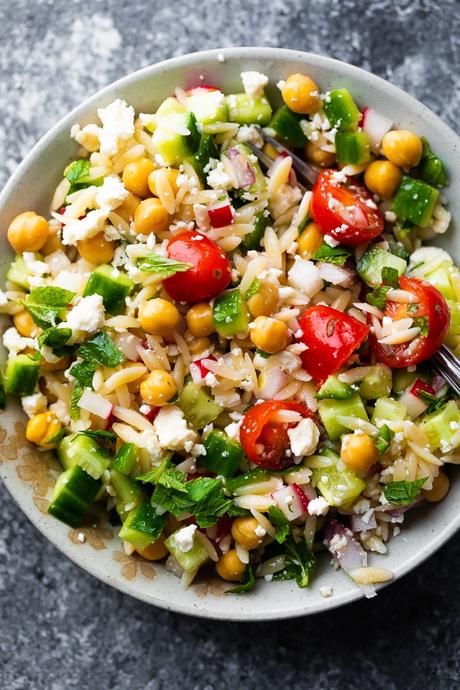 You'll love my fresh twist on the old macaroni pasta salad. You know the one…dripping in creamy dressing, with the odd vegetable floating around in there. This is NOT that pasta salad.
THIS orzo salad is crunchy, bold, salty, herby and perfectly refreshing.
Reasons to ♡ this orzo pasta salad with mint + feta
it's loaded with fresh and healthy veggies and easy to customize based on what you have on hand
it's crunchy and refreshing
it's perfect for picnics or potlucks
Don't forget to pin this post to save it for later!
Continue reading:Orzo Pasta Salad with Mint + Feta