Year 1938 – If you blend H.G. Wells, Orson Welles and Halloween, one shall keep his eyes peeled and that's exactly what's happened back in that cold october day.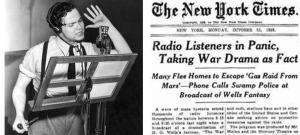 American Director and Producer Orson Welles' infamous broadcast "War of the Worlds" that put the American nation in panic, marked by various celebrations. While his October 1938 radio adaptation of the "War of the Worlds" by H.G. Wells, brought him fame overnight, panic was reportedly spread especially on the northern states of the country. The listeners who failed to hear the beginning of the broadcast were immensely confused with the combination of the news bulletin form of the adaptation with the between-breaks dial spinning habits of listeners from the rival and more popular Bergen/McCarthy program.
The first 40 minutes (62 minute broadcast) were presented as a series of simulated news bulletins, which warned many listeners that an actual alien incursion by Martians to Grover's Mill, New Jersey was currently in progress . Adding to the program's realism, Welles' show Mercury Theatre on the Air was a sustaining one that ran without commercial breaks, that's why many New Yorkers even thought of leaving their homes for safer refuges.
As the particular radio episode secured Welles' fame as a dramatist, many people believed the events described in the program were real. Another reason why most followers got muddled is that some listeners heard only a portion of the broadcast and, in the atmosphere of tension and anxiety prior to World War II took it to be an actual news broadcast. Newspapers reported that panic arose, with people across the Northeastern United States and Canada fleeing their homes and some people called CBS, newspapers or the police in confusion over the realism of the news bulletins.
Many Happy Returns "Martians Attack"!