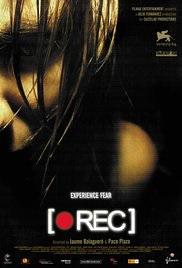 Director: Jaume Balaguero, Paco Plaza
Writer: Jaume Balaguero, Paco Plaza, Luiso Berdejo (Screenplay)
Starring: Manuela Velasco, Ferran Terraza, Jorge-Yamam Serrano, Pablo Rosso, David Vert
Plot: A television reporter and cameraman follow emergency workers into a dark apartment building and are quickly locked inside with something terrifying.
There may be spoilers the rest of the review
Verdict: Great Atmospheric Horror
Story: [Rec] starts as reporter Angela Vidal (Velasco) is cover the local firefighter department for her latest report on While You're Sleeping. The first incident the team gets called to is a domestic disturbance case inside an apartment building.
What seems like a simple and even boring story to cover quickly turns into a battle of life and death when the woman causing the disturbance attacks the police officer sent to help. The make the matters worse the people find themselves trapped inside the building which has been locked down by the authorities refusing to let anybody out. When the infection continues to spread, Angela must find a way to survive the terror inside the building and learn the truth about the source of the virus.
Thoughts on [Rec]
Characters/Performance – Angela is the reporter that is covering a simple story but finds herself fighting for her life but wanting to report every single part of the story for her audience. The rest of the characters are cops, firefighters, residents of the apartment and the cameraman.
Performance wise, Velasco is good as the main screen attraction for this film, with everyone else all doing a great job with their roles through the film.

Story – The story is simple to follow, people get trapped in a building as a virus is spreading through the people inside making them killing machines and the ones not infected need to find a way to survive. This all works and the added found footage keeps us believe this could be a breaking story unfolding.
Horror/Mystery – The horror is very good with each corner potentially having a threat as well as each character not knowing what is happening which I think adds to any horror element.
Settings – The whole film is set within the apartment complex which adds to the tension and horror unfolding through the film.
Special Effects – The special effects all great to with most being practical effects when it comes to the gore required.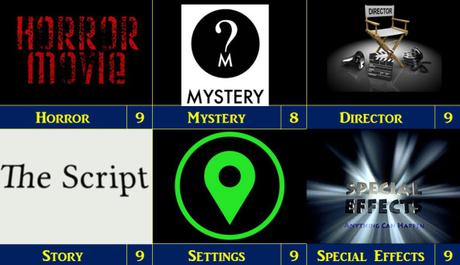 Final Thoughts – This is a great atmospheric horror that is short, sweet and hits all the marks for found footage horror needs.
Overall: One for all the horror fans out there.
Rating

Advertisements
&b; &b;