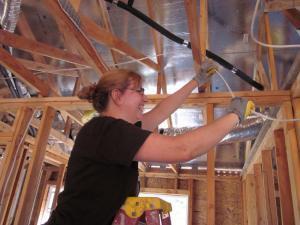 There I am, stringing wire in a Habitat for Humanity house.
Habitat for Humanity is a nonprofit organization that I have actually worked for. I helped to build a house in 2011 through their Women's Build program. They are a great organization to be involved with.  You can see me playing amateur electrician in the image to the right. If you're looking for volunteer work that helps you burn a ton of calories while helping people who really need it, going out on a build is a great thing to do!
The organization was founded in 1975 by Millard Fuller. He was a self-made millionaire by the time he reached 29, and he had many difficulties. When he came out of it, he and his wife had a new commitment to living a life in accordance with virtue. They sold all of their possessions and gave the money to the poor. After searching for a while, the Fullers became involved in housing assistance, and began building modest houses on a no-interest and no-profit model and continued his housing program. In 1973, Fuller and his wife moved to Africa. Upon his return in 1976, he met with a group of individuals and formed Habitat for Humanity International.
"As a nonprofit, ecumenical Christian ministry that builds with people in need regardless of race or religion, we welcome volunteers and supporters from all backgrounds.

We have more than 1,500 local affiliates in the United States and more than 70 national organizations around the world. Together, we have helped to build or repair more than 800,000 houses and serve more than 4 million people worldwide."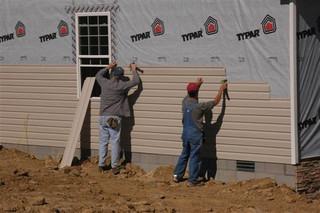 Habitat-for-Humanity-65 (Photo credit: FirstBaptistNashville)
There are three types of action Habitat for Humanity is involved with: Building houses around the world, developing sustainable construction technologies, and revitalizing neighborhoods and communities.
There are several ways you can get involved with Habitat for Humanity.
Find your local Habitat for Humanity and visit their ReStore. You can donate household wares including old cabinets and sinks. If you're looking for new cabinetry, this is a great place to shop.
Volunteer for a build. If you're not up to construction, see what committees you can join. Fundraising, church outreach, finance, family support, and grant writing are common ones. I did this through the Women Build program.
Volunteer for the Brush With Kindness Program. This is the neighborhood restoration project. You can serve on the organizing board, help paint, help landscape, etc.
Work with the youth programs.
Work with the Veteran's Build program. 
Go on a volunteer vacation. What better way is there to see the country or even the world than while doing something to help others?
Join Habitat AmeriCorps for a longer volunteer period.
Become an advocate through Habitat's action center. Sign petitions and write to your representatives to support programs that house the poor.
Partner with Habitat for Humanity through your church, business, or organization.
Attend a Habitat for Humanity event in your area.
Find employment with Habitat for Humanity.
Donate, share news on social media, and subscribe to the newsletter.
Habitat for Humanity is a great organization. Have you been involved with them before? What did you do?