After three weeks of challenges including changing to organic oat milk and coffee, eating one organic meal a day and trying out some organic treats, for the fourth week of Organic September my challenge is to swap my vegetables for the week to organic.
Organically grown produce is linked to higher nutritional values, contains fewer toxins from pesticides, and is grown using methods that are more sustainable and better for the environment; given that vegetables make up the vast majority of what I eat in a week, switching these to organic might be, for me, where I can make the biggest difference.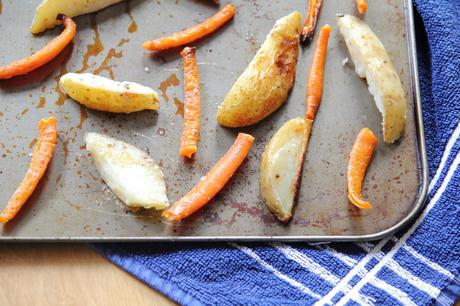 Before getting started, I saw this as the easiest of the challenges but had concerns it might also be the most expensive. Therefore, to stock up on organic vegetables at the start of the week's challenge, I headed to Aldi (recently voted the best supermarket in the UK!) to see what organic veggies they had to offer. Although I regularly shop there, I can't say I've ever paid attention to whether or not they even stock organic vegetables but I was pleasantly surprised to learn that they do.
It was even more of a pleasant surprise to discover just how reasonable their organic veg is; in fact, it's better value than lots of non-organic vegetables are elsewhere! The only downside I noticed was that the choices that have available isn't consistent, so sometimes you might find lots of organic items where as other times it is more limited. Overall though, I'll now be looking out for their organic options and choosing them when possible.
Here's how Aldi's organic vegetables add up:
Organic Potatoes – £1.29
Organic Carrots – 89p
Organic Cauliflower – 89p
Organic Mushrooms – 89p
Organic Garlic – 89p
Organic Broccoli – £1.09
Organic Onions – 89p
Organic Cabbage – 89p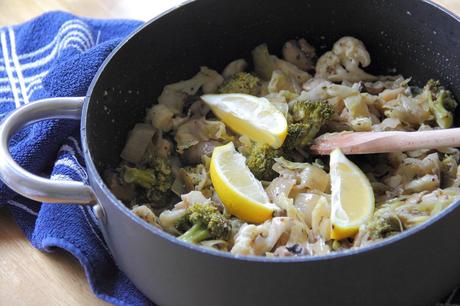 To make the most of my organic vegetables for the week, I cooked up a batch of two different veggie sides to see me through the week. One of them was these roasted potato and carrot wedges – simply sliced and roasted in olive oil, black pepper and rosemary in the oven for around forty minutes. The best part of using organic veggies like this is that there's really no need to peel them if you don't want to.
The second dish I made was these Beer Cooked Vegetables – a hearty dish that works just as well on its own as a stew or as a side dish. It's ridiculously easy to make and could be simplified further still if you wanted to pop it all in the slow cooker!

Beer Cooked Vegetables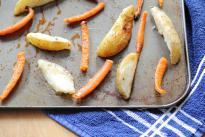 Save
Print
Prep time 10 mins Cook time 30 mins Total time 40 mins   Mixed vegetables cooked in ale with garlic, thyme, lemon and black pepper. Author:
The Tofu Diaries
Recipe type:
Side
Cuisine:
Vegan
Serves:
6
Ingredients
1tsp olive oil
3 white onions, chopped
350g white mushrooms, halved
½ cauliflower, cut into florets
1 broccoli, cut into florets
1 sweetheart cabbage, sliced
Juice of ½ lemon
3 cloves garlic, crushed
½tsp dried thyme
250ml ale
2tsp wholegrain mustard
Black pepper to taste
Method
Place a large saucepan over a medium high heat. Once the pan has warmed, add the olive oil. Heat for a minute before adding the onion, cook the onion for 3-4 minutes, stirring frequently.
Add the mushrooms, cauliflower, broccoli and cabbage to the pan. Sauté for around five minutes, stirring occasionally.
Add the remaining ingredients to the pan, lower the heat slightly, cover and cook for around fifteen minutes, until the vegetables have cooked through and the liquid has mostly evaporated.
Remove the lid and turn up the heat again slightly. Stirring frequently, cook for a couple of minutes until the liquid thickens.
Serve!
3.3.3077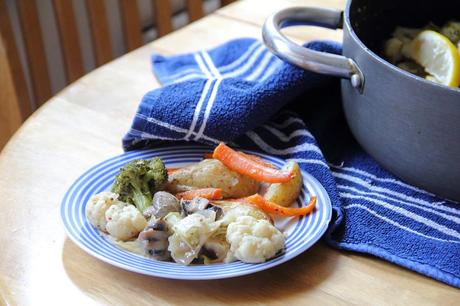 Looking for more vegetable inspiration? Try these vegan side dishes!
This post is in collaboration with Aldi who kindly provided the organic ingredients but all thoughts and recipes are my own!