Title: Oresama Teacher
Genre: Comedy, High School
Publisher: Hakusensha (JP), Viz Media (US)
Story/Artist: Izumi Tsubaki
Serialized in: Hana to Yume
Review copy provided by the publisher
Last summer I, along with many other people, fell in love with the Monthly Girl's Nozaki-kun/Gekkan Shojo Nozaki-kun anime and the bits of the manga I read were equally adorable and fun. I hope that it's going to have a second season but in the meantime I decided to fill the Nozaki-kun shaped hole in my heart by reading some of Izumi Tsubaki's other manga works, many of which are also published in English, and Oresama Teacher came highly recommended from many places and seemed to be an interesting flip on Nozaki-kun. Instead of being a four-panel, shonen-trying-to-be-shojo story this is a regular, shojo manga that is trying it's hardest to be shonen, at this rate I wonder what would happen if Tsubaki tried to write a stereotypical shojo story and if I would even notice the difference.

Our story begins with Mafuyu, a delinquent whose been kicked out of school and going to the only one left that will take her and she reminds me a little bit if you mixed up Chiyo and Seo from Nozaki-kun together. Not character design-wise, these character designs have sharper edges and feel unintentionally less refined than Tsubaki's later work, but she has elements of Chiyo's cuteness mixed with Seo's love of "cool" things and is a true yanki. Her new classmates and teachers show less resmblence to Nozaki-kun however, Mafuyu's classmate Hayasaka reminds me a little bit of Mikorin at his most tsundere moments but Takaomi (her teacher, neighbor, and neighbor from her childhood) looks a bit like an older Nozaki, but doesn't act like him at all. Some of the reoccurring side characters, especially the delinquents, start looking and acting very similar (often resorting unfunny "quirks" to stand out) which is a problem, don't make a large cast if you can't make them all distinct! But the main cast does have a very different dynamic from the Nozaki-kun cast which I was worried about initially. And I was right to be worried since that aside, the first eight volumes I read (it's up to volume eighteen in the US) feel like the work of a less polished writer and one that should have ended a while ago.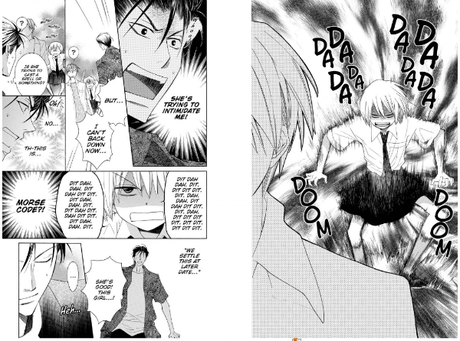 Admittedly this is one of Tsubaki's older series, while it's still going she did start writing it in 2007 and I've heard mixed feelings on her work just before that (
Magic Touch
, also published by Viz). It's a good example of what I refer to as "shojo fatigue" in long running works where the story relies more and more on unconnected story arcs and gags than trying to advance the initial premise of the story (usually a romance, see 
Ouran High School Host Club
for another example) as opposed to shonen manga which tend to spiral into endless series of fights if they go on too long.  Each volume is more or less it's own arc, and your best bet to read the series might be to look at the summaries for each volume and then pick and choose whatever looks the most interesting. There is a little bit of continuity across volumes (such as Mafuyu gradually becoming closer friends with Hayasaka and admitting her feelings for Takaomi) so read whatever volumes you choose in order but in the end it won't throw you off much. The story has already done a "it's a new school year but no one is moving up a level!" "what?!" trope which in a way sums up why the series isn't working for me. To me it means that the author isn't skilled enough to be able to balance actual change (or at least a changing cast) in the story along with their established dynamics or too lazy to do the work and I don't want to read anything "lazy". I think Tsubaki made a smart move in making
Nozaki-kun
a four-panel comic instead since the audience doesn't expect any continuity or change in that subgenre (although it does happen,
Azumanga Diaoh
did it!) but here it just feels like she isn't using her strengths very well.
I'm sure other fans will enjoy this series more than I did, I tend to gravitate towards more tightly paced and plotted series, and there's certainly enough of Tsubaki's other works to keep a reader entertained for a while but I think I'm just going to wait for Yen Press's Nozaki-kun editions before I dive back into her works.