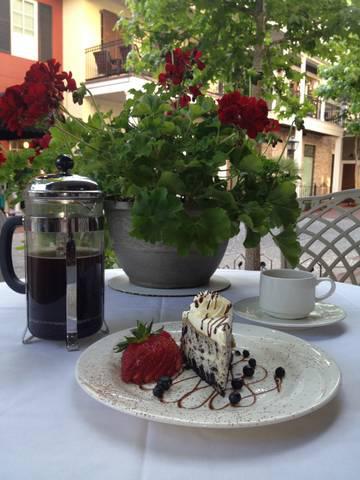 Marlin Grill's Cheesecake
Chef McAnulla of Marlin Grill located in The Village of Baytowne Wharf,  is known is known for his New Zealand Spring Rack of Lamb. He is also known for serving 28-day dry-aged beef which he cooks on the restaurants wood burning grill.
But, have you tried his cheesecake? Below is the recipe which was shared with 30A EATS. It is made with chocolate creme filled sandwich cookies, but I used Oreo's.
Age has not withered the charm of this cookie, and this year commemorates its 100th birthday. Give this cheesecake a try and feel like a kid again!
Marlin Grill's Crème Filled Chocolate Sandwich Cookie Cheesecake
Ingredients: 
1 ½ cups crème filled chocolate sandwich cookies (like Oreo's) crushed
3 Tbsp unsalted butter melted
32 ounces cream cheese
1 cup granulated sugar
2 Tbsp flour
1 tsp vanilla
4 eggs
 Preparation:
Preheat oven to 325 degrees. Mix crushed cookies with melted butter and press into 9 inch spring form pan. Bake for 10 minutes. Beat cream cheese, granulated sugar, flour and vanilla with mixer until well blended. Add eggs one at a time, mixing on low speed until blended. Pour over crust and bake for 55 minutes or until center is almost set. Run knife around edge of pan and cool before removing rim. Refrigerate 8 hours. Top with fresh whipped cream.