Today as you read this, I will be flying back from Oregon. I did not have internet the entire time, so I will spend tomorrow catching up on things, blogs, news etc! Until then, here is a list of what we did in Oregon -- in a nutshell.
-
Running
: I had a great time exploring the running trails and roads, including a nice loop around the neighborhood as well as running in the Peterson Ridge Trail System. More on this later.
-
Eating
: We went to Costco and Trader Joes and Rays and Food For Less and bought SO MUCH food. I traveled with my friend and her daughter and her mom. You wouldn't think 4 ladies could eat so much, but our fridge was stocked! The good thing about being with ladies? The items mostly included vegetables, fruit, fish and SNACKS! It was my kind of party. 
-
Hiking
: Every day we took a walk around the neighborhood, and some days we hiked to the tops of small mountains in order to see the surrounding mountains. Unfortunately, it was cloudy and the mountains were hiding some days, but we had a few days of clear views and they were spectacular.
- Mountains
: As you may know, the Cascade Range was formed by volcanoes, and it is beautiful! We spent lots of time enjoying the view! (not this one; we were closer to the ground)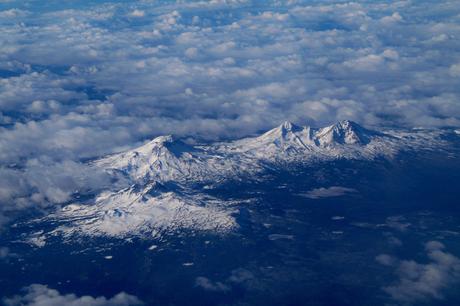 Relaxing: Many a book was read, many a magazine was perused. Many a movie was watched. Many a conversation was had. It was good times.
- Biking: It was about 8 miles RT to town and I had a great time biking along the highway (eeek) to get to town for some fun. "Town" is one main street and 2000 people and reminds me a lot of the "town" I grew up in.
I hope everyone else also had a great week and that you all have a great weekend as well! I can't wait to hear all about what everyone has been up to!! Good luck if you are racing this weekend!
What is your favorite relaxing activity? If you are with a group of ladies only, what does the menu look like?