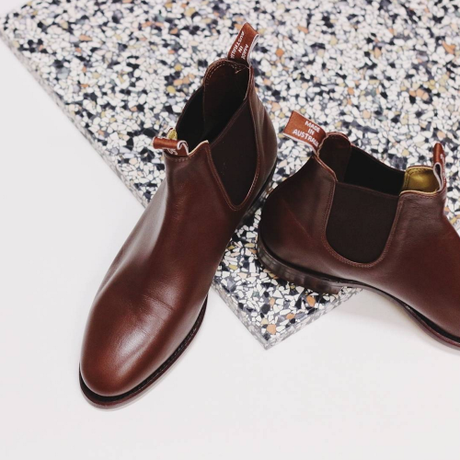 For as long as I've been interested in shoes, I've always favored boots, and one of the first boots I fell in love with were Chelseas. An ankle-length, pull-on boot with elasticized gussets, they were originally invented as an easier-to-wear alternative to button-boots. It wasn't until the 1960s, however, when they really took off. That's when they were picked up by rebellious youths in Chelsea, London (hence the name) and The Beatles (although, technically speaking, The Beatles wore a modified version with Cuban heels). 
My first Chelseas were RM Williams' Gardener. Rounded and clunky, I found them too casual for my wardrobe, so they were replaced a few years later with Edward Green's Newmarkets. I've since found Chelseas to go with almost anything – black ones with slim, charcoal suits for a Modish look, or black jeans and a black leather jacket for something edgier. Brown suede also goes well with denim and field jackets, or even just jeans and a chambray shirt. 
I've liked my Newmarkets so much that I recently decided to revisit RM Williams again – this time picking up a pair of their sleeker Craftsman model in tan suede. They cost a fraction of the price of my Edward Greens, but the chiseled, angular toe box lends a more distinctive look than EG's 202 last (which my Newmarkets are built on). The pull tabs have logos, which is unfortunate, but you don't really see them when they're tucked underneath your pants.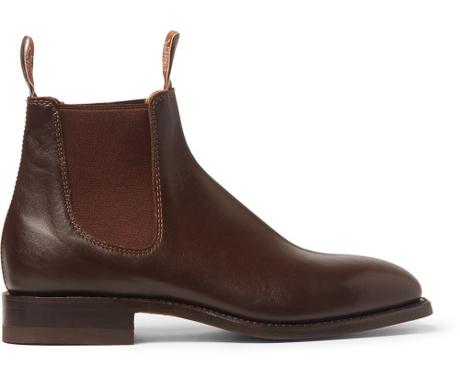 The best thing about RM Williams' boots is that they're made from a single piece of leather. Most Chelseas you'll find on the market have three seams – two under the elastic, where the vamp meets the quarters, then another at the back. This allows the maker to cut smaller pieces of leather from the hide, allowing for more yield (and thus bigger profit margins). A wholecut Chelseas, on the other hand, is more expensive to make, but the seamless sides give the boots a nicer, smoother appearance. 
Among wholecut Chelseas (and there are a few, such as JM Weston's), RM Williams has always been a stand out because of the price. If you order direct from Australia, they run about $300 – even for customized, made-to-order models. Not inexpensive, but a steal when you compare them to what well-made shoes cost nowadays. Even Loake, once considered a budget option, sells their Chelsea for $30 more. 
Unfortunately, it looks like this might soon change. The store I bought from tells me that RM Williams is looking to cut off their small stockists, forcing customers to buy at a higher price point. In the US, ready-to-made boots go for about $500; made-to-order (what RM Williams misleadingly calls bespoke) starts at $800. I imagine these changes are coming from the top brass at LVMH (RM Williams' new parent company), who want to turn an outback, Australian bootmaker with a good heritage story into a global luxury brand. Hard to justify those prices when your smaller distributors are undercutting you.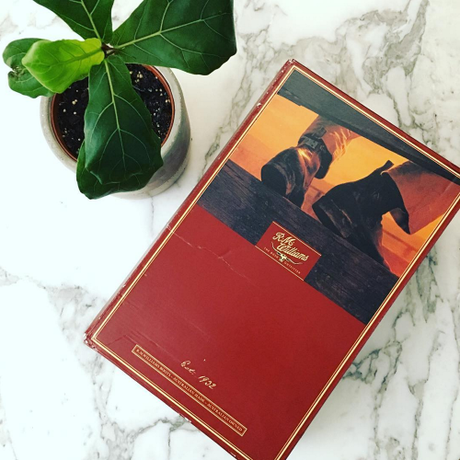 If you're interested in purchasing a pair of RM Williams boots while they're still available for $300, here are my suggestions:
Know Your Size: I measure 9D in US sizing on the Brannock device, but take an 8G in RM Williams' Craftsman. For more sizing information, browse this StyleForum thread. 

Know Your Construction: Most RM Williams boots are Goodyear welted on a single leather sole, but there are other options. Some have screwed leather soles, where the sole is attached with brass screws. These are still easily resole-able, but the lack of a welt allows them to achieve a thinner, sleeker profile. Additionally, there's what RM Williams calls their "Comfort sole," which is made with a composite rubber outsole and Poron insole. The profile is about the same as what you'd get on a single leather sole, but the shoes are more immediately comfortable out-the-box. 

Know Your Leathers: Lots of options here, most of which are covered on RM Williams' bespoke page. The one option I don't see on there is kangaroo, which has a high tensile strength, but wrinkles more than yearling leather. Good for rugged, casual wear; maybe less so if you plan to wear your boots with tailored clothes. I personally like the leather in tan. 
Know Your Options: RM Williams lets you specify other options – the color of the threads, edge staining, tugs, and elasticized gussets. Again, the bespoke page is useful, as is this StyleForum member's scanned guide. 
You can place orders through Nunger or Boots Online in Australia (the second is where I got mine). Shipping adds about $30 to the order, and custom make-ups require about 8-12 weeks to fulfill. Still, a lot less than what you might be facing in the near future.