Orchard Corset sent me two corsets for comparison and review. All opinions are my own.
Orchard Corset Corsets
Happy Monday!
Today I am reviewing two corsets from Orchard Corset. I had originally thought I would share the corsets as they looked under a vintage wiggle dress, but thought it might be easier to see the differences without a garment on top. I hope you find these helpful! Side note, I am not at all a corset expert, and have only just begun to wear corsets. Orchard Corset is a great place to start if you're not sure what size to get and want an affordable way to get into waist training. Definitely do your research before purchasing any corset, and be aware of the proper ways to waist train!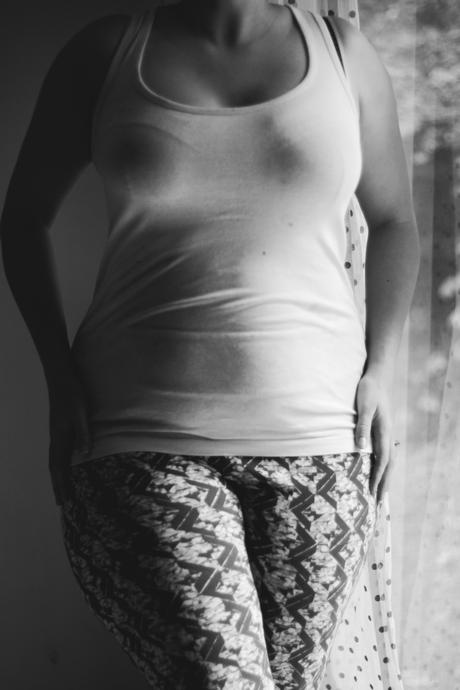 So first off, this is what I look like with no corset on. I apologize for the out of focus image! I was in a rush to get these taken before my daughter woke from her nap.
I measure 40 bust, 33 underbust, 31 waist, and 36 belly, with an 11 inch underbust-to-hip joint space. When I was chatting with Amber from Orchard Corset, she recommended the short corset (worn here) for me, as 11″ is just at the edge between fitting a longline or a short. When you sit down, you don't want your legs to be hitting your corsets! For this reason, I highly recommend chatting with a representative before you get your first corset, as they can help you choose the best size, style, and fabric.
This time around, Amber sent me a regular CS-426 longline as well as a short in the mesh, so that I could compare these two and talk about the differences between them.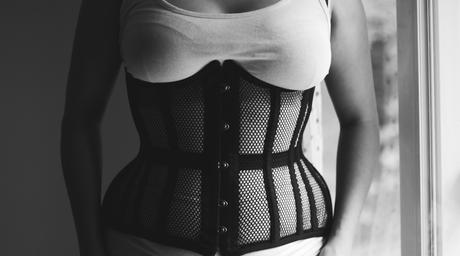 This is the CS-426 longline in mesh. One thing Amber told me was that your corset size number will be 4-6″ smaller than your actual waist measurement. This is to allow, over time, that you can pull it smaller and smaller if you are interested in waist training. And, since mesh is much more flexible than satin, Amber sent me a size down from the satin corset I previously wore.
I find the longline to fit my body better than the short, despite what we had originally thought; as you'll see in a minute, the short doesn't quite come down far enough over my belly (hello, yes, I had a baby and I've got belly fat. 😉 ) so instead of creating a nice long, smooth curve, it sort of squishes all of my belly fat down to bulge out below the corset.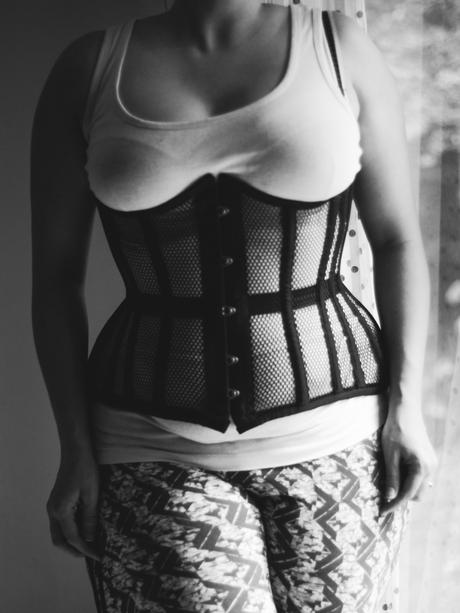 I really love the way the CS-426 mesh fits my body and looks under clothes. I've been wearing it with nearly every outfit I post lately, so if you've noticed that my body looks bangin', that's why. Ha!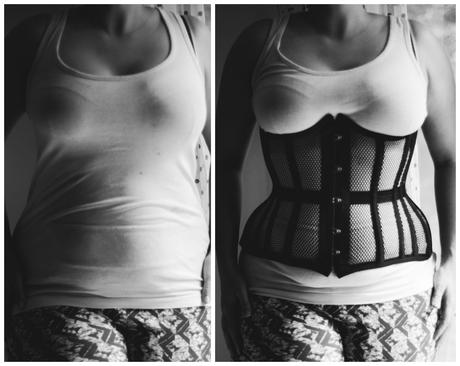 The funny thing is, as I'm still in the beginning stages and don't want to stress my body or the corset, my waist is not actually smaller in any of these photos with a corset on. In fact, it remains exactly the same circumference. However, the corsets really help to lengthen my waist a bit, pushing some of my belly fat down so that it's easier to see I HAVE a waist. As a mom, I love this. I love that it helps my skirts to stay where they should be at my waist, rather than riding up into my boobs like they want to. And it really helps when I'm dressing in vintage, as the way garments from the 40's and 50's are shaped is much more structured and just looks better with the proper base.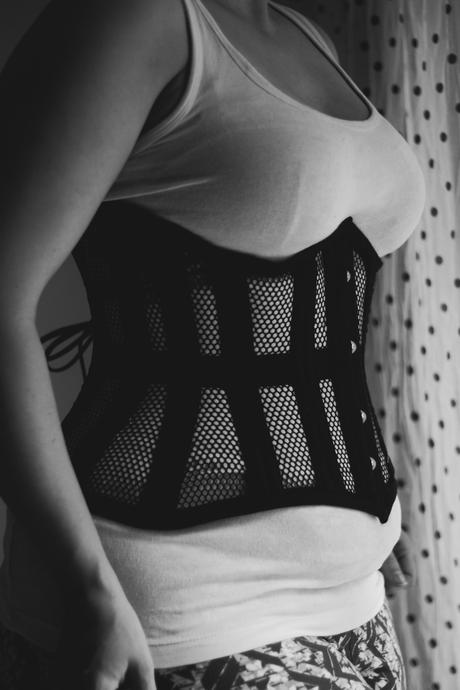 This is the CS-426 short, and as you can see, it doesn't hold my stomach in the way the CS-426 longline does. It still gives a beautifully structured waistline, but I think the short would be much better suited to someone who is short-waisted by way of having a higher natural waist than I do. I am not particularly long waisted, but neither am I short. For an average shape, the longline seems to work best.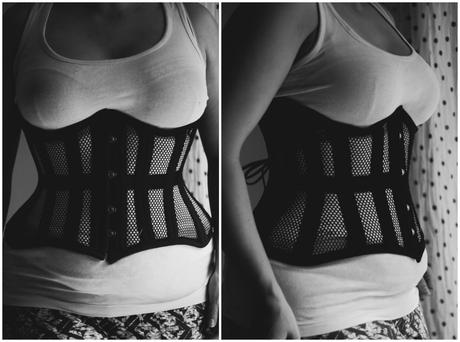 The short feels a bit less flexible than the longline, I assume partly because there is less room to flex. It also tends to push my chest up more, since the waist is a little higher. This can be really useful in dresses where the waistline is a bit more of an empire than hitting at me where my natural waist lies. It would not be a great corset, on me, for a wiggle dress, as you can see my belly fat super clearly. But it's still quite comfortable, and good for certain types of silhouettes!
Contrary to what you might think, the longline is actually easier to sit in. I think because the short is just not quite the perfect shape for me (and it's ALL about the shape YOU need, so don't discount this right away!), my stomach once again is the problem, and when I sit the corset gets pushed up into my ribs, which can be annoying. But, for photoshoots and standing, or for wearing OVER a dress, the short is great! It looks better worn on top than the regular, if you're like me and have hips for days.
Overall, I love both corsets for different things! If you have a high waist, I'd definitely try out a short, but if you're average I'd recommend just a regular. Mesh is really great for comfort and flexibility, while satin looks fantastic beneath clothes. I actually prefer mesh overall, as I have kids and move around a lot, but you get used to wearing a corset and then nothing is impossible!
Except perhaps using the bathroom. That remains a challenge.
If you have questions about either corset or Orchard Corset, please let me know and I'll do my best to answer them (or send you to someone who knows!)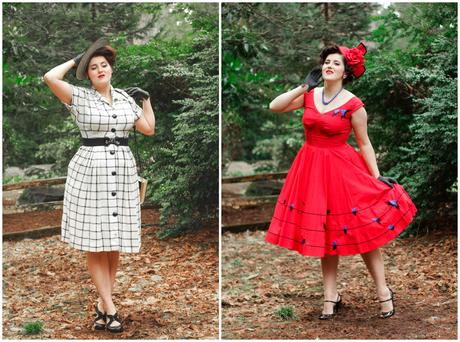 As worn here:
Left, the CS-426 short satin || Right, the CS-426 mesh regular
Save