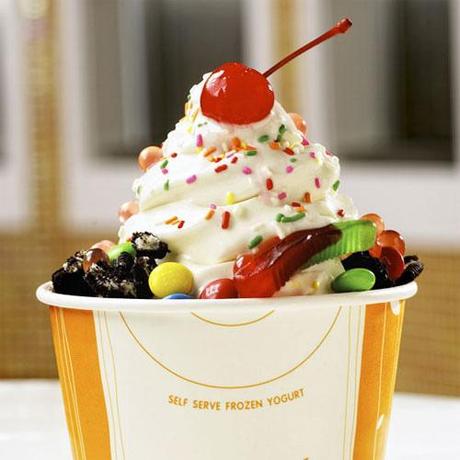 Self-serve Fro-Yo
Though cooler temperatures have descended upon us this weekend, warm and unpredictable Gulf Coast weather tends to make locals and tourists long for something icy and cold to cool down with. Orange Leaf Frozen Yogurt meets those needs with its array of delicious and decadent frozen treats.
Located in the Merchants of Seacrest Beach on County Highway 30-A,  they are already a new favorite in town, with a space that comes alive showcasing its vivid hues of green, white, and orange, a visually uplifting environment.
I stopped by for a visit with the young owner-managers, David Thaggard, Jr. and his wife Caitie Parker, who gave me a tour of the establishment and a tasting of their rich and creamy product.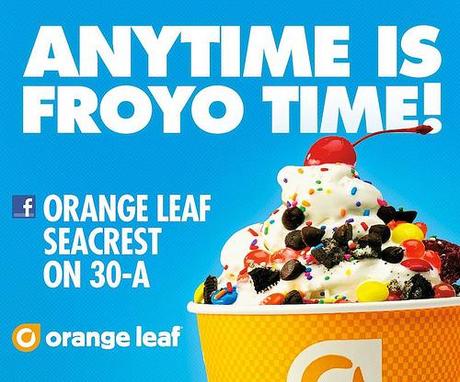 Open for the 30A season March 1, 2013!
David and Caitie, who married on 30-A in May of last year, were excited to discuss their vision for Orange Leaf, and their passion for community involvement. The couple postponed their honeymoon to ensure the opening of Orange Leaf was a complete success, which it was.
Also owner-investors are David's parents, David, Sr. and his wife Paula Thaggard, who relocated to the South Walton area from Chattanooga. David, Sr. is in construction, while Paula is an interior designer.
The Thaggard family is originally from Monroe, Louisiana, where they got the idea for opening an Orange Leaf, as other family members had friendly connections to a franchise there, which was very well received.
The Orange Leaf concept promotes community and family, something the Thaggard's decided fit the 30-A lifestyle nicely.
One of Orange Leaf's missions is to evoke warm memories of childhood trips to the local dessert shop, while providing healthier choices such as sugar-free, low-fat, lactose-free, and gluten free options in their product line.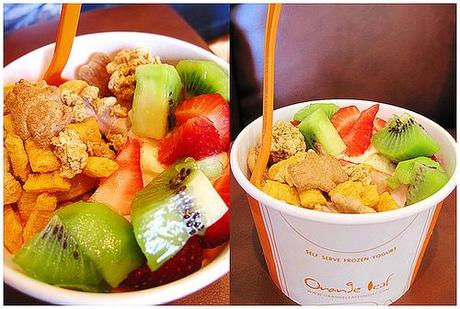 Gluten-Free and Healthy Toppings Offered
Though Orange Leaf, an Oklahoma based franchise chain, does come with a build-out plan, David, Jr. says, "My mom put her own design touches into the space so it would maintain that 30-A feel."
Orange Leaf offers outdoor seating in what has been named "Orange Leaf Alley", with lighting strung between their shop and that of Bohlert-Massey Home, uniting the neighborhood.
The alley glows with warming ambiance at night, has a bistro feel, and is surrounded by vibrant green plants.
David and Caitie are allowing musical guests to play in the alley, which is a concept they want to expand. David says, "I would like to see more local musicians, and those visiting the area on vacation playing here. We are up for anything, even acting."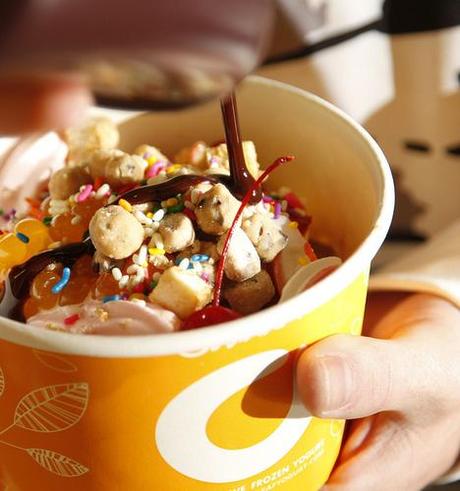 Build Your Dream Cup
Orange Leaf offers a fresh take on the self-serve, choose your own toppings frozen yogurt, with a multitude of delicious flavors like Real Peach, Red Velvet and Brownie Batter. Caitie says, "We have fourteen flavors, and they rotate out each week."
Customers choose a 16 or 24-ounce cup, fill it with their desired amount of frozen yogurt, then take their cup to the shops two custom do-it-yourself toppings bars, which include an incredible array of fresh fruits and granola toppings. The product is weighed and charged .59 cents an ounce "for an average of 4-5 dollars a cup", David says. The customer is the master of their dessert.
In keeping to their commitment of wanting to be part of the community, David says, "Caitie and I have recently begun Tip Jar Tuesday, to help local non-profits and schools raise much needed funds."

Merchants of Seacrest Beach on 30A
The Ohana Institute, located in Rosemary Beach on 30-A, had students decorate the tip jar, and tips, including ten percent of Orange Leaf's net revenue on Tuesday's, will be given to the highlighted fundraiser for that day.
David says, "Caitie and I are floored with a couple of things; how great the repeat local business is, and the show of support by local business owners driving over to meet us from Alys Beach and Seagrove. We have really enjoyed getting to know all of the families, and our new friends."
Orange Leaf Seacrest is located at 10343 East County Highway 30-A. They are open seven days a week from 11 a.m. to 11 p.m., and can be reached by phone at (850) 270-3036, or by visiting their Facebook page. You can also visit their website at www.orangeleafyogurt.com.
 Note: Orange Leaf will be open for the season March 1, 2013 offering fans a 20% discount for delicious Fro-Yo over the weekend. The offer can be claimed on their Facebook page.