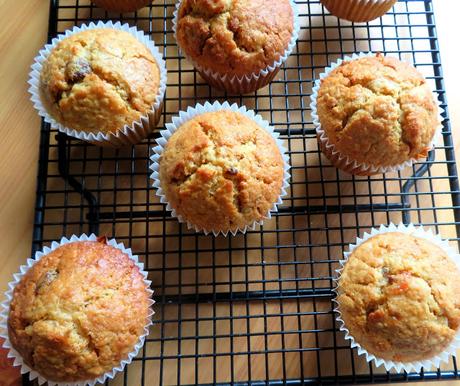 What a miserable rainy horrible day it is out there today.  Dark and heavy clouds made it really difficult to take decent photos of these muffins. I hope that my photos don't put you off from wanting to try them!  They are excellent muffins!  Orange, Date & Oat Muffins. Moist and filled with lovely flavours.  I adapted the recipe from an original recipe which came from a 1991 Robin Hood Baking Booklet.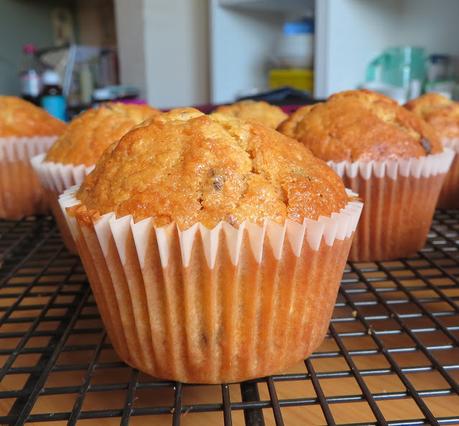 Years ago they used to put out Baking Booklets full of festive and harvest ideas every year.  They would be stuck in magazines, or newspapers free of charge.
I can remember watching television and the Kraft Foods commercials would come on and they would also offer you recipe booklets. All you had to to was write requesting them.  They would send them to you once a month for nothing.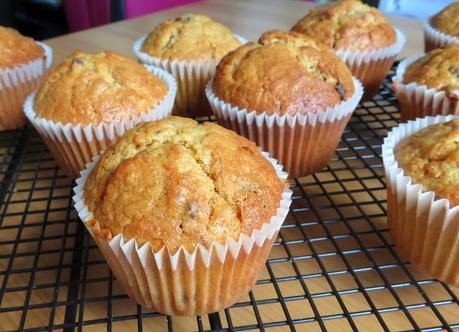 I used to love those little booklets, especially the ones from Kraft. There were usually quite a few good recipes in them, mixed amongst some awfully gaudy ones.
But hey, free for the asking!  No reason to complain! They were inspiration for sure, if nothing else!
I saved quite a few of them through the years. I still use some of the recipes that I gleaned from them, so all was not lost! 
As I said, this recipe came from a Robin Hood Flour one. Baking Festival Recipes was the title.  There are 27 pretty tasty recipes for cakes, cookies, muffins, etc. in it.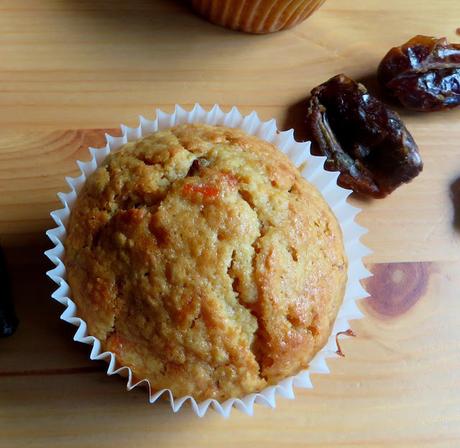 These muffins intrigued me because they contain a whole orange. I have made muffins before, and cakes too, which contain a whole orange. Usually you had to boil the orange first.
There is no boiling of this orange. You simply cut it into quarters, remove the seeds and blitz it up in a food processor or blender until it is chopped into small bits.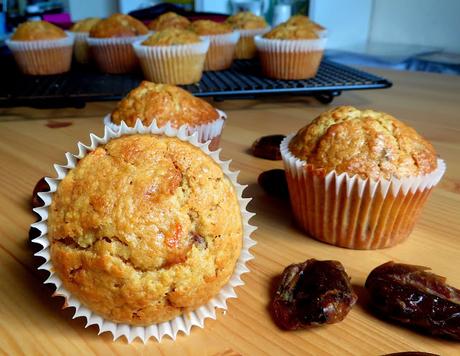 You begin by soaking some old fashioned oats in milk. I always use whole milk for my baking unless otherwise specified. 
Old fashioned oats are the large flake oats. Don't be tempted to use instant oats. They will no have the right consistency. You want an oat with some bite to it.  Instan oats would become far too gummy.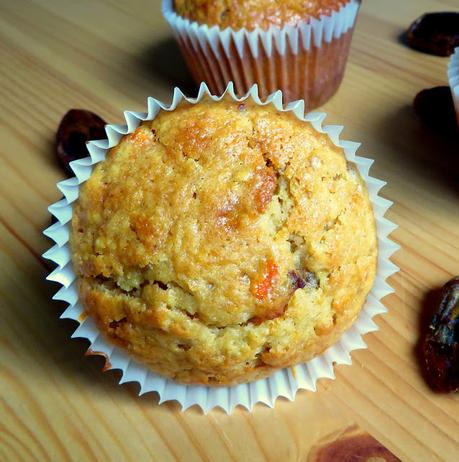 Using the whole oats gives you a muffin with plenty of lovely wholesome texture. Oats are very good for you and are filled with fiber and iron and are good for your heart.
The chopped orange gets stirred into the soaked oats, along with an egg, some brown sugar and melted butter.  There is also plenty of chopped dates in the mix.  I adore dates.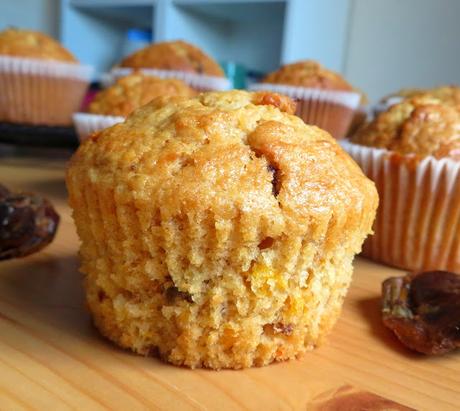 They have a lovely sticky toffee flavor.  Dates are actually what makes sticky toffee cake so moist and delicious. I love to use dates in my baking and always have a bag or two in the store cupboard.
They are wonderful in cakes and bakes.  I love to make date slices, and of course they work beautifully in muffins such as these ones I am sharing today.  Little sticky hints of caramel to go along with the tart orange flavours.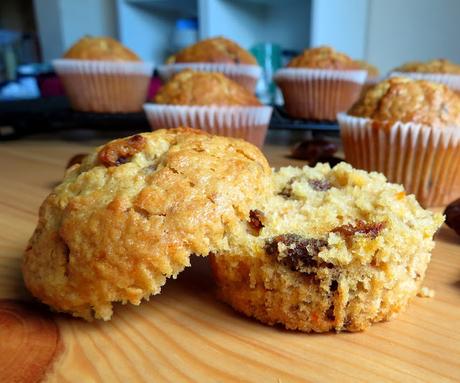 When I was living down South I sometimes went into London to the Borough Market. I don't know what you couldn't get at the Borough Market.
It was filled with stalls selling everything from soup to nuts! I remember one time buying these lush chocolate covered dates.  I still think about them.  Taste memories are some of the best kinds of memories.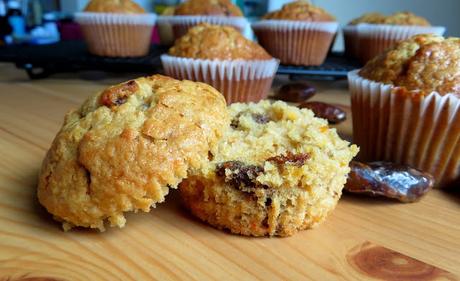 I don't think those chocolate covered dates ever made it back to our house. They were gone before we even hit the train.  They were probably one of the nicest things I have ever eaten. Ten years later I am still thinking about them. And I probably always will.
When I was pregnant for my oldest daughter I can remember having a craving for "Puffa Puffa Rice." It was a breakfast cereal made from puffed rice coated in a brown sugar and pineapple coating.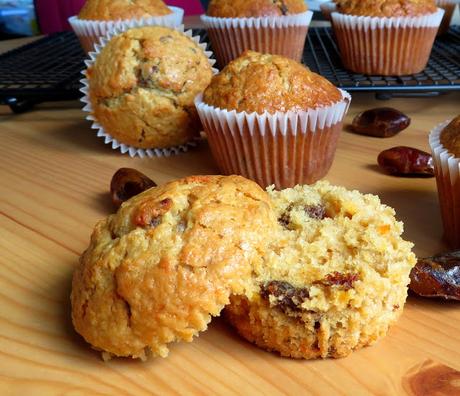 I had loved it as a child and they had stopped making it. I was 21 when I was pregnant for Eileen and I am 65 now.  That is a long time to have a craving for something! 
Taste memories. They only get better with time. Either that or we crave them more. One way or the other most of them will never be fulfilled.  Now back to the muffins.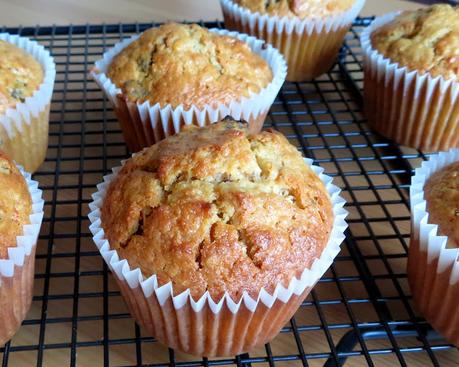 These delicious moist muffins will always be there for us. That's the good thing about recipes like this. They never disappear or go away so long as you curate them and keep them in a safe place.
And that's what I am doing today.  Sticking the recipe here online for everyone to enjoy! Tina and Tony were here earlier and they said they were excellent!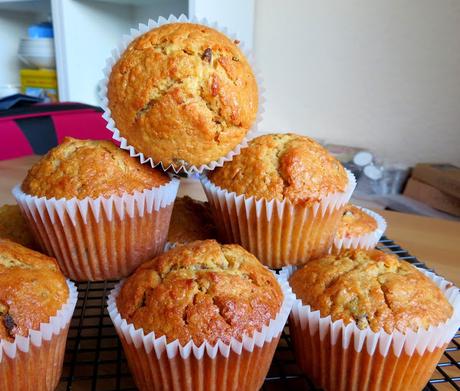 Tangy from the orange, which also adds to the moistness.  Studded with sticky toffee dates, and willed with wholesome oats.
I cannot think of a way in which these could ever be improved!  I really can't.  Unless you also wanted to add some toasted chopped nuts.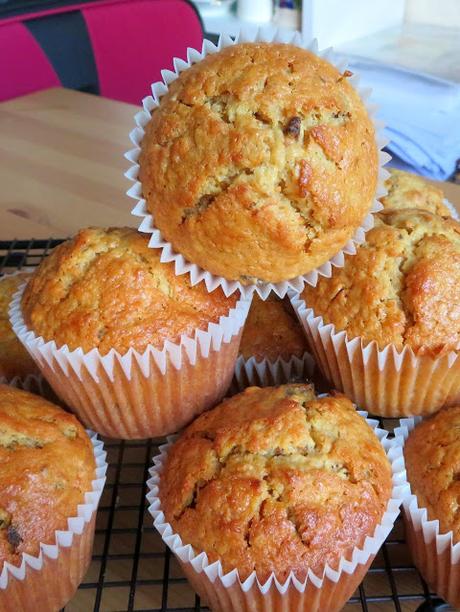 Walnuts would be very nice. Just toast them in a hot oven for about 10 minutes, let them cool and chop. You decide how many you would like.
I think another nice touch would be to brush the tops of the warm muffins with some warm orange marmalade. That would make them glow and add even more orange flavour!  Yummy yummy!! 
Orange, Date & Oat Muffins
Print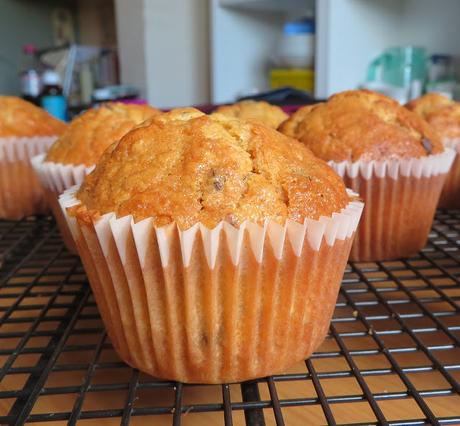 Yield:
Makes 12
Author:
Marie Rayner
prep time: 10 Min
cook time: 25 Min
total time: 35 Min
These lush muffins contain a whole orange, which makes for a tangy muffin that is quick and easy to bake and studded with sticky bits of date!
Ingredients
1 1/4 cups (300ml) whole milk
1 cup (80g) old fashioned oats
1 medium orange, washed, seeded and quartered
1 large free range egg
3/4 cup firmly packed (150g) soft light brown sugar
1/2 cup (120g) butter, melted
1/2 cup (75) chopped pitted dates
2 cups (280g) plain/all purpose flour
1 TBS baking powder
1/2 tsp fine sea salt
Instructions
Preheat the oven to 200*C/400*F/ gas mark  6.  Line a 12 cup medium muffin tin with paper liners.
Measure the oats into a bowl and pour the milk over top. Let stand 5 minutes.
Put the orange into a food processor or blender and blitz until it is finely chopped.  Add to the oats along with th egg, brown sugar, melted butter and dates.
Measure the flour, baking powder and salt into a bowl. Add the wet ingredients all at once and stir together just to combine.
Divide the batter between the prepared muffin cups and bake in the preheated oven for 20 to 25 minutes, or until golden brown. A toothpick inserted in the center should come out clean and the tops should spring back when lightly touched.
Tip out onto a wire rack to cool completely.  Store leftovers in an airtight container.
Did you make this recipe?
Tag @marierayner5530 on instagram and hashtag it #EnglishKitchenCreated using
The Recipes Generator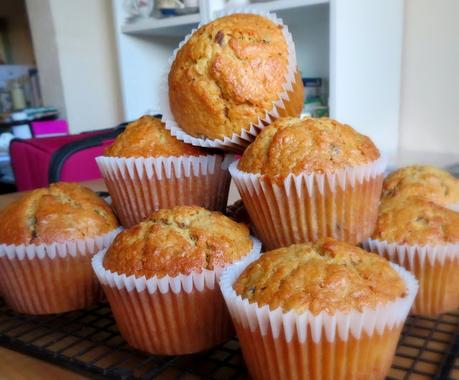 I usually bake something like a muffin at the weekend. You never know when people are going to stop by so its nice to have something in the cake tin. They are also an extra special nice treat to enjoy with a hot cuppa in the middle of the afternoon or the evening when you're watching the telly. 
This content (written and photography) is the sole property of The English Kitchen. Any reposting or misuse is not permitted. If you are reading this elsewhere, please know that it is stolen content and you may report it to me at: mariealicejoan at aol dot com Thanks so much for visiting. Do come again!