Every afternoon about 2pm I can hear the sound in the distance. It starts as a faint tinkle that you might confuse with the wind chimes across the street but it doesn't take long to realize it's a sound from my childhood heralding the ice cream man. I hadn't heard that sound in years and it takes all the willpower I have to not run outside in my bare feet with my quarter (kidding!) and stand in a line I know must be 10 kids long just to get my favorite cool and creamy treat. An Orange Creamsicle. I never wavered; it was always the same thing. Something about the combination of creamy vanilla ice cream and the bit of tang from orange sherbet always did it for me. Funny, at the ice cream store it was ALWAYS Butter Brickle ice cream but with the ice cream man Orange Creamsicles held my heart.
I am reminded of that treat at least a couple of times a week and decided it was time to make my own. Barb Style. You know what that means right? Booze. Not a lot but a little kick was fun and I now have a favorite summer treat with this Orange Creamsicle Cocktail that is not for kids but for their parents! My taste tester was my neighbor Rick across the street. He guzzled it down like it was boozeless, he said he could not help himself; I said remember that in a few minutes when you're back to working on your deck. :)

I used a new vodka for this treat. 
VDKA 6100 Vodka
is backed by
Australian casino mogul James Packer and actor Robert De Niro. De Niro is quite the
entrepreneur
 and has significant investments in Nobu Hospitality Group, Tribeca Grill, Locanda Verde, and the Tribeca Film Festival (which this year served as the launch event for VDKA 6100). He is known for taking an active role in his investments, which may help keep VDKA 6100 from being yet another celebrity spirit.

An interesting note to this vodka is the use of whey as source material. While vodka can be made from any number of materials including wheat, corn, potatoes and rye there aren't a ton of restrictions on the source materials you can use. Distillers can use pretty much anything that can be broken down into fermentable sugar as the source for vodka, as long as it's distilled to near neutrality. While whey isn't a very common vodka source it can be transformed into alcohol with the right kind of yeast. Although it has an Australian inspired name from the country code 6100 for Perth, Australia (Packer has major properties in Perth), the vodka itself comes from New Zealand, where the whey is sourced from grass-fed cow's milk.
The tasting notes for this vodka begin with flavors perfect for this cocktail; lemon, vanilla and powdered sugar. While some reviewers think it has a strong acidic finish (maybe too strong), using it for this cocktail eliminated that factor in my use and it provided the zing that was needed to be present in a drink made with ice cream and soda!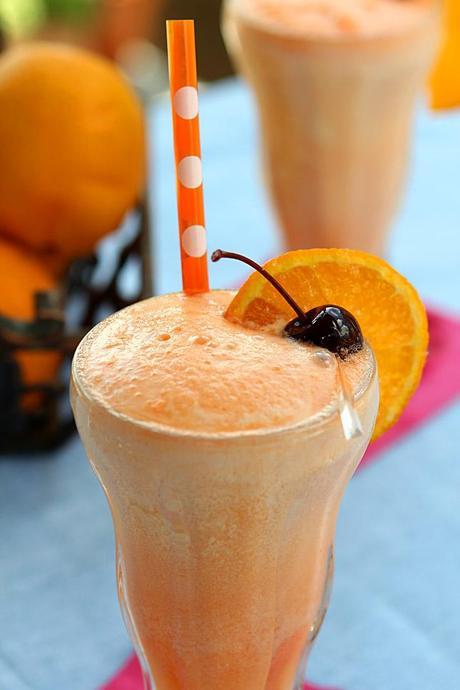 They were perfect; cool and creamy and tangy with orange and just enough vodka and orange liqueur to elevate them from ice cream bars to cocktails. Easy too. What are you waiting for…bet you can  hear that same music I did and these are a fun way to take a trip back in time with an updated treat.


Orange Creamsicle Cocktail
Prep Time: 10 minutes
Yield: One cocktail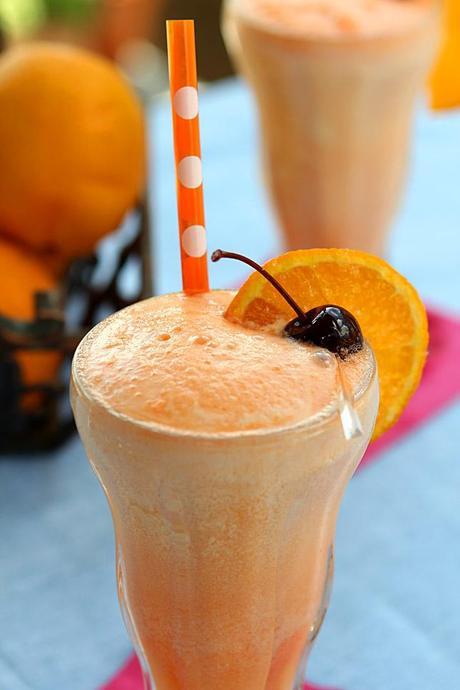 A favorite childhood treat in a grownup cocktail.
Ingredients
2 oz Vodka
1/2 oz triple sec
4 oz Orange Juice
3/4 cup vanilla ice cream
1/4 cup orange sherbet
2 ice cubes
Orange soda, chilled
Orange slices and maraschino cherries for garnish (optional)
Preparation
Put your glasses in the freezer 15 minutes before preparing the cocktail. (This fills a large glass; if you have smaller ones it will equate to two servings)
Combine vodka, orange liqueur, vanilla ice cream, orange sherbet and ice cubes in a blender and blend until smooth.
Fill chilled glasses 3/4 full and top off each glass with orange soda.
Garnish with orange slices and cherries
2.5
http://www.creative-culinary.com/orange-creamsicle-cocktail/
This recipe brought to you by Creative Culinary | A Food and Cocktail Blog | Website: www.creative-culinary.com