Ann Lauterbach's ninth work of poetry, Or to Begin Again, takes its name from a sixteen-poem elegy that resists its own end, as it meditates on the nearness of specific attachment and loss against the mute background of historical forces in times of war. In the centre of the book is a twelve-part narrative, "Alice in the Wasteland," inspired by Lewis Carroll's great character and T.S. Eliot's 1922 modernist poem. Alice is accosted by an invisible Voice as she wanders and wonders about the nature of language in relation to perception. In this volume, Lauterbach again shows the range of her formal inventiveness, demonstrating the visual dynamics of the page in tandem with the powerful musical cadences and imagery of a contemporary master.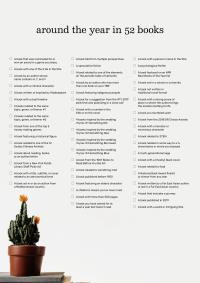 ***
[The great stalks are alert, their / shambles piled: maybe another parade BIRD (THOREAU)]
***
(Penguin Group, 31 March 2009, paperback, 125 pages, Around The Year In 52 Books 2019, a national book award finalist or winner from any year, bought from @AmazonUK)
***
***
This is my first time reading the poet and it won't be my last. I need to read her other poetry collections. If they're only half as good as Or to Begin Again then I'm in for a treat. This collection contains some of the best poems I've ever read. The quality of the poems between the pages is brilliant and something many other poems can only aspire to and have little hope of achieving. I was left speechless and in awe of Lauterbach's talent. This collection is worth reading alone for the long epic poem, Alice in the Wasteland, a take on Alice in Wonderland that may be the best poem I've ever read. Every line stunned me. Other delights were Nothing To Say, Realms Of Ends, Constellation In Chalk and the title poem.