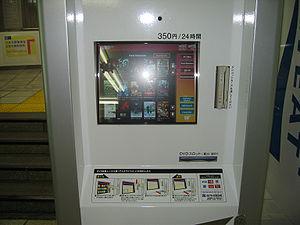 DVD vending machine (Photo credit: Wikipedia)
According to researcher Rentrak, the decline for the demand of video disc rental appears to be escalating as people become more comfortable with new streaming video on demand options like Netflix and Hulu TV.  In 2011, consumers spent 3.4% less on video disc rental compared to 2010.  But the real news is the last quarter of 2011 compared to the same time period in 2010 – video rental at businesses including Redbox kiosks was down 21.3%.
Despite those findings, however, DVD and blu-ray disc rental are still the number one choice for consumers to access the content they want, with revenues topping $5.6 billion for 2011.
David Paiko, VP of Home Entertainment at Rentrak noted "People have many choices when it comes to renting videos, for both digital and physical media, so it's interesting to see DVD and Blu-ray Disc rentals are still the number one choice for consumers."
The decline of the DVD is expected to be a gradual one, as people get used to the idea of depending on digital lockers to store their content, rather than having a physical disc in their possession.
This news comes on the heels of LoveFilm's recent announcement that its streaming service has overtaken DVD and blu-ray disc rentals for the first time ever, topping out at 20% more titles streamed through internet-connected devices over physical discs rented in February of 2012.  LoveFilm just recently rebranded to LoveFilm Instant in December 2011.
With so many options to stream movies in the United States, the rest of the world is wanting the same choices.  The biggest hurdle that these streaming providers face is the licensing hurdles that entertainment companies will surely put them through, particularly for newer releases and highly coveted content.
Sources:
Marketwatch.com
MarketingMagazine.co.uk