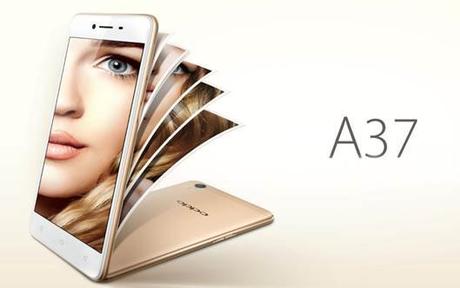 When we think about OPPO phones, we think photography. Because that's what we see highlighted in OPPO television commercials. Well, recently, OPPO announced yet another smartphone that has camera and selfie experience as its major hightlight. This is OPPO A37. A 37 is being stated as an entry-level device by OPPO. However, it costs INR 11990 which isn't quite an entry level price.
Front Camera: The A37 has a 5 MP front camera with a 1/4-inch sensor and OmniBSI+ (backside illumination). The 1.4μm pixels help in increasing light sensitivity and reduce noise in the photos. The Screen Flash feature helps in getting better selfies in low light conditions. The selfies can be further enhanced using the optimized Beautify 4.0 technology that now supports 7 different levels of intelligent beautification and two modes for different skin tones. To help in taking selfies more conveniently, the OPPO A37 has the Palm Shutter features. With this feature, users can click a selfie by just waving a hand in front of the camera.
Rear Camera: The rear camera is 8 MP with a 1/3.2-inch back-illuminated sensor and 1.4μm pixels. The rear camera has the Ultra-HD mode which shoots five photos consecutively and combines the best parts of each. This creates a 24 MP enhanced photo. There are also 9 filters and a various other shooting modes like Double Exposure and Slow Shutter.
Key Specifications: The A37 is equipped with a quad-core 64-bit Snapdragon processor, 2GB RAM and 16GB ROM, expandable by 128 GB. It has 4G capabilities. For user interface, it has an upgraded ColorOS 3.0. The features include automatic cleanup feature and privacy control that allows users to set apps and data as private. The A37 has 5-inch display covered in 2.5D Corning Gorilla Glass 4. For sturdiness, it is fitted with an internal magnesium aluminum alloy framework. It weighs 136 grams and will be available in metallic Gold and Grey colours.
OPPO A37 will be available in India from at the price of INR 11990.