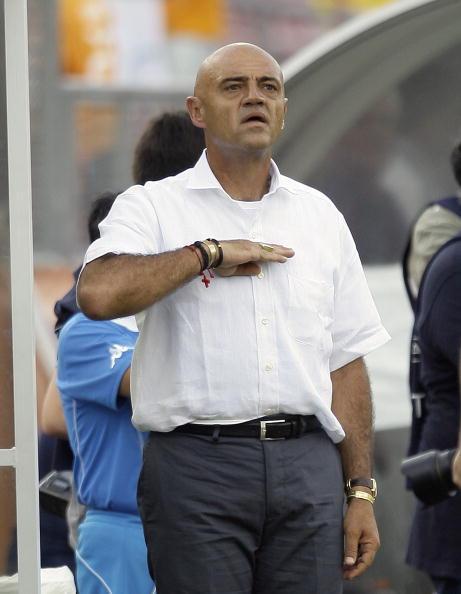 Life as a football coach has a way of turning and swerving in unexpected directions.  In 2010, Chelís was guiding his team to a 2-1 at the Home Depot Center in the SuperLiga.  Fast forward two years and he will be calling this stadium his new home.  For how long? Who knows.
If the new coach of Chivas USA, José Luis Sánchez Solá doesn't not get wins for his teams he will surely have many more cameras.  MLS coaches are not the type that will go out on a limb and be making controversial remarks.  It only took a few minutes to start to establish that controversial streak in fans and press alike.
His Mr. Clean-look-with-a-major-hint-of-smartass act has been one that has captivated the Mexican public with a Mourinhesque taint to it.
I have been asked to describe him and give a comparison of what type of personality is his comparable to in North American sports. To be honest, doubt there is one. I would have to go and compare him to Argentine coach Ricardo Caruso Lombardi with a hint of Ray Hudson. That is one of the reasons I said that he would be the first coach since Ray was on the sidelines at DC United and the Miami Fusion.
Solá is a poor man's
"Chelís", who was nicknamed that by his players and board members at Puebla as they believed he was the reason why the club returned to the top flight after having won promotion in the Liga de Ascenso. That alone gave him a great deal of leverage. In his native Puebla, Chelís was an institution.  He got his beloved club back to the first division and kept them there on several occasions despite fines and very little support from his board.  So little was the support he got from the Puebla brass, he was sacked- twice.
His players at Puebla were  the ones that forced the club's hand on that occasion and brought him back- twice.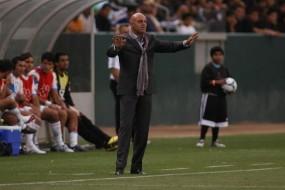 At Puebla he helped them not just earn promotion but also be in position to avoid relegation on multiple occasions.  Chelís also got them to the Liguilla where they had semifinal and quarterfinal finishes as well as reaching  Interliga for the first time in the club's history.  What was most shocking about what the hometown prodigy  was able to do with the squad he was able to do with what little talent he had available.
That is what he has made a career out of.  Picking up lost causes and taking those causes as far as he can.
He was able to do there was to have the squad play at a high level despite not having the best talent available and also the club having to deal with external pressures due that were haunting the club other than relegation.
Yet that is what is able to do.  Studious. Observant.  Dedicated. Genuine.  If there is one thing about Chelís is that his passion is as visible as his chrome. Many would think that what he feels for the game is not sincere.  He is quite honest and he leaves it all on the pitch.  That has been his modus operandi dating all the way back when he was in charge of the Puebla youth program during the early stages of his career.
He is also honest and has no filter.  What you see is what you get.  As a person, Chelís puts himself out there for better or worse.  Sometimes that has been for the worst, for example when he appeared in a commercial supporting PRI candidate Mario Marín Torres. That led to criticisms galore and a fine from FeMexFut as well despite his constant pleas of innocence.
We're going to try to play a more appealing style of football for our fans without forgetting that we are a team that plays in the United States.  We will have to look for a way to appeal to both cultures and at the same time obtain results for the club. I think that Chivas USA at some point gave up the flavor and the way that game is played in Mexico and Latin America.  We have to regain that and combine that with the style play in MLS."                                    

 - José Luis Sánchez Solá
After being sacked at Puebla for the third time he decided to go to Estudiantes Tecos.  This was a team looking to restructure as they changed brand, colors and had a logo makeover coming into that season and Chelís would be the man in charge to put some of his magic fairy dust.
On paper, Chelís inherited one of the most talented sides in the Ascenso MX.  Under Daniel Guzmán the team was able to win the first semester and were then wiped off the map by eventual promotee León 5-0 in the second leg of the end of the year playoff.  Chelís seemed to be the final piece needed to help propel  La Naranja into finally earning a chance return to the top flight.
They were one of the highest scoring teams in the league, but it was their defense as well as their road form that did them in. Their ninth place finish in the table kept them out of the Liguilla. They won only one of their last eight matches in  league play and their form on the road was amongst the worst in the second division not being able to muster up one win in the entire semester. Even with players like Nicolás Olivera (who was on his Puebla team in 2010) and Roberto Nurse, the squad was unbalanced but there were moments where his side seemed like they were about to take off.
Take the instance where Correcaminos faced eventual Liga MX champs Xolos and Roberto Nurse scored and he ran to the far side of the stadium to congratulate his forward.  That moment was vintage Chelís. So was the press conference when he was talked about the character that his team showed after beating Club América 4-3 when Los Azulcremas fielded a side consisting mostly of youth players and those youngsters took a 3-0 lead.
Through all that "El Corre" under Chelís were able to get to the Copa MX finals where they finally succumbed to Cuauhtémoc Blanco's Dorados side in penalties.
 Chelís Is A Reflection Of His Boss?
Despite all of this, Chelís is the type of selection that reflects on the club's owner, Jorge Vergara. it is also a sign of clueless desperation. Vergara, a man that wants to be in the headlines regardless of how his teams are doing. In Mexico, Vergara was drilled by the domestic press.  So much so, that he decided to not give interviews to entities in Mexico such as ESPN.
Meanwhile here in the US, a media that is known to be very lax when it comes to criticizing and questioning coaching decisions, Chelís could be the answer to many sensationalist prayers. His penchant for hamming it up and his customary tantrums with media, fans and ownership alike give way to lots of  wrestling-type storylines for next season. He will be very combative and will stand firm to back those footballistic convictions.  It is not a defense mechanism that was built in because of his dealings with the Mexican press.  It is his way of thinking.  We'll see how that flies in the US.
In Chelís' first press conference with the US media he talked about the similarities he had from a temperament standpoint with Jorge Vergara.  Sounds like a match made in heaven, doesn't it.  Yeah, it was wonderful while it lasted when Vergara teamed up with Johan Cruyff just a few short months ago.  Chelís might have an ego comparable to Cruyff's sans track record.
Through all this he admits that he had some options to take over a few clubs at Mexico.  He's a coach that is clamored by many and will always be looked at for his honesty as well as capability to have players buy into his project.  Will this translate to MLS? He will at least get a chance to start from zero, unlike another former Chivas employee, Hans Westerhof.  In his brief time as Chivas USA coach, he stepped in to replace Thomas Rongen.  He could only replace Rongen physically, because from a form standpoint, he was going to be unable to right the direction in which this first-year side was going in.  That was a far cry from the Dutchman's success south of the border.
After eight years, more specifically the post- Preki era, Chivas USA have been on a treadmill of sorts.  They are a club that have lost the map they needed in order to go search for their identity and have sat on that log ever since.
In his defense, there have been other coaches that knew MLS inside out and failed miserably.  Obviously Preki won the conference title, so he can't be added in that conversation.
Is he a person that we might want to see fail?  I don't think so.  He was a breath of fresh air in Mexico and will promise to be such in MLS.  He is not the typical Mexican coach. That is what makes such an atypical character in such an atypical situation so intriguing.   Chelís is the ultimate of all shots in the dark.  No one, on either side of the border know how he will do and to be quite honest, I think he like it way.
Many think that his limitations with a new language will be a problem.  The English language might not have "enough verbs" for what he has in mind.  Yet he is a romantic of sorts.  He knows that football has no language.  He might also struggle with all the jargon and complex terminology that MLS has for any and all foreign coaches that have been hired. He's atypical even with those standards.
The big question mark for him though is whether he will be to bring his "eyes" on board. His assistants will be a major make or break in the success of Chivas USA as they are the ones that help interpret his style of play to a fault and they also help expose their opponents.
That will also be the true measure of how committed Jorge Vergara is in making this team a top tier squad.
Chelís is no frills.  What you see is what you get.  He will give you all as Chivas USA coach.
The first bit of good news is that at least Chivas USA are no longer irrelevant.  All of a sudden this coming season will be a rollercoaster ride for sure; surely not more of the same for a great part of LA.
——————-
WHAT DO YOU THINK ABOUT CHELÍS BEING THE NEW COACH OF CHIVAS USA?