In Pep Guardiola's biography, Guillem Balagué talked about the former Barcelona coach looking to make Lionel Messi the centerpiece of the team.    This is the reason he took his side whenever Messi's protagonism on the team was in limbo. I am not sure if scoring 86 goals in a calendar year was one of the things that the former Barça star saw in young Lionel during his time  as Culé boss.
It was a matter of time before Diego Maradona's bold statement that Lionel Messi was going to replace him would begin to come true.  Some might have gotten on board earlier, some later How often have we heard Lionel Messi's style of play be compared to video games, fantasy, and magic?
Yes, he seems to make the absurdly impossible seem remotely feasible on a consistent basis. This year was the testament to all the talk and speculation of what he is capable of doing since he was dribbling around bigger kids in Rosario and La Masía back in the day.
Scoring 86 goals in a year seemed, before Messi, to sound like something that would be similar to the 12 Labors of Hercules than any realistic accomplishment any player not named Gerd Müller has come close to.  Lionel Messi showed this goalscoring knack with a consistency we have never seen at this level before. No, it's not just this year, Barça took on an extra dimension a few years ago when he started to be featured much more.
Many neysayers though will say that despite all those records, the only title he won this year was the Copa del Rey.  Yes, that is the truth but this year we saw a one-man show that took our imagination on quite a ride.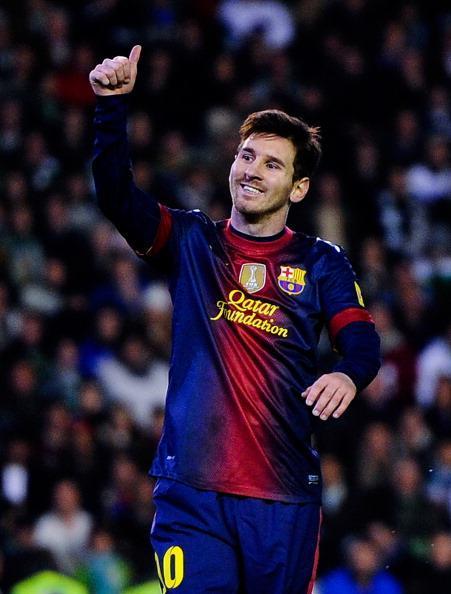 The numbers that he's been able to accumulate in the past few years are those that make anyone talk about a superhuman athlete at the apex of his career.   Many are not sure whether he's even reached that point just yet. From the average biological perspective, he hasn't gotten there just yet.  That's scary talk for defenders.
He's that one factor on FC Barcelona that makes that team go from great to unbelievable; furthermore, Messi is the one factor that makes the Blaugrana's Champions League odds exponentially greater.
For all the help that Xavi and Iniesta give the Argentine, without him the team's dynamic is still formidable but not as devastating. I know, I am mentioning the obvious.  Messi's game has no frills.  He only uses tricks and unbelievable moves when he absolutely has to get out of a situation.
Outside of that, it's his intelligence with the ball, his knack for timing and his synchronicity with his teammates forces defenses to pick their poison.  A defender either stays back and allows him to find space or run past Lionel Messi or they apply pressure and Lio places a pinpoint pass to a teammate.
Yet through all the speculation and drivel that one can come up with, there is the simple fact that the gaudiest of numbers that Messi has put up and will put up in his career will never fully tell the importance he has to Barcelona and the Argentine national team.
The Two Moments
There were two moments in Messi's career when you saw him evolve and take the next big step towards immortality.  The very young Messi was the kid that on many occasions opted to hold the ball instead of pass it.  When he began to look for the pass when it was available on a more frequent basis, that goalscoring avenue began to grow.
The other moment was not one in specific, it was a metamorphosis that you began to see in spurts.  He embraced his importance within the collective and knew that his leadership role was vital in his progression.  One of those moments that saw him further consolidate his presence was when he was given the captain's armband with Argentina.
Lio, at that moment,  was at odds with fans in Argentina because he wasn't playing at the same level he played in Spain.  What no one tended to mention was that he was not playing with a team as balanced as Barcelona or filled with the players that knew him as well.  Sabella giving Messi the armband was symbolic.  It was a gesture that looked to add a spark and give Lio a greater sense of being and responsibility.  Many thought that he shirked the leadership role.  That move was to let him know that he was the man, something that Guardiola knew very well and Sabella followed through on that.
This was just as big a risk as Carlos Bilardo took when he designated Maradona as the captain of the national team back in the 1986 World Cup.  So far that move was a stroke of genius.  Messi had his most productive year with the national team to date.  His 12 goals this year placed him in the top four in the all-time scorers list, his 31 goals have him just three shy of Diego Maradona.   Maybe you can attribute it to that, maybe you can attribute it to the that fateful day in the heat of Barranquilla back in November of 2011 when he helped the Albiceste come away with a 2-1 over Colombia in World Cup qualifying.
There his attitude began to change and his game started to take on another dimension.
Lionel Messi's Legacy
The scary part of this all is that Lionel wants more.  He seems unsatiable when it comes scoring goals and stockpiling trophies at the Camp Nou or in his living room. Tennis great Roger Federer said it best when he was asked if he could compare himself to either Messi or Maradona when it came to what he has done in his sport.
"Messi and myself we are in a similar situation," said Federer.  "We're both still playing.  We still have more to achieve or to play bad.  So we have to first finish our careers very good in order to be considered great athletes."
When someone that is much like Messi in his respective sport and was the most dominant force in tennis at Lionel Messi's age, he knows exactly what Messi has to do.  Individuals like Lionel Messi as well as Roger Federer both get bored with ease.  They relish challenge.
That is why he's eyeing Brazil to earn the greatest title he could have.  Oh, yes, he'll continue breaking records while he's at it.
Yes, there are reports coming up now of Geoffrey Chitalu having 107 goals; but at this stage of the game or even Zlatan Ibrahimovic's  Messi confirmed to us all that he is the best player on earth right now and is the player that marked his generation.  There is little doubt that those clamors will hold any weight when Messi is ultimately judged as a player the day he decides to hang up his boots.  If he were to retire today, he'd still be amongst the greatest players of all time. As far as where he stand alongside some of the greats, well that's up to you guys to argue over.
He's become one of the most popular faces on the planet.  More importantly, he's one of the most famous athletes in the United States.  That, in and of itself, is a testament to his reach as an international superstar. So much for the pleas of a producer at a US sports network that told him once to speak in English so he would "become famous".

Les 86 buts inscrits par Lionel Messi en 2012… by Chronofoot
At this stage of his career, I still believe we should wait and see what happens and we see which other record books he completely rewrites.  Is he one of the greats of all time at the tender age of 25?  Probably.  Now the question is which seat he will occupy the day he decides to sit amongst the greats in the footballing Olympus; that we should wait until he completes painting his work of art.  At the rate he's going, that piece it will be a footballing masterpiece that none of us have ever seen before.
Oh, by the way, did I mention he's only 25? So we could see more of this in the futre.
————————-
WHAT DO YOU THINK ABOUT MESSI'S 86 SO FAR THIS YEAR?