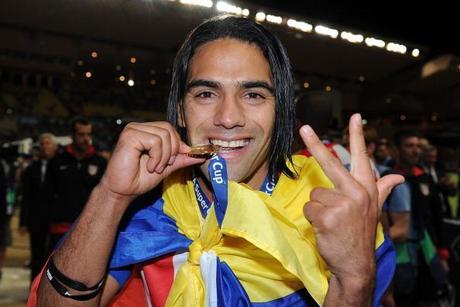 Radamel Falcao García
I am one of those that individuals that got to see Colombia play their best football.  Those days were always ones that I remember.  Whether it was watching the national team or one of the clubs play on television or hearing them on the radio, they were the first group to actually make a country dream about the possibility of having something greater happen in a country where there was lots of despair and hopelessness.
The national team gave people at home and abroad a reason to celebrate, although Colombians have always been notorious for finding reasons to celebrate all the time.   Unfortunately that belief led to unrealistic expectations.
I remember as a young man going to the old Orange Bowl in Miami on several occasions to see the Colombian national team play and many times they seemed like world beaters.  Many Colombians, though, thought they were invincible.
On one of those occasions I happened to see an old man selling t-shirts outside the stadium and he had that "I'm gonna be rich look" on his face.
Anything that I would say in this article about the 1994 World Cup is just unnecessary.  We all know what happened and the scars that were left because of that performance in the psyche of Colombian football.  At the same time, those scars always tend to open up every four years when they begin another World Cup run.  A bad run and the players are the best in the world.  A win and they are the greatest players that ever lived.
Colombia is a country that has always hyped up their players, much like several other nations in the world.  The problem is that the proverbial cloud of delusion is just a bit higher there and the fall from grace is a much longer one.  We really do not have to go too far to find the latest example.  We just have to head back a month to see how things were within the national team as José Pekerman was in the eye of the media storm.  After a good start to his tenure, a sudden bad run of form had the Colombian press hawking and asking for his dismissal- after only three matches in charge.
The team's form as well as the involvement of Pekerman's son-in-law in the inner workings of the Colombian FA (he's an agent) had many members of the media criticizing the former Argentine national team coach.  Many were even saying that a loss would mean that Pekerman would suffer the same fate as Leonel Álvarez did a few months before should he lose at home to reigning South American champs Uruguay.
That mentality would change after Los Cafeteros trounced Uruguay 4-0 in Barranquilla.  That would then grow into even greater momentum when they defeated Chile 3-1 in Santiago.  Their recent success saw them once again reach their highest point in well over a decade.
Guess what?  The talk is back- again.  Hearing Colombian radio, there is a buzz for the national team.  There should be.  Yet many get to underestimating their opponent and thinking that the national team is very close to qualifying. They are falling into the same self-imposed trap that has led them and the Colombian people to suffer numerous heartbreaks.
So as quickly as things change, they can turn yet again.  Former Colombian international goalkeeper Oscar Córdoba is still not convinced according to his comments in an interview a few days ago.  He should not be.  They have not shown the consistency to really say that, although there has been a major improvement because of the quantity and quality of chances that Radamel Falcao García is getting in front of the opposing net.  That, in addition to his incredible form with Atlético make the Colombians a potential threat in South America.
Also look at the great form of players such as James Rodríguez (who was six years old when Colombia last played a World Cup), Jackson Martínez and even players such as Dorlan Pabón and Luis Muriel who are performing at the highest levels in some of the best leagues in Europe.
So despite the successes of players of the past, this generation is probably more successful that the previous generations that saw players such as Carlos Valderrama and Willington Ortiz become their respective posterchildren for past generations. This young generations is standing relatively tall (maybe taller) in comparison when it comes to individual success.  The big issue with this generation of players is that they are not able to say that they have gone to three consecutive World Cups.  Porto star James Rodríguez was just six years old the last time Colombia was playing on football's biggest stage.
So amid all of their success, there is still lots of work to do.  Twenty five points is the magic number to have be assured of  a spot in Brazil.  One thing that many in Colombia are not saying is that the last time they were in the top ten in the FIFA rankings (number 3 in 2002), they did not qualify for the World Cup. That is something the Colombian media have to keep in everyone's mind. Colombian football does not have a bandwagon, it has a cirrostratus cloud. The problem is that they take the players on a major ride on it. The problem is that as soon as they fail, they are dropped off that cloud unceremoniously along with all the hopes and pretensions of a nation.
So the Colombian media need to just be cautiously optimistic.