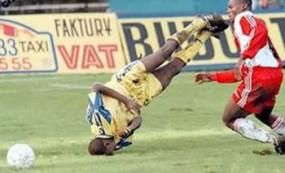 Hearing Hope Solo talk about not having to go into "theatrics" to win a game made me feel bad for her.  She's not my saint of devotion in the goalkeeping cathedral, but if she was truly injured in today's final, then the concept of "cheating" is completely out the window. I also had he impression girls were tougher anyway.
The goalkeeper is the one that has to be the most solid both mentally and physically. Sharpness is of the essence.  The position is also one full of nicks, hits, and some encounters where they will have their bodies exposed to some tough knocks.
Although we know about her notorious penchant for the spotlight, I can't fully blame her for saying that.
Maybe I am the wrong guy to talk about this, having played rugby during my college days.
Our senses are so heightened to look for the foul or no foul.  Did he or he dive or didn't they? This is an unfortunate byproduct of what is wrong with the game.
Have you been kicked in the shin?  Have you been stepped on?  Or better, yet have you been just grazed in the nether regions or even in the eye?  Uncomfortable to say the least.
The human body does have something called referred pain, but in my years of studying massage therapy and sport medicine never did I hear of a case of a player getting hit in the stomach and feeling the pain go across his face.  Windburn isn't caused by an object coming within inches of you.
The problem for me here is how toxic has the "soccer media" been in blurring the ever-graying line between injury and theatrics here in the US?  Has questioning players about being actors gotten so bad that when a player is truly injured they refuse treatment?
Obviously if you fall like you just were popped in the back with a semiautomatic rifle, if you do more than two twirls in the air and three on the ground, if your shrills are three octaves higher than your voice, then you are acting.
Am I forgiving diving in the sport? No.  It's annoying.  It's just an easy way to try to get calls. It's a cop out.  At the same time, it frustrates me to see referees fall for the same divers week in and week out.  I thought that they prepared the way coaches, players, broadcasters do.  I thought that referees were as professional as the rest.  Seems like they do not prepare for games the way they should and they make the same mistakes over and over again.
That in part is what is poisoning the waters.
Diving, or should I say, averting is fine.
So Hope, if you are truly injured, get treatment.  A real knock is not being "theatrical".   Quite the contrary.  If you have a rep of not going down, when the doctors do come onto the pitch, they know something is wrong.  It's not time wasting or gamesmanship.
Let's not kid ourselves, Hope Solo is not Bill Gaudette, so if she is ever hurt… it's not dirty tactics, it's about caring for your teammates and doing the right thing.
I am just looking to worry about the well-being of the athlete in a game that I love, but unfortunately.. as César Luis Menotti said "has been taken away from us a long time ago."
Talk me up on this one.  I need some help.