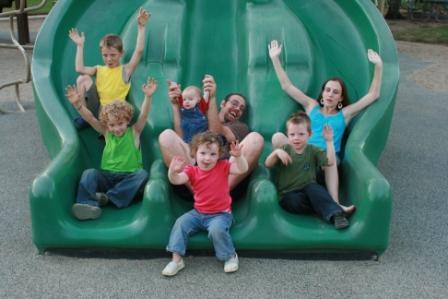 I'll Never Get My Life Back
by Jessie Gunderson
I've never thought of myself as the mothering type. I was the little girl playing in the mud and riding horses.  The delight I experienced once I started having kids surprised me, but I still longed for a day when they'd be grown up and I'd get my life back.
One day I was thinking about God's profound love for us and how Jesus gave up his life so we could live and I began to change. I realized I couldn't love God and despise His creation. I prayed for Jesus to show me how to love people.
I've been a mother eleven years this December, learning how to love, surrender my agenda and the perfectionist tendencies, and grow to a place where I no longer want a different life. Isaiah 58:10 says to spend yourself. And as I studied God's selfless character, I realized that's how I want to be.
I delivered a little boy, my fifth child, at our home in the woods and I knew that our family wasn't complete. God revealed over the next year and a half, His plan for further growing our family to include internationally adopted children. We're currently in the process of adopting a 5 and 7 year old brother and sister from Ethiopia. She wants to be a judge when she grows up and he wants to be a runner. The journey toward them is immense and the heart change has taken me a lifetime but I no longer want out. I want to surrender to Christ's strength and lean on him so I can spend myself loving the least of these.
***
I met Jessie online a few years ago, then in person on my MidLife Road Trip and knew instantly we were kindred spirits, though she's the country version of me and I'm her city-girl counter part. And though God might be calling us in different directions, we share the same heart! I'd love for you to get to know Jessie and her precious family better and help them bring their two other children home. Here's how!
They're having an Opportunity Draw for a pair of Disney Tickets and two new plush Disneyland dolls which were donated to their cause. The Disney Draw starts Feb. 1st and goes through the month. $1400 will allow them to begin their dossier. They're hoping soon after that to be able to share pictures and updates on the two children they believe are theirs. Click here to go to her blog and enter the drawing.