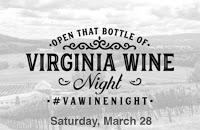 Frank Morgan at DrinkWhatYouLike has been working overtime supporting the Virginia wine industry during the CV pandemic - primarily using his VAWineChat platform for nightly webinars featuring Virginia winemakers. Last week he suggested an Open That Bottle of Virginia Wine Night for Saturday, March 28th where consumers share on social media (using #vawinenight) a specific Virginia wine and why they selected it. A great idea borrowed from Dorothy J. Gaiter and John Brecher's Open That Bottle Night (OTBN). And on a separate thread, Lenn Thompson and Gina Shea of The Cork Report were organizing a Drink Local Night stressing east coast and midwestern wineries -- the same concept just using the #openlocalwine hashtag.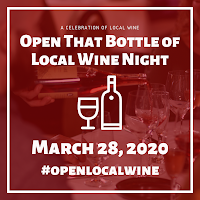 Please participate in these campaigns, and in addition, raise a glass to toast Juanita Swedenburg, one of driving forces behind the 2005 Granholm v. Heald Supreme Court decision forcing states to allow shipping from out-of-state wineries.  "The court's decision resolved a longstanding conflict between a state's right to regulate the sale and use of wines and liquors, as outlined in the 21st Amendment to the Constitution, which ended Prohibition, and the Constitution's commerce clause, which limits a state's ability to erect economic barriers against goods shipped from beyond its borders" (NY Times).
The plaintiffs were a combined lawsuit from wine collector Eleanor Heald and others against Michigan and Swedenburg's (and other out-of-state winemakers) lawsuit against New York state. At the time, Swedenburg and her husband were the proprietors of Swedenburg Estate Vineyard in Middleburg, Virginia and a founding member of the Vinifera Wine Growers Association which is now the Atlantic Seaboard Wine Association (ASWA).  In her multiple fights leading to the Supreme Court, Swedenburg benefited from the services of the public interest law firm, Institute for Justice, to handle her cases. And "on May 16, 2005, in a 5-to-4 vote on an action brought by Mrs. Swedenburg and others, the Supreme Court overturned laws in New York and Michigan that discriminated against out-of-state wineries that wanted to ship directly to consumers' homes" (NY Times).
Wineries across the United States are implementing special shipping rates for online purchases so please support these efforts as much as possible.  The Cork Report has a list here, including several wineries from Michigan and New York - who also profit from interstate wine sales.
And as a side note, Swedenburg Estate Vineyard is now Greenhill Winery & Vineyards, known regionally for its sparkling wine program.