Open Post: Hosted By The New Reigning Queen Of Ugly Dogs!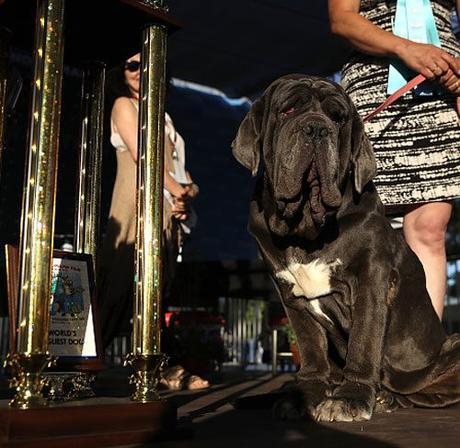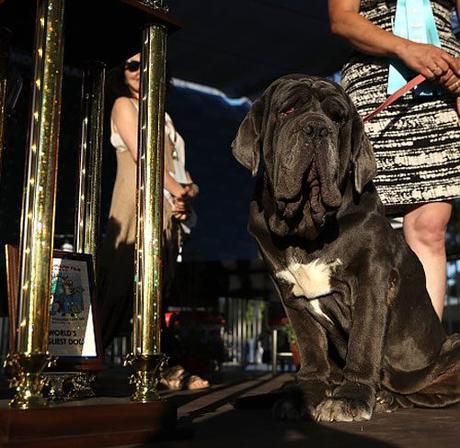 Another World's Ugliest Dog Pageant has happened and I'm yet again screaming for a damn REDO!
The 29th annual World's Ugliest Dog Contest was held in Petaluma, CA yesterday, and I haven't checked what the weather was up there, but I'm guessing it was so damn hot that the sun's rays melted the retinas of the judges and caused them not to see right. Because the gorgeous pooch who ended up with the illustrious title and prize package ($1,500 and a trip to NYC to work the media circuit) was Martha, a 3-year-old Neapolitan Mastiff from Sebastopol, CA. I don't know how the hell that happened. If I go to the dog park right now, I'd immediately see at least 5 dogs that are uglier than Martha ("There must be a 5-way mirror at the entrance of the dog park you go to, bitch!" – you)
Usually, the Chinese Crested Dogs rule that contest, and the crown is put on the head of a beautiful pooch who looks like they were Methuselah's childhood pet and whose potent ugly beauty could scare the fuck out of the animals on Pet Cemetery. So I guess this year's judges decided to switch shit up and give the trophy to a dog who isn't old, isn't small and isn't a Chinese Crested. ABC News says that Martha, who weighs in at 125 pounds, was rescued by her human, and at the time, she was blind from neglect. But thanks to surgeries, she can see again and so she clearly saw that she won the title of World's Ugliest Dog, which is why she looks like she's thinking, "Oh, I'm the ugliest of all these uglies? Okay then."
Here's Queen Martha and her beautiful wrinkly nutsack face being completely over it as she's crowned the winner while the other contestants throw her "Who the hell did she hump for the crown?" looks.
If the contest was Best Impersonation Of Most People On A Monday Morning, Martha definitely would've deserved that trophy, but I will still bow down to the new Ugliest Dog Grand Champion (and she could honestly give a fart about that).
Pic: Getty
Source: Open Post: Hosted By The New Reigning Queen Of Ugly Dogs!
6 total views, 6 views today