Open Post: Hosted By Beyonce As Lil' Kim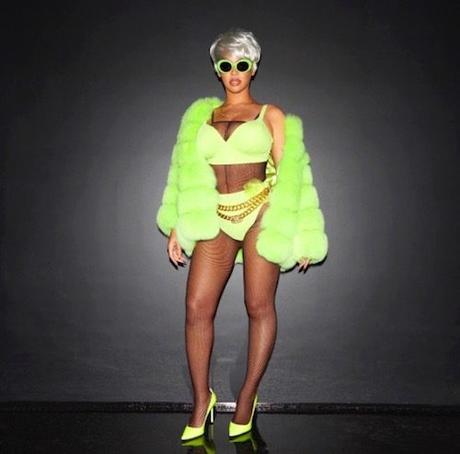 Majestrix of the multiverse and future Nala Beyonce did hip-hop legend and recent robbery suspect Lil' Kim a solid by dressing up as her on Halloween. She posted shots of her costumes on Instagram and on her own website with the caption: "Hip Hop would not be the same without our original Queen B." Beyonce's got 107 million followers on IG, which means there's probably going to be a renewed interest in the Queen Bee! A whole new generation will learn about Kim's ability to make "a Sprite can" disappear in her mouth! By the way, that move's not for amateurs. They had to call the paramedics. I don't want to talk about it.
E! reported on Beyonce posting the pics of her done up as the Queen Bee for former Destiny's Child backup singer bandmate Kelly Rowland's Halloween party. One of them features husband Jay-Z accompanying her as Kim's long-lost bestie Notorious B.I.G.. It should be noted that 'Yonce also did Kelly a favor by coming to her party. Despite "Commander" being one of the greatest songs of all time, it's been a long time since her "Dilemma" with Nelly. You don't see Bey showing up at one of Michelle Williams' sex toy parties, do you?
And it looks like B spent some money on her LilKim-o-ween looks.
For the various looks, Beyoncé opted for top designers including a bright green Tzarina fur coat and a blue silk slip dress from JGerard.
Lil' Kim posted her appreciation for Beyonce's tribute on Instagram.
"I'm still recovering from @beyonce's slayage from Halloween and then this happens… #beyonce #lilkim #queenbee #tookusabreak #beehive #lilkimseason," Lil' Kim shared on Instagram after the Grammy winner shared new photos of her costumes. "Lawwwwddddd, my wig is all the way in China!!! SLAYED. You did that B!"
It gives me a warm feeling inside when one essential celebrity (Kim) gets positive with another less essential celebrity (Beyonce) in public. Usually, famous ladies are pitted against each other by a bloodthirsty industry. And Kim is normally putting her energy towards hating on the cosplay version of her – Nicki Minaj. The love continued to flow from Lil'.
"Come all the way thru Bey!! @beyonce the resemblance is crazy!! Match made in heaven. Every single detail is on point! I love you to pieces Bey."
And she had some kind words for Jay-Z's portrayal of the dude she reportedly borrowed from his wife Faith Evans back in the day.
"This is so adorable and it's even cuter because Jay-Z and Biggie were friends and he has his mannerisms down pat," she shared. "I love U Queen Bey and King Jay."
The more cynical among you might think this sounds like Kim's looking to move into one of Bey and J's guest rooms or maybe needs an infusion of cash. It does kind of sound like Kim is equating Beyonce's doing her as on par with an organ donation.
A post shared by Beyoncé (@beyonce) on Nov 3, 2017 at 4:59pm PDT
Pic: Instagram
Source: Open Post: Hosted By Beyonce As Lil' Kim
6 total views, 6 views today