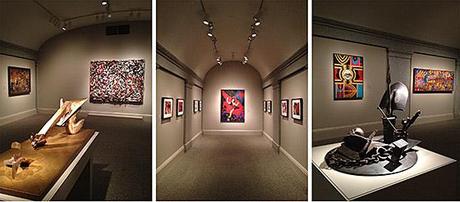 Installation shots from the African American Art exhibition. (click on montage for larger image).
Our latest exhibition, African American Art: Harlem Renaissance, Civil Rights Era, and Beyond, opens today and runs through September 30, 2012. The show features a selection of paintings, sculpture, prints, and photographs by black artists from the museum's collection.
The works lay out a vision of America from an African American viewpoint and, together, create a great overview of this period. What's particularly exciting is that over half of the artworks are being exhibited here for the first time. I sneaked into the exhibition before the press preview yesterday morning and grabbed a few photographs of the installation, as well as of the tour led by Senior Curator Virginia Mecklenburg.
If you can't come and see the show in person, I hope you'll check out both the installation photographs on Flickr, or the slideshow of artworks.
Our conservators have been working hard over the last few months to prepare many of these pieces for exhibition, and we have been documenting their work on Eye Level. Keep an eye out for upcoming posts about this!