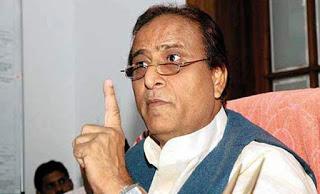 To
Mr Azam Khan
,I am glad that you are aware of the miserable condition of Muslims in India and
Uttar Pradesh
(a state ruled by your party). This also arouses confidence in me that you are capable of taking criticism not like before when you jailed somebody for a facebook post. Your letter to UN general secretary
Ben Ki Moon
have made you a great man by admitting you failure in doing nothing for Muslims in UP the state your party is currently ruling and have also ruled in the past. You have admitted through this letter to UN that your government have provided all favorable conditions for the growth of communal and hate related politics. If you are aware that
Rashtriya Swayam- Sewak Sang
(RSS) is filling hatred and intolerance in the Hindu youth then why your government letting them do this freely. If government machinery was as capable as in the case of your lost buffaloes then such incidents would be avoided. It was not a long time ago that
Muzaffarnagar
riots jolted your state but the courage of
Sangeet Som
in spilling hate speech again shows your government's incompetency in dealing with fringe elements in the society.
Mr Azam Khan
it is true that some people dividing the country on religious line and Prime Minister's silence have worsen the situation but this in no way justify your action of writing a letter to UN an organization which itself is a tool at the hands of some developed nation to turn the world on their side. UN has done nothing for
Rohangiya Muslims
of Burma, Muslims of Syria and Palestine and you know they have no role to play here in India. You have played a political card which further fueled the fire of communal tension between the people of both the communities. You have presented 18% Muslims of India in bad light as if they don't believe in the law of the land and brotherhood of Hindu and Muslims.Muslim leaders like you have just used them for your political gains and their deplorable state in
Uttar Pradesh
is a proof of that. The hate mongers have succeeded in
Dadri
 lynching, the political leaders have also gained considerably by blaming each other for that but the real issue remained as it is i.e. the lost of trust between the communities. I have full faith in Indian values, both the communities have faced tough time together in this country and they know how to come out from such a situation.
Mr Azam Khan
neither you nor UN nor any
Sangeet Som
can dictate them how to behave.
In the end I would like to quote son of
Mohammad Akhlaq
(the man who lynched by mob in Dadri village of Gautam Budh Nagar of Uttar Pradesh) from the show We The People by Barkha Dutt on NDTV 24X7, he said 'Mazhab Nahin Sikhata Aapas Mein Bair Rakhna Hindi Hain Hum Watan Hai Hindustan Hamara,

' 'I have full faith in law and people of the country' he added in the end which shows the true spirit of India.
Jai Hind
!From:A Concerned Indian.