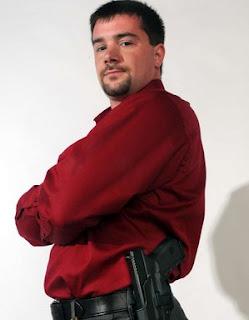 Philly.com reports
on the latest efforts of the phoney-baloney Mark Fiorino to keep himself in the news.
MARK FIORINO was legally carrying his .40-caliber Glock on his hip as he walked along Frankford Avenue on Feb. 13, 2011, when he was stopped by Philadelphia police, who pointed a gun at him, harassed him and handcuffed him.
Today, he plans to file a civil suit against the department for the incident.
Fiorino, who recorded his 45-minute confrontation with police and posted it on YouTube, is suing for "violation of his constitutional rights to be free from unlawful searches, excessive force and malicious prosecution," according to the complaint filed on his behalf by the American Civil Liberties Union.
"Since I was detained and searched and cuffed and embarrassed in front of everybody, I decided to file a suit," Fiorino said yesterday. "I'd like to see that other citizens who are abiding by the law and want to defend themselves by carrying a firearm and exercising their rights don't get continually mistreated."
Just like the exaggerated claims that "more women are buying guns," the open carry movement attempts to normalize guns. They've said as much, that if people could only get used to seeing guns they wouldn't mind them so much.
The problem remains the same regardless of how acceptable gun carrying becomes. Some of the gun owners are not the law-abiding and responsible individuals they pretend to be. They are dangerous and to be around them makes you less safe not safer.
What's your opinion?  Please leave a comment.