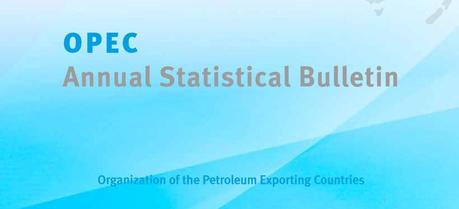 OPEC releases the Annual Statistical Bulletin 2014.
The Organization of the Petroleum Exporting Countries (OPEC) has released the 49th online edition of its Annual Statistical Bulletin.
The Annual Statistical Bulletin provides detailed and comprehensive time-series data on many different aspects of the global petroleum industry, including imports and exports, as well as exploration, production and transportation activities.
SEE ALSO: OPEC's Annual Bulletin Highlights Petroleum Industry Trends
The publication contains, in particular, key statistical data on oil and natural gas activities in each of OPEC's 12 Member Countries: Algeria, Angola, Ecuador, the Islamic Republic of Iran, Iraq, Kuwait, Libya, Nigeria, Qatar, Saudi Arabia, the United Arab Emirates and Venezuela. Additionally, it provides valuable industry data for various countries with detailed classifications mainly by geographical region, and covers the major economic areas around the world.
This year's Annual Statistical Bulletin includes the following important highlights:
• In 2013, world crude oil production increased slightly, by 0.1%, over 2012. Crude oil production in OPEC Member Countries was down 2.5% during 2013, year-on-year. The overall OPEC share of total global production in 2013 averaged at 43.4%, slightly lower than in 2012, when it was 44.6%.
• World oil demand rose by 1.2% in 2013, with the largest increases taking place in North America, particularly the United States, and in emerging economies. The 2013 oil demand in the Middle East, Africa and Latin America continued its upward trend. Moreover, oil demand rose in Asia and Pacific countries, particularly China, Thailand and Indonesia. Total OECD oil demand remained stagnant during 2013, while oil demand in OPEC Member Countries increased for another year by 4.1% year-on-year.
• In 2013, crude oil from OPEC Member Countries was exported to Asian and Pacific countries (14.3 mb/d or 59.3%), Europe (4.1 mb/d or 17.2%) and North America (3.9 mb/d or 16.3%).
• World crude oil reserves were 0.4% higher at the end of 2013 as compared to 2012, with the largest non-OPEC additions originating in Western Europe, predominantly Norway and the UK as well as Latin America, particularly Colombia, Brazil and Argentina. Proven crude oil reserves in OPEC Member Countries indicated an increase of 0.4% in 2013 to reach a level of 1,206 billion barrels. The overall OPEC percentage share at the end of 2013 stood at 81.0%, higher than in 2012, when it was 80.9%.
• OPEC Member Countries remained important players in the natural gas market during 2013, with proven natural gas reserves of 95,034 billion standard cubic metres. This marked a slight decrease of 0.1% from 2012, with a total world share of 47.4%.
• The refinery capacity of OPEC Member Countries increased by a 4.9% during 2013 compared to 2012. In 2013, OPEC Member Countries held 11.0% of total world refinery capacity, up from 10.5% in 2012.
• OPEC Member Countries exported 4.5 mb/d of petroleum products in 2013, with the largest share devoted to Asian and Pacific countries (3.1 mb/d or 68.5%). European and North American countries received smaller shares of OPEC petroleum product exports (0.6 mb/d or 14.0% and 0.2 mb/d or 5.2%, respectively).
• The OPEC Reference Basket averaged at $105.87/barrel in 2013, down from $109.45/barrel in 2012. This represented a decrease of $3.58/barrel or 3.3% with a volatility of $3.93/barrel or, equivalently, 3.7% relative to the yearly average. The minimum monthly average crude price was $100.65/barrel in May 2013 and the maximum was $112.75/barrel in February 2013.
This year's edition of the Annual Statistical Bulletin is also available in PDF format.