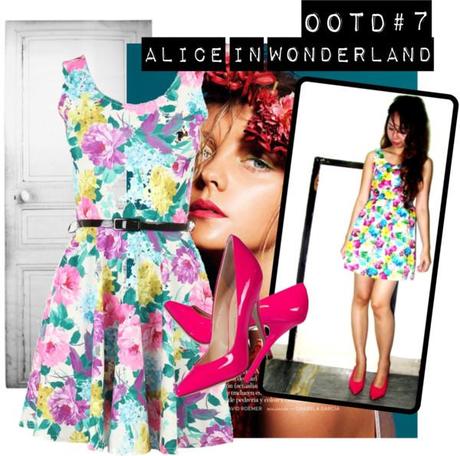 OOTD#7 Alice in Wonderland by
maybeitsaboutroro
featuring a flower print dress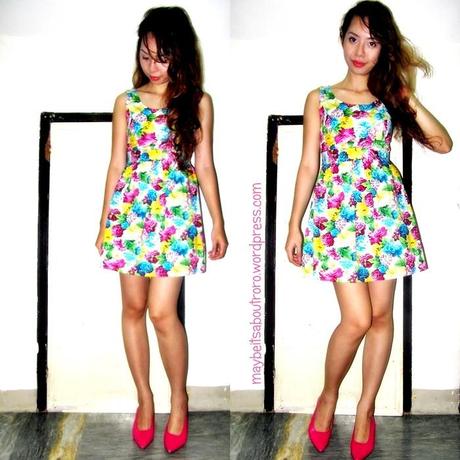 lookbook.nu
Hello ladies!
It's a quite rainy here in the Philippines for weeks now. It feels good to laze about in morning, on the bed and do nothing. Unfortunately, I'm attending classes so I have no time to be idle at all.
I used to think that whenever the weather is not good you ought to wear dark or dull colors. I think there is no general rule that you can't wear bright colors or even summer dresses during rainy days. As a matter of fact, wearing bright colors during these days could improve your mood and combat the feeling of the blues and gloom. I spiced up the whole look by wearing bright pink pointed-toe heels (which by the way I am loving at the moment

). I used to dislike pointed shoes because they pinch my toes and I thought it look funny on my feet. But now I find them adorable!
But of course if it's cold don't forget to put on an outerwear item like jackets or coats. I paired this floral dress with a skin-tone cardigan but this would also look good with denim jackets. I love this dress because of the bright colors. Plus the style of the dress, like the cinched waist, square neckline and wide flair skirt, reminds me of the outfits in the movie The Stepford Wives. I love this movie and watched it when I was 13 years old. I just fell in love with the 50s/ 60s style. You can also see this style on the TV Series Mad Men.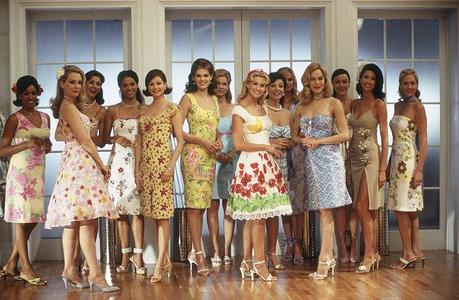 source: teacupsandcouture.wordpress.com
It's actually fun to go against the rules, try and experiment stuff (for me especially with clothes). Cause not only would you look good but you would also feel good

Have a nice day, you guys

kisses,