With the winter chill creeping our way, it can at times be difficult to focus on dressing as per your style. Its very common to slip into the boring winter jacket over same old clothes everyday. 
My solution is to pick out the quirkiest, colorful pieces matching my personality and mood to fit them into fall/winter wardrobe.
Today's picks are from Oasap, a budget friendly option for online shopping that has some very interesting pieces to pick from...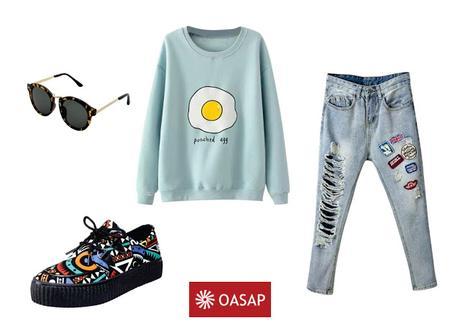 I am picking the poached egg sweatshirt as my Monday's do get better with a healthy breakfast and I loved this pun filled, quirky find for the day. Matching it with the vintage appliqued jeans in washed blue distress look that I am totally crazy about. 
To end the look we have the perfect pair of platform shoes in multicolor geo print and metal framed sunglasses, again with a vintage wayfarer look.
This is an easy and effortless look to assemble and can be played with as per your style. Make sure to  go for a statement piece in your wardrobe, like the bold egg applique on the sweatshirt above and mix it into your look with complimentary pieces, that I achieved with channeling a bit of a vintage vibe with the styles, all the while maintaining the fall coverage that the weather needs.
Links to the above picks, again-  Sweatshirt Jeans Platform shoes Sunglasses
Have a lovely Monday, until next post.xx