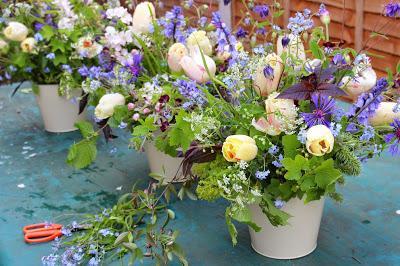 As you might surmise from the hiatus in blog posts, the world of Tuckshop Flowers is getting busier and busier as I frantically sow both literal and figuarative seeds.  Above is a photo of the 100% Brummie event flowers supplied to Birmingham City University earlier this week for their Student Awards Ceremony.
In the literal world, I hope I'm coming to the end of the period where the propagator is a fixture on my kitchen worktop - as the weather gets warmer, the greenhouse should suffice to germinate even the most recalcitrant seed.  But those consistently warm days have not yet quite arrived and I had to have an emergency run down to the allotment with a roll of horticultural fleece to do some cosmos safeguarding on a chilly night earlier in the week.  You'll be pleased to hear there were no casualties due to frost.  Slugs have, however,  chomped all my dark 'Dazzler' seedlings in the Tuckshop garden, while leaving the white 'Psyche' variety untouched.  Haven't tried a taste test myself, so have no idea why it should be so.
In the figurative world, I'm preparing to exhibit at BBC Gardeners' World Live at the NEC, heading up the the Flowers from the Farm team.  Daunting, but exciting and a brilliant opportunity to reach a wider public with the British flowers message.  Hopefully the stand will also encourage a few people  to find the flowery path in future years too!  (And here's a discount code for tickets.)
British FlowersWeek, organised by New Covent Garden flower market  is also peeking just over the horizon from 15th-19th June, hot on the heels of Gardeners' World Live. For this celebration of British grown blooms,  I'm teaming up with the very funky More By Design, an interiors shop in my new favorite haunt, Birmingham's iconic Custard Factory.  More By Design are hosting my pop-up of locally grown arrangements, and I'm also going to do a few larger designs for their window display.
The shop team, Abbie and Heather have got equally over-excited about British Flowers Week and have just commissioned their designers to produce a range of greetings cards to accompany the event.  Wow - how things snowball!!  Will post a link when one becomes available.
And now I must go to sort out my plans for DIY wedding flowers next week, and for my 'Dying Matters' display for next Friday's event with A Natural Undertaking.  All systems go!