Thinking of which marketing tool to select from Ontraport Vs Infusionsoft?
I know you landed onto this page for a reason that your business needs a secondary automation hand to take up some of your responsibilities. Every business's persona experiences great chaos when it comes to handling the affairs of sales and marketing, especially managing marketing campaigns, customer data, and lead generation.
Consequently, this paved the way for the two most popular companies namely, Ontraport Vs Infusionsoft in the 'Business Automation' domain. Both of these systems are best in their own ways.
CRM (Customer Relation Management) software, lead capture, marketing automation, e-commerce sales tracking are some of the major services provided by both of this software. With that being said, both of these require an outlay of time and money.
In conclusion, many people now will be in great perplexity when it comes to the point of selecting any ONE among them. So, first, let's discuss the works of Infusionsoft and Ontraport.
Ontraport vs Infusionsoft 2020 | The Ultimate Comparison ( #1 Reason )
Overview Infusionsoft
More business less works; that is what the first line of their website says. Every entrepreneur wishes that he had eight arms when it comes to tackling the market needs and campaigns for their company.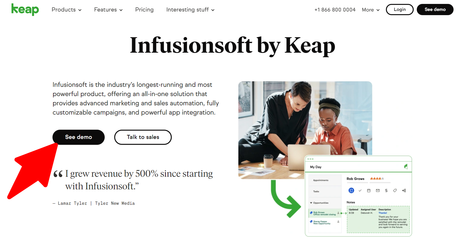 Infusionsoft by Keep is a company offering email marketing and sales platforms for small enterprises. In addition, it accounts for vendor management, CRM, marketing automation, e-commerce, etc all in one house. It is an important part of the business because it houses all content management at one central location.
Working of Infusionsoft Ontraport vs Infusionsoft
It is an all-in-one solution to calm down all the chaos involved with your business. Furthermore, it helps the business owners to encompass many beneficial aspects namely growing contact lists, creating advanced scenarios, lead scoring, customizable marketing campaigns, advanced reporting, and customer-vendor management.
Infusion soft is associated with 2 main things which are:
Email marketing is nothing but a technique where one can advertise their company's commercial messages etc to many people around through emails. This helps the company to gain many profits as email is one of the primary modes of communication.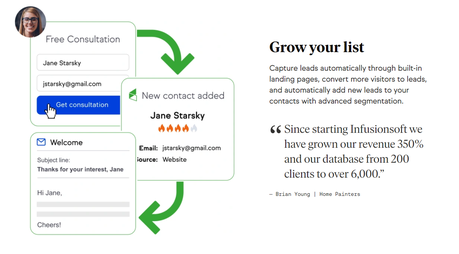 An average email has a CTR ( click-through rate ) of about 18% and in the current market, email marketing generates more leads than any other marketing channel. Infusionsoft allows you to create your lead list, target them in different categories, and design the email according to your need.
With its advanced audience segmentation techniques and built-in landing page system, you can grow your customer database from hundreds to thousands in no time.
No calling day and night or managing innumerable data records in the monotonous excel sheets with Infusionsoft Customer Management. CRM stands for Customer Relation Management. This enables you to build up an effective relationship with your customers.
This helps to contact your customers in many ways like a text message or a voice mail or postcards etc.
Moreover, it even enables one to schedule calls with the representatives and also provides a special approach where we can segregate the customers into groups which eventually can help one to maintain effective management between all the clients.
It makes you get rid of all the chaos and helps to follow up with the prospects and customers at the same time with a single arm. Likewise, we can even store general contact information for example like birthdays, meeting schedules, emails, etc which can make one get rid of multiple numbers of sticky notes.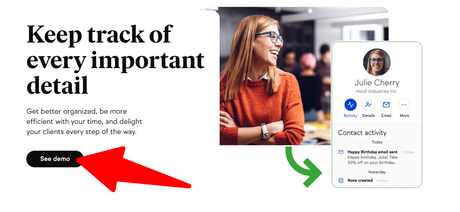 And then it involves something known as lead score, which is primarily measured with the number of clicks on the links shared, forms filled, and attention paid to the regular updates that you provide your customer with.
If the score is high then we can conclude that the customer has been loyally paying interest and engaging with your firm The other way around if the score is low, it means that the customers are not connected appreciably and hence would pave a way to improvise the drawbacks in your marketing.
This hint of the lesser engagement of the customer offers you a second chance to work over your market strategies and design them to retain engagement and ROI.
The CRM part of Keep is considered as the most efficient way to connect with the customers. As many of us know classical business involves a huge number of spreadsheets, documents, and many other Data handling. But, Keap's Infusionsoft had reduced all those hectic deeds onto a single platform where one can enjoy the work with perfect data maintenance and less manpower.
Pros OF Infusionsoft CRM: Organize the date perfectly
Advanced audience and lead segmentation
Enhanced communication with your vendors and customers through reminders
Catch up with all your leads in one single click
Update your clients with regular work status
Emails made easy
Maintain the traffic reports and CTR
Cons of Infusionsoft:
Imprudent features.
Tricky tools.
Expensive.
Excessive email errors.
After Infusionsoft:
In a recent survey, it was proved that 67% of users agree that Infusionsoft helps to have a better follower and 56% of people agree that it improved customer relationships. It gives a whole insight into sales performance and many other things which are considered as the key points for a successful business. The best part is that it starts off with $199 per month.
Well, this is a crisp introduction about what is Infusionsoft. Now, on the other side of the coin let us discuss Ontraport.
Overview Ontraport:
Ontraport is a software that helps you to make your own internet-based business which involves email marketing with facilitated options and also a sales manifesto which includes CRM for small businesses.
Moreover, it provides a Marseilles platform, payment techniques, refunds, and also an affiliate marketing system. But if it comes to your own product, you may also require affiliates which can in turn sell for you on commission grounds.

Now, Ontraport will trace those sales and finally, you will be able to pay your affiliates systematically. It is a development software in business for entrepreneurs, individuals, businessmen, and small businesses particulars. It was founded by Landon Ray in the year of 2006 and the headquarters of Ontraport is located in Santa Barbara, California in the United States.
Features of Ontraport Ontraport vs Infusionsoft
Ontraport provides us with appreciable CRM features which are Customer Relationship Management. And CRM is all about guiding you to contact potential customers with a suitable channel for the right product at the right time.
It effectively develops your business skills and also helps you to automate the whole process using enhanced filtration, channels, and techniques.
Astonishingly, it is also one of the biggest autoresponder systems which made many of us start doing business or become self-employed. It also includes Web development, E-commerce, Landing pages, Sales Force Management, Membership software.
Ontraport is a "complete system" which includes;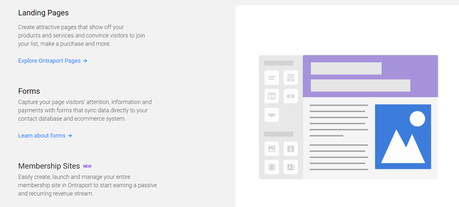 Affiliate marketing system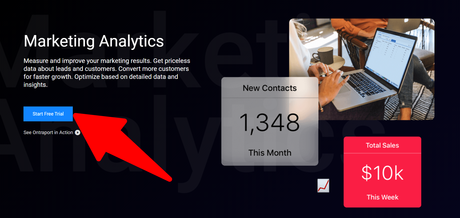 Customer relationship management

Automation
Membership sites
Any of their services "done for you".
Working of Ontraport Ontraport vs Infusionsoft
Every business starts with a simple idea of selling a good or service. Now that requires perfect marketing to generate leads, manage them, follow them up and advertise; Ontraport has it all set for you.
Moreover, you need not worry about investing your time and creating your commission basis or sales funnel, Ontraport has it covered. It gives you an idea of developing low-cost tripwire products to draw customers' attention to your business. You also need to excel with suitable 'Up sales' and other OTO's that orderly can revamp your principal product oblation.
Generating the sales funnel, content management levels like Middle, top, and bottom sales funnel content is very handy with this software. You can automate customer awareness with Ontraport as well. Going from Awareness to consideration to the final decision making, Ontraport will never fall short of content management and marketing automation tools for you.
Ontraport Pros
It comes in with a built-in metrics dashboard where you can easily add metrics that have to deal with your customer base. Different aspects of each and every one of your customers can be stored and used while opting for your marketing plan.
You can easily sort out things like new customer auto-complete data, deal reports, client response, and other automation required. It also has an Email marketing service and tracks customer actions as to which products they bought, last order date, and membership site. It also includes:
One of the finest software for marketing and sales.
Provides various templates.
Effective recruitment process in the learning program.
Effective communication with paying customers.
Email marketing.
For each and every update, software gets improved.
The funnels you build will be readily shared and simultaneously earn commissions.
14-day demo version.
Ontraport Cons:
It has a standard plan which restricts the number of funnels, pages, and customers.
It has an abrupt learning curve and hence we have many things to learn.
Comparison Between Infusionsoft and Ontraport:
Both of these companies are pretty impressive in their own magnificent way when it comes to the point of output. But, on the other side, they do have some flaws. So as of now, we have already discussed what the roles of each company are. Now, let us see which one excels in some required aspects.
Infusionsoft was established in the year of 2001 and consequently, Ontraport was established in the year of 2006. Both companies work on the same industry requirements but the trust establishment pointer goes to Infusionsoft.
When it comes to the matter of tag management both the companies are equally good. ONTRAPORT:
The tag manager can categorize tags by groups. Inside the campaigns, we can automatically tag contacts. Ontraport enables you to automatically add contact's tag based on their actions within the campaign. Here one can set a level and when one reaches that limit, they will get tagged automatically.
Infusionsoft enables you to classify the tags within the system. We can even have multiple tags under the same category. We can have great automation of campaigns, sequences, and also we can tag people very efficiently based on their responses to our regular campaigns.
E-commerce refers to buy or sell goods online. As a result, it involves many things like payment and reviews, etc. So, both the systems came up with their own ideas in order to calm down the market pain regarding these aspects.
ONTRAPORT
This offers a built-in, e-commerce management area used to make product listings and would provide better subscription management. We can follow up with every buyer and can also provide customers some complex offers which involve subscription management, free or paid trials, smart order batching, and many more. Moreover, it automates your collections management to recapture more charges and save more customers.
INFUSIONSOFT
Once you install Infusionsoft to your business website, it automatically helps you to gather the payment details and connects with payment sites like PayPal or merchant accounts like Nexus, Stripe, and many more. It also allows the customer to add and remove items to a shopping cart. Creating discounts and up-selling and further can also be done. In conclusion, this would help you to drive more traffic to your side.
Pricing Ontraport vs Infusionsoft
Both the software empowers small business owners to create campaigns, and build professional looking email and landing pages with readymade templates. But let us see at what costs:
ONTRAPORT
Ontraport provides many exciting features including contact management, lead tracking, email marketing, CRM, e-commerce, marketing analytics, and many more. It also offers you a free trial for 14 days and after that, it has four tire options where the basic tire would itself offer twice the contacts compared to Infusionsoft.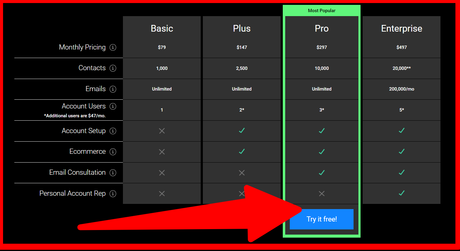 If you are not satisfied with the features offered you can claim for a refund within 30 days of activation.
Infusionsoft
Infusionsoft includes one user account, contact management, marketing automation, and unlimited emails. We can find reports and statistics inside Infusionsoft itself .the pricing starts at 199$ per month. It has three-tier options where it offers 500 contacts in the basic tier.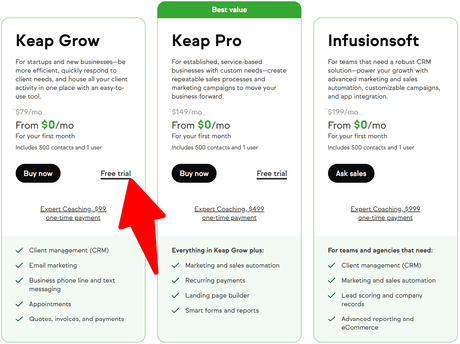 Coming to the analytics view Ontraport is very inclusive but it's not easy to use. On the other hand, Infusionsoft is pretty impressive but has expensive pricing and strict email delivery.
Ontraport vs Infusionsoft & FAQs
Infusionsoft is best suited for whom?
Infusionsoft is best suited for small to medium scale businesses that have an employee strength of around 100.
Ontraport is best suited for whom?
Ontraport is best suited for small businesses that offer membership or sell digital products.
Amongst Ontraport Vs Infusionsoft which one offers better support?
Infusionsoft offers the best customer support to help its customers to use the software to the best of its ability.
Ontraport vs Infusionsoft & Testimonials
Ontraport Review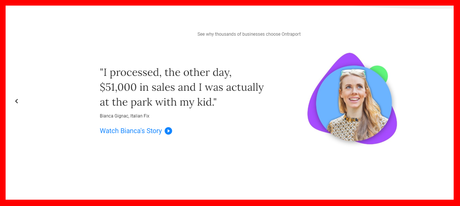 Infusionsoft Review

Quick Links:
Conclusion: Ontraport vs Infusionsoft 2020
In summary, this pair has both pros and cons on an equal level. Both of them are very competitive when it comes to the matter of customer services. The primary motive of them is to support small businesses to expand in an exceptional way.
They offer features that can be considered as a boon in sales marketing, lead conversion, and management (Business Automation). It also gives us excellent tips in attracting clients towards our products. Furthermore, many users have claimed that the sales of their business had increased after opting for any one of them.
Besides, depending on the individual's opinion it also depends upon the product's compatibility with your business model. That in turn leaves us in a dilemma on selecting Infusionsoft or Ontraport. Though, the sides of the coin cannot be ignored.
So, it is suggested to select the software which accurately fits your required demands. However, there is no ideal software without any flaws but both of them are working hard in order to optimize their features more effectively.
And, the best part is that both of them are getting better and better after every update so that their customers can see their businesses grow with hands folded.