Happy Valentine's Day! If you haven't seen it, here's my most Valentine-themed painting, "Love is in the Trees."

I am certainly a lucky lady with many great loves in my life. I hope you are taking a moment to appreciate love in whatever form it appears in your own life.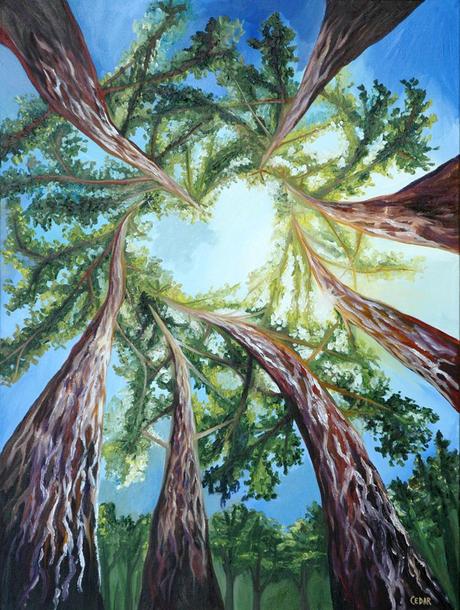 I have 2 new paintings that I hope to get posted online later this week, but for now I just want to share a simple but amazing kids art project that may inspire those of you with rambunctious and creative toddlers!
Blazington, now 16 months, has become very involved in drawing in the past couple of months, and recently has become quite skilled at multi-colored scribbling. I've found that giving him a pad of paper and a pencil or crayon can sometimes keep him happily occupied for some time while I get things done. But "NO! Only draw on the PAPER!" has unfortunately become a refrain around here. I can see how it's a hard rule to remember because there are so many fun things to draw on. (By the way, washable markers–awesome.)
About a week ago I became fed up with a few too many wayward scribbles on our living room coffee table (it's not a fancy table, but still, it's just the principle of it!) and I was struck with a great idea. 2 pieces of white poster board and some painter's masking tape and voila–the surface of the coffee table is now made of paper!
Blazington gets to draw on the table without breaking the paper rule.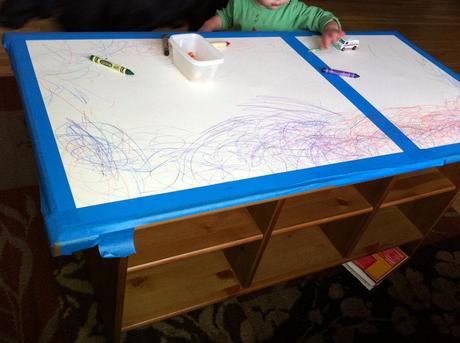 He spent 2 hours drawing on the table that day while I painted!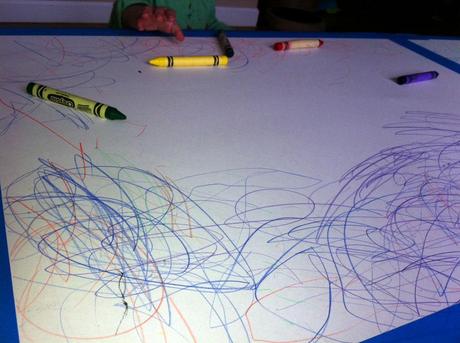 We have left it like that and there are now many many more scribbles than this.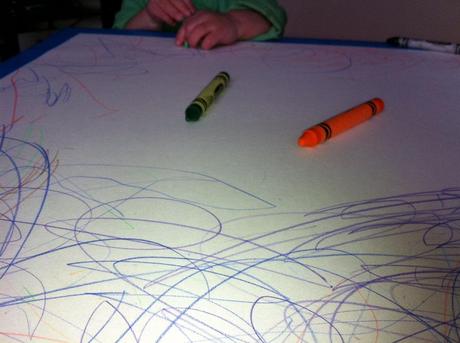 I figure when this art piece gets too busy, I'll have to replace it with fresh poster board.