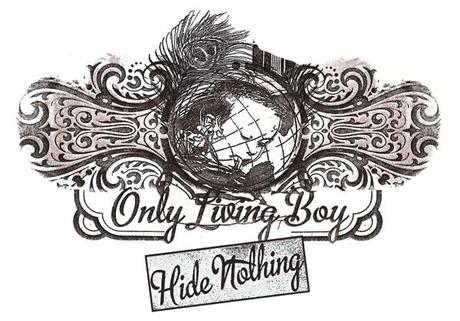 Who the hell do these guys think they are?  First they hit me with the damnedest
Deep Purple
sound with "Lonely Puppy Blues."  Then, they make me wrap my mind around "Sunny Day Man" somewhere between
Black Sabbath
and
Led Zeppelin
.  My ears were not ready for the next onslaught, "Hide Nothing," the album namesake, a hard-edged electric blues power trio guitar hooked blast that approaches "When The Levee Breaks" deliciousness. Who the hell gives them the right to write and play the blues this well?  Damn it, who the hell are these guys and why am I just hearing of them?
Two parts of the "
Demon Shuffle
," the first a dark soft acoustic piece, the second a dissonant mess, drink out of the depths of the
Tommy Bolan
and
Blue Cheer
shotglass.  Then, WTF happened?  I'm handed a "Bag of Bullets," and the band seeks quietude in acoustic instuments and soft harmony that, save for the drums, probably would beckon a
Ry Cooder
to sit in.  You're punk with "Ronny Rozoni," a song that
Johnny Rotten
would love.  Where the H - E- double toothpicks did this band come from?
Things do get a little  nasty as they "Open You Up" and, as they sing  "dip my fingers in it."  it's like
Dave Matthews
singing for an effin'
Jeff Beck
during his rocker days..  Look, I'm trying to roll with the punches but this damned band has got me by the throat. "I Hear Music" as they again get the Led out. WTF is going on here?  Who are these guys?
I got no answer, rather, just a weird dragging "Family Of Ghosts" as it rattles the chains and pulls at the bottom so deep that the bass player must be underground.  Wow, I think I may have lost my  "Marbles," (but they sing to me that "they're back in my pocket")  which is a bi-polar song with bizarre theatrical changes that would have made
Frank Zappa
very proud.  I gotta know, what the hell is going on?  Have I fallen into early heavy blues heaven or is it merely a self-induced delusion?  No, really, is this a new band or did someone find a bunch of hidden obscure heavy rock from the Masters and just now release them under a fake pseudonym?
As I'm pondering that very thought "Priority One" is released upon me.  Did
Blind Faith
reunite and someone not tell me? Then the final push is "My Heart Is Burning."  
Robert Johnson
,
John Lee Hooker
,
Honeyboy Edwards
, they're all there.  I swear.  Even sounds like
Jimi Hendrix
also dropped by.  I'm pretty sure I also heard
John Entwistle
and
Keith Moon
.  But, hey that's just me.
So who is this band that blew me away so?  Is it the ghost of heavy rockers come back to life?  No, it's
Only Living Boy
comprised of lead vocalist, guitarist and songwriter
Joe Cirotti
, bassist
Eric Curley
and drummer
Trevor Newcomb
.  They grabbed
Scott Liss
to sing and
Anthony Chick
to play percussion on "Bag Of Bullets."  
Paul Ritchie
plays bass,
Sam Bey
plays percussion and guests
Ron Franco
and
Mike Varina
are featured on "Ronny Ronzoni."
I still don't believe it.  Try it for yourself.  Start at track 1 of
Hide Nothing
.  By the thirteenth track you'll be  ready to play it straight through again.  It is ear candy tinged with the blues soul of heavy rock 'n roll.  Now, who does that anymore?
- Old School