Online Video Dominates Digital Today
Online video dominates digital marketing today more than ever before. Videos are so hot on social media today.
If you want to share from your website to social media using videos on your website is crucial today.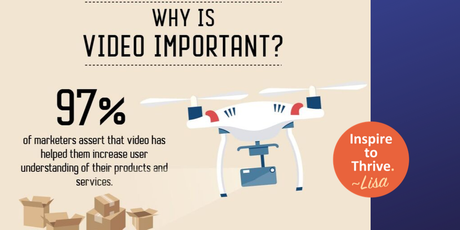 Therefore, learning how to make videos for your website is now a must to add to your to-do list. Being able to market your website via video is a great way to showcase your products or services.
But what happens next? You have your awesome video that you can't wait to get out there for public consumption, but don't know how to get it on your website. Your problem solver is Liquivid.
Liquivid is a software company with various video and photo editing applications for both PC and Mac desktops. Today, the focus is on their Video to HTML5 product, which is used for converting and editing your video files to use on the web.
7 Trends Why Online Video Dominates Today
 Courtesy of:Branex
Adding Videos To Your Website with Liquivid
If you're looking to add videos to your website, then you'll want to consider this product, or at least one like it. Liquivid allows you to select the file format to export your video. Then, change the output resolution to make your file smaller or larger.
And finally, Liquivid gives you the HTML coding for you to use on the backend of your website.
The application allows for any video format to be converted to HTML5-ready formats. How cool is that to convert videos to HTML5 formats?
And finally, gives you the HTML coding for you to use on the backend of your website. #onlinevideo Click To Tweet
Why is This Something You Need to Dominate Video Online?
HTML5 capable browsers allow videos to be played without plugins like Flash! Hence, this is extremely important today as mobile web use continues to grow and Flash is not well supported.
It seems to be the future standard of all video viewing on the web. While all of the above sounds super technical, this app prides itself on being quick and user-friendly.
More people today than ever before are browsing online via their mobile devices. Stats below are from hosting tribunal.
More than half of all video streaming comes from a mobile device.
In the US, consumers spent 90% of their mobile time in apps.
Mobile internet has grown 504% in daily media consumption since 2011.
76% of US citizens use their phones to open and respond to emails while watching TV. Talk about multi-tasking!
In 2018 people spend 208 minutes per day on their mobile devices. That's over 3 hours a day.
This app prides itself on being quick and user-friendly. #onlinevideo Click To Tweet
Here Are Some of the Great Features of Liquivid :
- Adjust white balance, colors and exposure.
- Add text.
- Crop your video to any size and aspect ratio.
- Trim videos.
- Adjust resolution to optimize file size.
- Export to MP4, WebM, OGG, GIF, WebP.
- Available for both Windows and Mac.
You can find more a list of Liquivid detailed features on their website.
As a result, Liquivid's products are focused on quick solutions to make your life easier. Each product has a FREE trial offer, which gives you a chance to try before you buy, which I love!
The FREE trail has NO time limit like many other offers. If you decide to stay with FREE you will have their Watermark on the videos. The price to purchase is just $19.99 and can be used on 3 different PC's. That's a price you cannot beat!
Anything to make my life easier and save money are for me 🙂
Are you making video to dominate your online presence today? I've been working on mine but of course, there is always more work to do. I'd love to know more from you in the comments below.