I was first introduced to the convenience of online fax services for business in 2006, but I have since found that they are at least as useful — if not more useful — for personal use. I'm not some kind of crazy, fax obsessed person, waiting for the day this crazy "email" fad will go away, but I do know that some people and businesses still prefer to use fax machines. In those cases, it's very convenient to be able to have a fax number where they can send you documents.
I use MetroFax for my personal faxing, because they're reliable, inexpensive, and they have a great app. In the last year, I've used the fax service to receive faxes from:
a school

a demolition specialist

a lawyer

a consultant

a jeweler

the city of Austin
I've also sent quite a few faxes to similar types of those service providers. In all cases, I was glad to have my own number to provide, where I could receive the fax.
I've been in the online fax reviewing business for over 5 years, so I think it's fair to call myself an expert in the area of selecting a fax service. The reason I chose MetroFax was because it was reliable with good customer service, had a good iPhone app, a low monthly fee, and it allowed me to receive the faxes on 3 of my email addresses.
The one downside of the service is that it doesn't give you the ability to electronically sign (e-Sign) a fax. E-Signing is a handy feature because it removes the need of a printer to sign and return a document since it can be done on your computer or device. RingCentral, eXtremeFax, eFax, TrustFax, & HelloFax all offer this feature with their fax plans. This list shows the fax plans that have the e-Signing capability. MetroFax's sleek iPhone app does make up for this missing feature to some degree, because you can simply take a picture of the signed document with your phone and fax it back to the sender. In the end, it really just comes down to personal preference.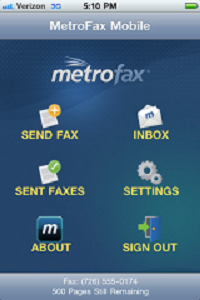 MetroFax Mobile App