Another great one from the up and coming Blogger Dishy Divorcee. I adore this lady and her blog.
Crap I can't make up: red flags to on-line dating
Ladies, take a deep breath. I'm about to let you in on a little secret. The hottie with the user name CupidCasanova in NYC – DOES NOT EXIST. I know, at first glance, your self-esteem likely sky rocketed when the message popped up: "he's interested!" You've been misled. One of two things is probably happening: 1, his greasy sausage fingers are mousing over your image while he touches himself inappropriately or 2, he is a desperate, 60-year-old agoraphobic playing a big, fat joke on single ladies across America.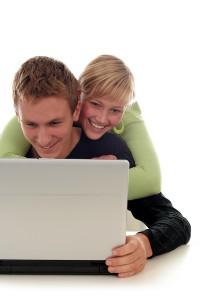 Drunk & Dating
Another red flag in online dating is the guy who showcases his drinking agility in 10 out of 12 profile pictures. The threshold to his dating interests stop at beer bongs, night clubs, and the probability of getting laid. Sure, it's nice to know that he has fun with friends and can hold-down a 1.25 liter of Smirnoff, but is vomiting nightly and waking up with your underwear on backwards the way you want to spend your single days? Oh, another clue, this moderate drinker's favorite pastimes include the gym, hangin' at a local cigar shop and several 3-day trips to Las Vegas.
Red flag number 3: the man who gets carried away in the "I'm looking for" segment. Recently, I read an actual profile that stated the following:
[ I want a woman who can multitask, a BFF that to confide in & let my guard down totally with. 2. I want a mother to take care of me... 3. I want a seductress or tramp depending on the mood. I want to be wanted & not have to ask for it. 4. Finally, I want a devoted secretary that is there to help whatever the situation & can do it without losing respect in me. I could go on & on like this for pages. What do I pray for? I want a woman who will love me, for who I am.]
He started off on the right track, but then it all went terribly wrong. Did he really use the word secretary? Good luck with that!
Just keepin' it real,
XXOO Dishy
If you need more tips on how to put up a profile that stands out and brands you online in a positive way  you can contact me at this link TalktoLiz I can help you get your love life on track and put your best foot forward while dating online.