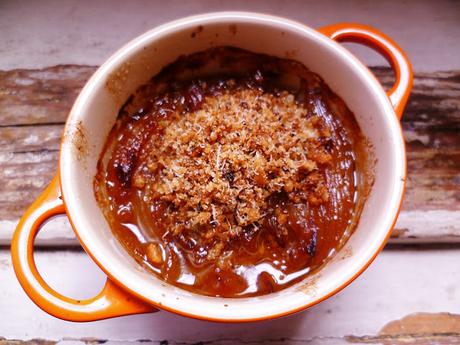 onions braised in cider
Last Sunday, we had pork collar and I served these slow-roasted onions, braised in cider and topped with cheesy breadcrumbs as an accompaniment. I've just had a request for this Sunday too. I do love it when a recipe goes down well; everyone is happy!

This side dish also goes rather well with roast chicken - so that's this Sunday sorted. But any leftovers are really good in a sandwich with ham or roast meat, together with some pickles. I also include it as a burger topping. (As usual, I am very fond of a versatile recipe!)
I haven't tagged this a "Vegetarian" recipe since I've included chicken stock. You could, of course, replace the chicken stock with a vegetable one.
A recent theme for The Guardian's Readers' Recipe Swap challenge was CIDER, and this recipe was included, of which food writer Eve O'Sullivan said "
And I recommend making double the quantity of Marmaduke Scarlet's slow-braised onions. Eat first with your Sunday roast, then use them in sandwiches along with the leftover meat.". Go on, do it!
Serves 3-4 as a side dish
Skill level: Easy
ingredients:
500g English onions, peeled and quartered
30g butter
2 cloves garlic, very finely sliced
250ml cider (dry)
250ml chicken stock
salt and freshly ground black pepper
50g breadcrumbs
2 tbsp grated Parmesan
directions:
Pre-heat the oven to 200C/Gas Mark 6.

Gently melt the butter in a large saucepan. Add the onion and garlic together with half a teaspoon of salt. Fry gently over a low heat for about 10 minutes, stirring occasionally until the onions are beginning to color.

Add the cider and chicken stock. Bring to the boil.

Transfer to an ovenproof baking dish and bake for 1 hour, stirring occasionally. Check the seasoning. Much of the liquid will have evaporated and the onions will have collapsed.

Combine the breadcrumbs with the Parmesan and a little salt and pepper. Sprinkle over the top and continue to bake for 15 minutes.

Serve immediately.