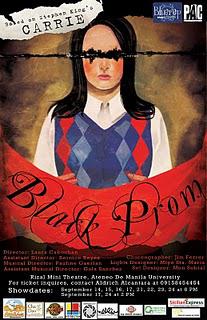 Ateneo BlueRepertory, presents its mid-season production, "Black Prom," a musical based on Stephen King's "Carrie." "Black Prom" is the story of how Carrie White, a girl tormented and bullied by her classmates, discovers telekinetic powers just in time for her senior prom--a night no one will ever forget.
BlueRepertory's 20th season explores the theme, "Who is Man, who is Beast?" Its latest production follows the successful staging of the classic Menken-Ashman musical, "Little Shop of Horrors."
The show runs September 14-24 at the Rizal Mini-Theater, Ateneo de Manila University.
For ticket inquiries, contact Aldrich Alcantara 0915-8454454. Like on Facebook www.facebook.com/bluerepblackprom and at www.facebook.com/blueREPERTORY.