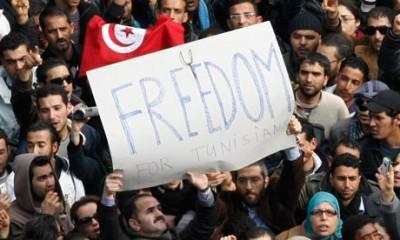 Tunisians celebrate Ben Ali's departure. (Photo: AP)
One year ago on January 14, Zine el-Abidine Ben Ali, who had ruled his country for nearly two and a half decades, boarded a plane to Saudi Arabia, fleeing a people who had overcome their fear of him. Despite little personal experience in their history to justify their faith, broad segments of Tunisian society responded to the pervasive uncertainty that followed by remaining committed to democracy. While enormous challenges remain, that commitment is ample reason for optimism.
Upon his flight, Ben Ali left more questions than answers. On the day he departed, the presidency changed hands twice. When police withdrew from the streets of Tunis, rioting and looting ensued. The newly minted "national unity" government fractured in days. Weeks passed and Rachid Gannouchi, founder of an-Nahda, Tunisia's largest political party, remained in exile. Members of Ben Ali's Democratic Constitutional Rally (RCD) party lingered in the halls of power for a month before protests pushed them out. It took two months before the RCD was killed by the stroke of a pen.
As it became increasingly apparent that an-Nahda would fare well in elections, some feared that the party would roll back civil liberties. Some warned that while Tunisian military officers initially shied away from political power, a difficult transition, or perhaps one that empowered Islamists, might change their minds. Some criticized the transition for proceeding too slowly. Some criticized it for moving too fast. Protests, demonstrations, and strikes continued, challenging an economy that had underperformed even when the going was good. Throughout, the question remained: if not Ben Ali, then what?
Facing myriad challenges, Tunisians have been remarkably consistent in their answer. Broad segments of society have remained steadfast in their commitment to establishing a democracy. Despite being hailed as national heroes, Tunisian generals have largely left politics and policymaking to civilians. Thousands of Tunisians ran for office. Millions went to the polls.
When an-Nahda earned 40 percent of the vote, the other 60 percent did not incite revolt. Rather than taking its electoral mandate and running roughshod over its defeated opponents, an-Nahda, apparently conscious that its mandate will expire in one year, appears to prefer compromise and consensus-building. While points of contention abound, Tunisians seem committed to the idea that democracy offers them the best system in which to resolve them.
While this is cause for optimism, celebration would be premature. This year will bring a set of challenges that could shake the resolve of Tunisians. The recently elected Constituent Assembly has one year to draft a constitution and ensure that it enjoys robust support. The high stakes surrounding this process could certainly pose a challenge. Furthermore, reconciling the corruption that plagued many of Tunisia's government institutions with a newfound focus on transparency, accountability, and the rule of law could be painful.
Perhaps just as importantly, Tunisia's new leaders must resuscitate the country's stagnant economy. A recent string of self-immolations has highlighted the urgent nature of the problem. Three weeks ago, Tunisia's new president warned that if the country cannot revive its economy, it may be headed for "collective suicide."
According to a recent paper written by economist Lahcen Achy and published by the Carnegie Endowment, Tunisia has long suffered "because of political interference in business, many administrative and regulatory barriers, and ineffective social and regional redistribution mechanisms." Achy called on Tunisia's new government to "devise a consistent package of policies, relying on a credible discourse, concrete goals, a timetable to achieve them, and accountability to the population."
Building consensus among an evolving group of nascent democratic forces to draft a constitution that garners widespread support, while simultaneously reforming and jumpstarting a struggling economy in a post-revolutionary environment, would be challenging in a good year. In 2012, with its neighbors to the north struggling economically and its neighbor to the southeast trying to recover from a civil war, it will be more so. Still, with the faith Tunisians have shown in democracy to this point, there are plenty of reasons to be optimistic.