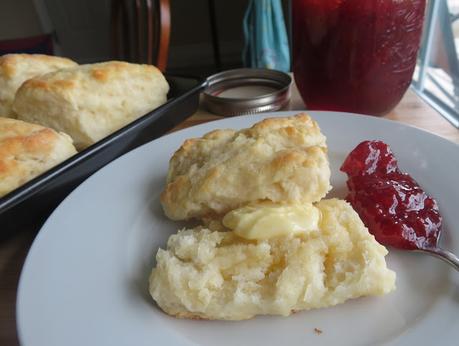 Prepare yourself to fall in love. This recipe I am about to share with you is destined to become a firm favorite in your kitchens and with your family.
I like to call them One, Two, Three, Buttermilk biscuits because they go together one, two, three, lickety split, and they require only three ingredients.  
Yes, I said that right.  ONLY THREE INGREDIENTS.  Three ingredient biscuits.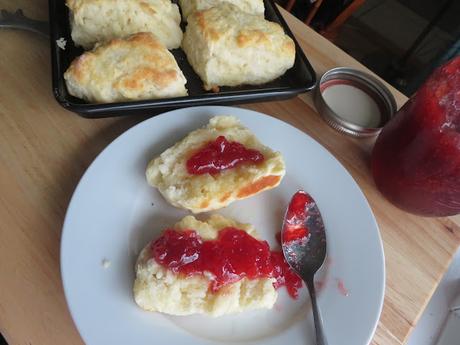 When I got home from church today I was starving.  Usually I have something ready that is quick and easy for me to eat. 
I didn't today, so I decided to make these biscuits. I couldn't believe that I hadn't shared the recipe on here yet and so here I am sharing one of the best biscuit recipes ever for buttermilk biscuits with you!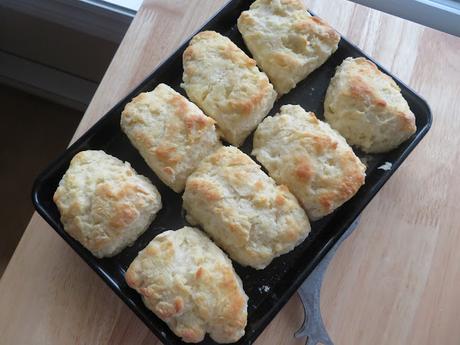 Quick and easy, these homemade buttermilk biscuits go together in a flash, and pay attention if you are in the UK, I am not talking about cookies here. 
These are a North American quick bread, which is meant to be eaten with sweet or savory things, and usually they are served warm.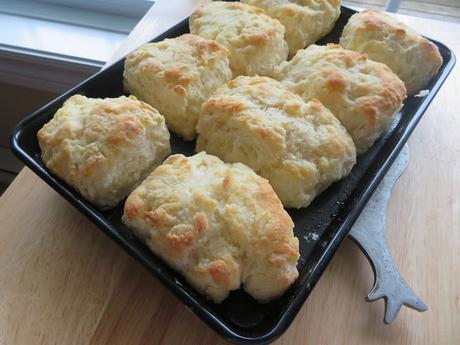 They are delicious split, spread with cold butter and served warm with soups and stews. Or with jams and other spreads. With chunks of cold meat and cheese.
They are just plain delicious no matter what.  And what's really special about this version is that they are so very quick and easy to make.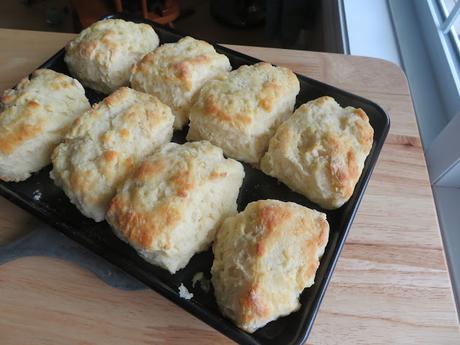 If these were any quicker to make they would be instant biscuits.  Truly, however, they are not a lot of work, and with a bit of planning ahead of time you really can have them done in quicker than a jiffy.
1.
have the flour all measured out in a bowl and ready to go.
2.
have the butter, diced and waiting, chilling in the refrigerator, ready to go.
3.
have the buttermilk, measured and waiting, chilling in the refrigerator, all ready to go.
That would make them pretty darn near instant, but failing that . . .  this is all you need to know.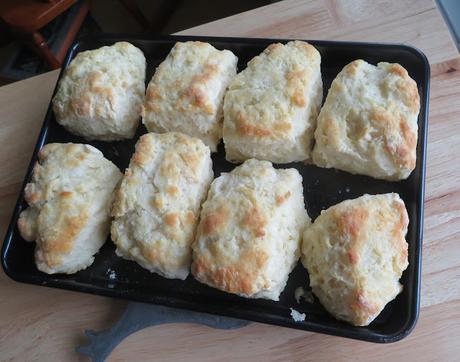 WHAT YOU NEED TO MAKE ONE, TWO, THREE BUTTERMILK BISCUITS
Simple ingredients, put together in a genius way.
self raising flour (you can easily make your own, just add 1 1/2 tsp baking powder and 1/2 tsp of salt for every cup of plain flour used. I make mine up five cups at a time.)
cold butter
cold buttermilk
Three ingredients, no more, no less.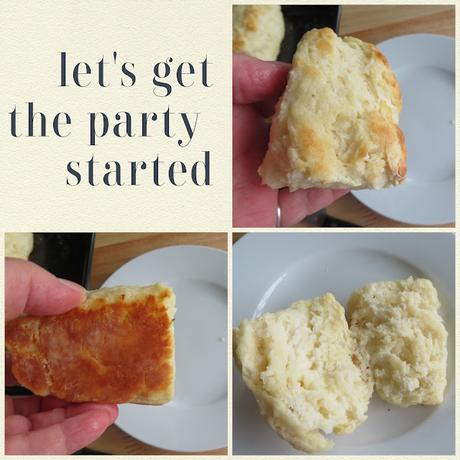 HOW TO MAKE ONE, TWO, THREE, BUTTERMILK BISCUITS
Nothing could be easier, especially if you follow all my hints and tips along the way.  You will be using cold butter and cold buttermilk, so you won't have to wait for anything to come to room temperature.
Using cold ingredients such as these in a biscuit recipe causes the biscuits to rise higher once they hit the hot oven.  I am not sure of the chemistry behind it, but I can promise you it works a charm.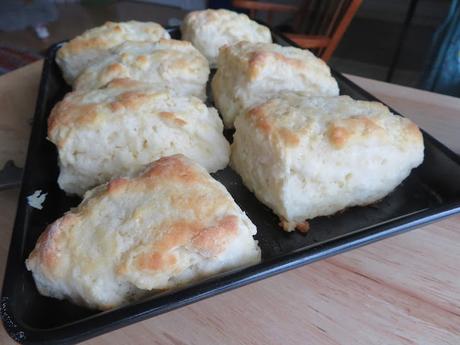 Start your oven to preheating before you even start putting the biscuits together. That way as soon as your biscuits are on the pan, you can bang them right into the oven. 
Its a very high temperature. 450*F or 230*C.
Measure your flour into the bowl and drop in your bits of cold butter. You will need to quickly cut the butter into the flour. You can either do this with a pastry blender or two round bladed knives.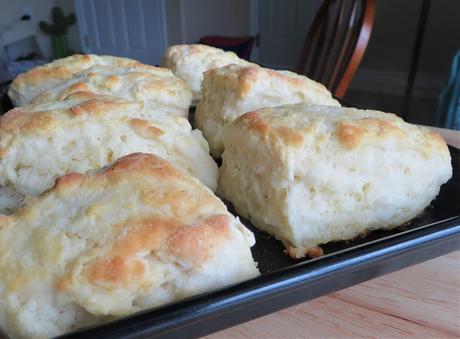 My grandmother never had anything as fancy as a pastry blender.  She just used knives and they worked perfectly.  You want to cut the cold butter in until resembles coarse meal, with some bits being larger than others. 
Work quickly so that the butter doesn't melt into the flour.
Once you have done that, its as simple as stirring in the buttermilk and forming a dough.
I use a fork to stir in the buttermilk, which again should be very cold. I add half of it all at once, give it a stir and then add the rest in areas which need it, until its all been mixed in. It should be forming a dough by then.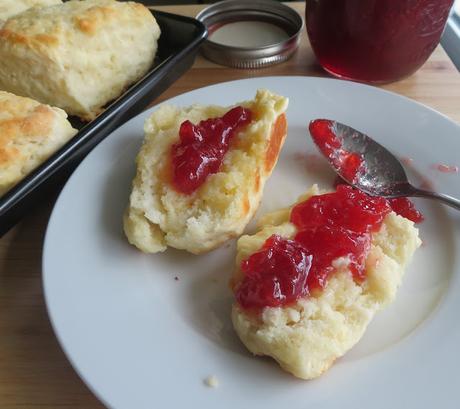 Tip it out onto a lightly floured board and knead it gently once or twice to really bring things together and then pat it out into a 4-inch by 8-inch rectangle that is roughly 1 1/2 inch thick. 
Don't overwork the dough. Overworking the dough is the number one cause of tough biscuits.
There is positively
NO
waste with these biscuits. You just shape them into the rectangle and then, using a very sharp knife and a straight up and down cutting motion (not sawing), cut the rectangle into 8 pieces.
One cut the long way and four cuts the short way gives you 8 perfect size biscuits.  In other words, cut it into quarters and then cut each quarter in half again. (Does that make sense?)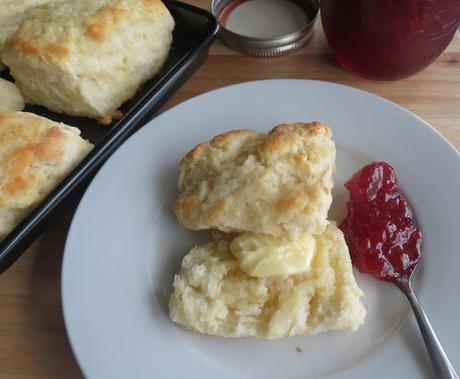 Cutting them this way means that there is no waste at all. You use all of the dough and there is no need to recut and have tougher misshaped biscuits.  
Just be sure to cut and not to tug. DON'T use a serrated knife. One sharp straight blade. If you stretch and tug on the dough when you are cutting it, you will get lopsided biscuits.  Just a warning.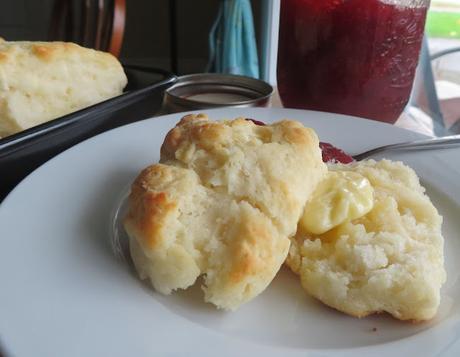 Transfer the biscuits to the baking sheet.  Closer together if you want soft sided biscuits, further apart if you want crisp edges.
Here is my secret ingredient for those crisp and buttery tops.  Add a paper thin sliver of butter to the top of each biscuit.  Easy peasy if your butter is cold and your knife sharp.
That's it. Pop them into that hot, hot oven and bake.  Ten minutes later you will be rewarded with 8 beautiful crisp edged, flaky, light and delicious buttermilk biscuits.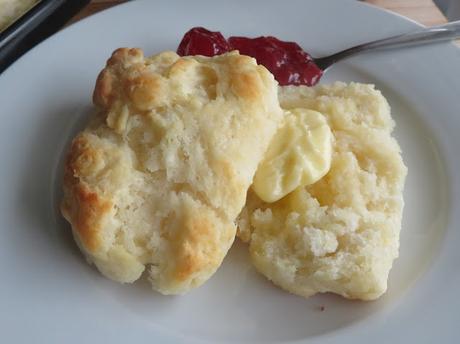 I was really naughty today and enjoyed a couple of them warm from the oven with lots of cheeky cold butter and some of my sister's strawberry jam on top.  Oh my but they tasted some good.
One, Two, Three, Buttermilk Biscuits. Light, fluffy and crazy good in no time at all.  How will you enjoy yours?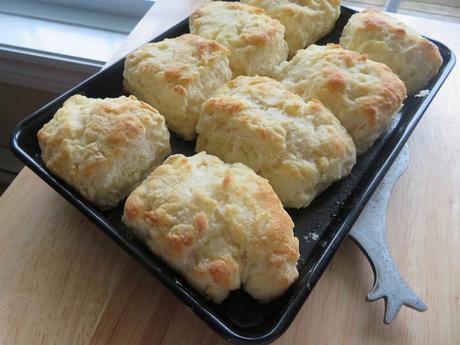 One Two Three Buttermilk Biscuits
Yield:
8 Biscuits
Author:
Marie Rayner
Prep time: 5 Min
Cook time: 10 Min
Total time: 15 Min
I like to call these one, two, three buttermilk biscuits because there are only three ingredients needed and they go together lickety split. You can mix these up, bake and be enjoying these in less than fifteen minutes! Nothing could be easier.
Ingredients
2 cups (280g) self rising flour
1/4 cup (60g) cold butter, (cut into bits) plus a bit extra
3/4 cup (180ml) cold buttermilk
Instructions
Preheat the oven to 450*F/ 230*C.  Have ready a small baking tray.
Measure the flour into a bowl. Drop the cold butter bits into the flour and cut in using two round bladed knives or a pastry blender. You want a mixture that resembles coarse meal with some large bits as well as small bits. 
Stir in the buttermilk with a fork to make a soft dough. Turn out onto a lightly floured board and knead gently a couple of turns. Pat out into a rectangle roughly 4 inches by 8 inches in size, and 1 1/2 inches thick.
Using a sharp knife cut into 8 portions. I do one down the long ways, and four across the short ways.  Try not to tug the dough.
Place, spaced apart, onto the baking sheet. Top each with a thin sliver of cold butter.
Bake for 10 minutes until golden brown and risen. Serve warm or cold. Store any leftovers in an airtight container.
Did you make this recipe?
Tag @marierayner5530 on instagram and hashtag it #TheEnglishKitchen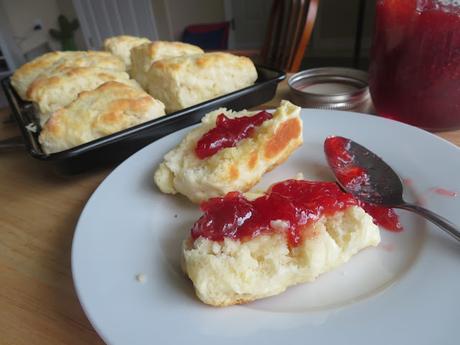 This content (written and photography) is the sole property of The English Kitchen. Any reposting or misuse is not permitted. If you are reading this elsewhere, please know that it is stolen content and you may report it to me at mariealicejoan at aol dot com. 
Follow me on Bloglovin