Out & About Blogging From The City of London...
An email arrives from elsewhere in the field. It's LW's Fiona...
We saw the Queen this morning on the Famous Square Mile walk.
I knew she and Philip were visiting Waterman's hall and having lunch at Lloyds, but didn't know when. Just as we turned down the street towards the Waterman's hall the police outside opened the barriers for her to drive away. We loitered a little, admiring the Doggetts coat and badge men. Then she emerged. Clearly visible enough for one of our number to exclaim: "Ah, she's so small!".
Then into the car and right past us. I took the photo of her car, and then, instead of trying to catch a photo of her and Philip, opted for waving instead.
She didn't wave back. But Philip was smiley and bit wavey.
Here's her car advancing towards us...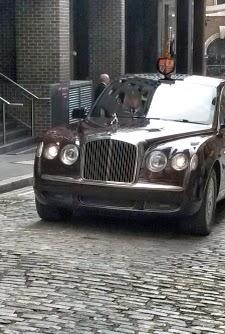 and her standard flying happily outside Waterman's Hall...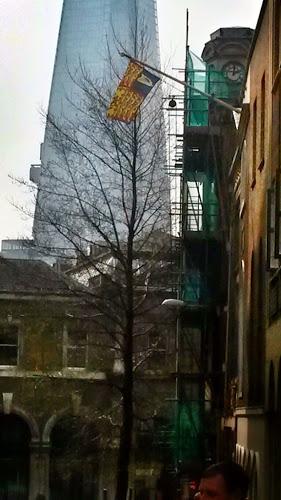 I can't guarantee it'll happen again next week.
The Famous Square Mile walk takes place every Thursday at 11:00am. Meet at Monument Tube Fish Street Hill exit.

Posted with Blogsy