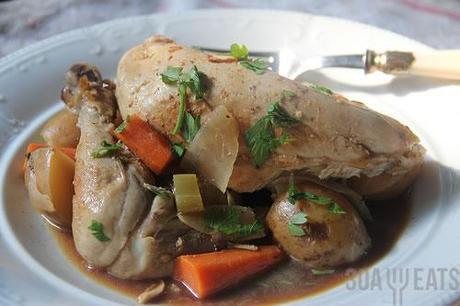 Chicken In The Pot

Most of you are aware by now, if you have been following along on 30AEATS, that I am taking part in a cookbook review for Emeril Lagasse's Sizzling Skillets and other One-Pot Wonders, to be released September 27th by Morrow Cookbooks – The Secret Ingredient.
We are already on Post #7, and you can see the first six recipes here! It has been exciting reviewing the cookbook, creating the recipes, photographing, eating and sharing with you, though my waistline begs to differ!
I was inspired to make the next dish, as I have been aching to visit Provence again. Chicken In The Pot is country – French inspired, and reminds me so much of the food I have grown to love, in a town I have grown to love, called Bonnieaux. Bonnieux is one of the many historic "hill villages" in the region. Dating back to Roman times, it rests on top of the Luberon hills casting a watchful gaze across the rest of the valley.
To me it is a magical place, and where some of the most rustic foods can be found. I really could go on for days about the wine, artisan breads, bistros and cheeses, but I will instead tell you to get out your slow cooker, and get ready to embark on your own provincial journey at home.
The chicken must be seasoned well, and fully browned in a Dutch oven before moving to the slow cooker. Did I mention you brown the chicken in bacon fat?  I used Benton's, as I have known Allan Benton for thirteen years, and he makes my favorite. I really like the helpful tips Emeril gives in his new cookbook, such as maneuvering the chicken in the pot by using the stick of a long wooden spoon in the cavity. Once the chicken is in the slow cooker, the vegetables such as new potatoes, garlic, and carrots are added along with white wine. To serve, you are to lay the chicken pieces over the vegetables, and sprinkle with parsley.
This recipe was just delicious, and with a glass of wine and some buttered French bread, I was not far from Bonnieux.
I am not at liberty to share this particular recipe, but you may purchase Sizzling Skillets and Other One-Pot Wonders here. Also, visit my post on Cajun Shrimp Stew where you will find a recipe, and leave a comment to have a chance to win the cookbook in the September 27th Giveaway!
Bon Apetit' Y'all!