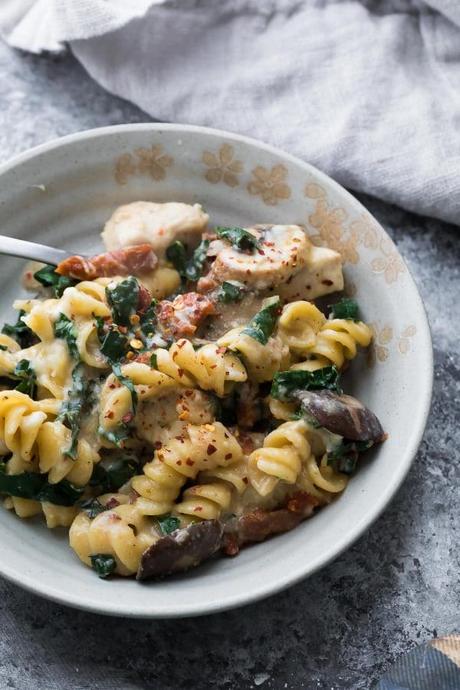 One pan Tuscan chicken pasta bake- this is going to be the easiest pasta bake of your life! The pasta, chicken and veggies all cook together in the pan, and it makes for an easy freezer meal that can be baked from frozen.
I'm kind of ridiculously excited about today's recipe because it fits perfectly in line with my 'lazy cook' attitude.
I used to feel guilty for not being the kind of person who was willing to spend hours in the kitchen making dinner. Sometimes that can be fun, but for me, only when the mood strikes.
When it comes to everyday dinner recipes, I always though pasta bakes and casseroles were off limits because you have to cook your pasta and your chicken aaaand make a sauce of some kind. That's just too many dishes.
Then I discovered Recipe Tin Eats Ultra Lazy Healthy Chicken and Broccoli Pasta Bake. I mean, it even has the world 'lazy' in the title, so it was clearly made just for me

We enjoyed Nagi's recipe three times before I decided to adapt it into this one pan Tuscan chicken pasta bake, and even made it into a freezer meal that can be baked from frozen.
Continue reading: One Pan Tuscan Chicken Pasta Bake (Freezer Meal)