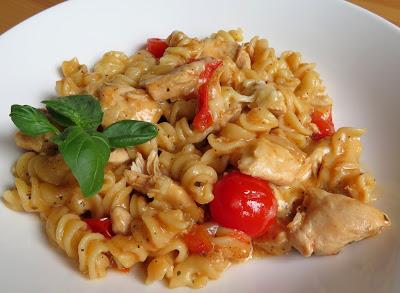 One Pan Italian Pasta.  This is another small batch recipe, created for the smaller family. This recipe makes 3 normal servings or 2 genrous servings, and I don't mind saying, it is absolutely delicious!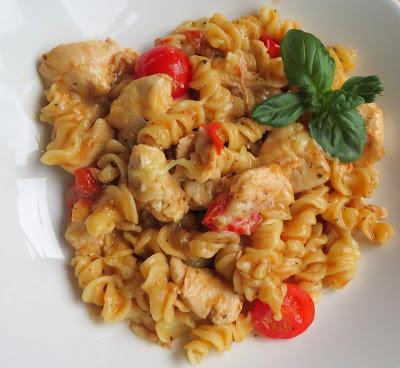 Everything cooks in the same pan.  The chicken, the pasta, the sauce, everything. EVERYTHING! No fuss, no muss!  And with not a lot of clean up afterwards either!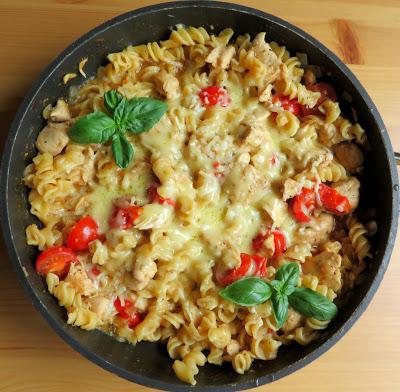 It does call for the use of dry Italian Salad Dressing mix, but not to worry, I have provided a simple substitute for that.  I appreciate that not all people will have that available to them, and indeed I no longer have it available to me either!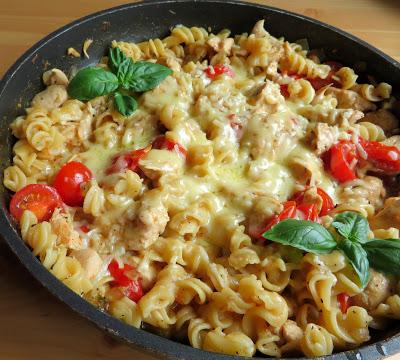 It was always one of those things I kept in my kitchen as it came in very handy.  Not just as a salad dressing either (which it was amazing as by the way), but I used to use it to season my sticky chicken and popped it into my Italian Shredded Wheat bread, which we loved.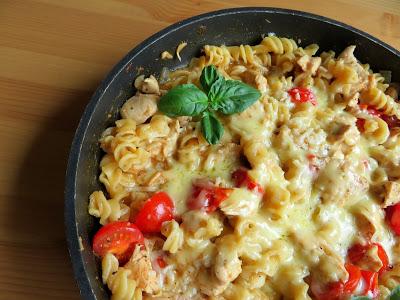 That's why I had to come up with my own version of it when it became obvious I wasn't going to be able to find it anymore.  Whew! You never know what you will miss until you can't get it anymore!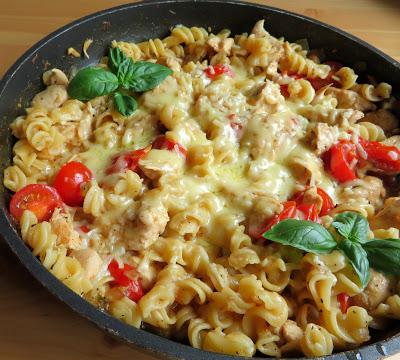 There is a quantity of fresh cherry tomatoes in this one pan supper as well. I am not a person who is overly fond of tomato skins in my pasta, so I tend to pick them out as I am eating.  Perhaps not very couth, but whatever works.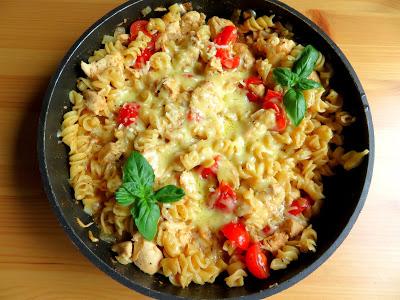 The tomatoes themselves do add a level of flavor and richness to the sauce which is quite nice.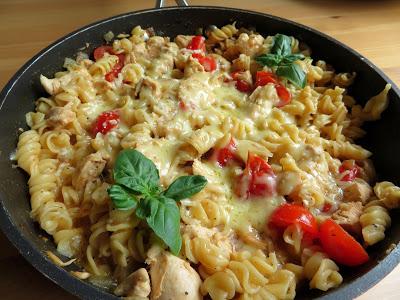 I garnished my dish with fresh basil because I happened to have some and thought it would dress it up nicely.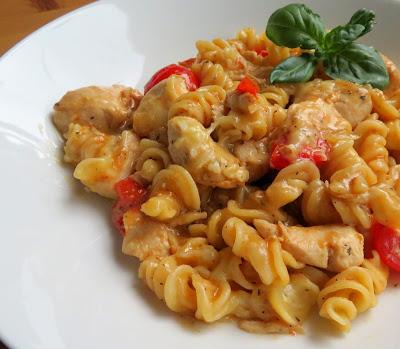 See how rich that sauce looks?  How it clings to all of the texture of that fusilli?  Fusilli was made to hug sauce  . . .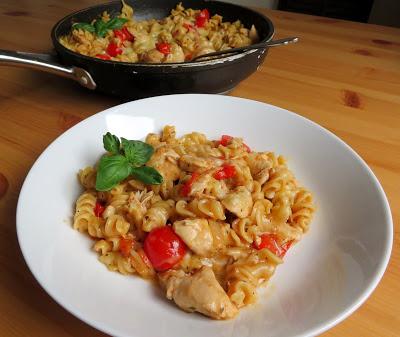 This was perfect with just the right balance of flavours.  I love that the pasta cooks right in the pan, absorbing all of those lovely flavours . . .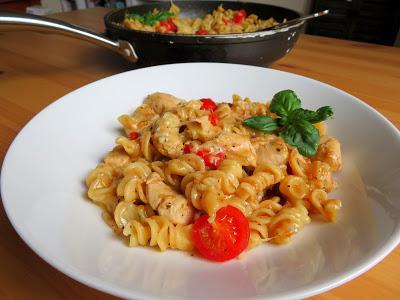 You do need to stir it every so often to make sure that it cooks evenly and doesn't catch on the bottom. If you find at the end of the cooktime the pasta isn't quite ready, but you have not a lot of liquid left, it is quite acceptable to add a bit more stock to the pan.  Just play it by ear.  If you add too much, you risk your sauce being too runny.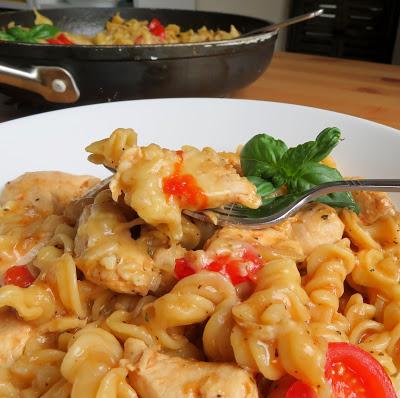 This was perfectly delicious.  I enjoyed it very much with a salad on the side and a crusty roll. (I know naughty!)
One Pan Italian Pasta
Print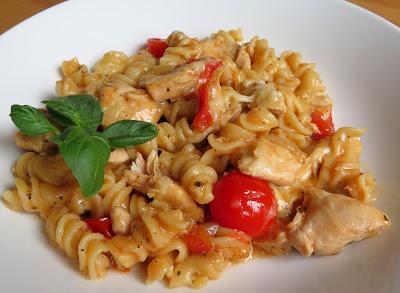 Yield:
3
Author:
Marie Rayner
A delicious one dish entree where everything cooks in the pan. No fuss, no muss and very little clean up afterwards. You can have this on the table in about half an hour or less.
Ingredients:
1 TBS olive oil
1 small onion, peeled and chopped
2 small boneless, skinless chicken breasts cubed
1/2 tsp garlic powder
170g dry fusilli pasta (6 ounces)
480ml chicken stock (2 cups)
1/2 envelope of dry Italian dressing mix (see below to make your own) (1 TBS)
1/2 cup of cherry tomatoes, halved
3 TBS coarsely grated parmesan cheese
65g grated mozzarella cheese
1/2 tsp dry basil
salt and black pepper to taste
Instructions:
Heat the oil in a large skillet.  Add the onion and saute until they begin to soften without colouring.  Stir in the chicken and garlic powder.  Cook and stir until golden.
Add the pasta, broth, dressing mix and tomatoes.  Bring to the boil and cook for 10 minutes, until the pasta is al dente and all of the broth has evaporated.  Stir frequently to make sure the pasta is not sticking to the bottom of the pan. If you need to add a bit more water or broth  to achieve the perfect level of doneness for the pasta, that's okay. Just don't add too much.  Taste and season with salt and black pepper if desired.  Sprinkle with both cheeses and the dry basil. Cover and let sit for about 5 to 6 minutes to melt the cheese.  Serve hot.
notes:
To make your own dry Italian Salad Dressing mix:  Mix together 1 TBS garlic powder, 1 TBS onion powder, 2 TBS dry oregano, 1 TBS sugar, 1 tsp black pepper, 1/4 tsp dried thyme, 1 tsp dry basil, 1 TBS dry parsley, 1/4 tsp celery seed, 2 TBS salt, 1/2 tsp dehydrated minced garlic, 1/4 tsp red pepper flakes.  Store in an airtight container for up to 6 months. To make dressing measure 2 TBS mix into a jar along with 60ml(1/4 cup) vinegar, 160ml oil (2/3 cup), and  2 TBS of water.  Cover with a lid and shake to combine.  For this recipe you will need 1 TBS of this mix.
Did you make this recipe?
Tag @marierayner5530 on instagram and hashtag it #EnglishKitchenCreated using
The Recipes Generator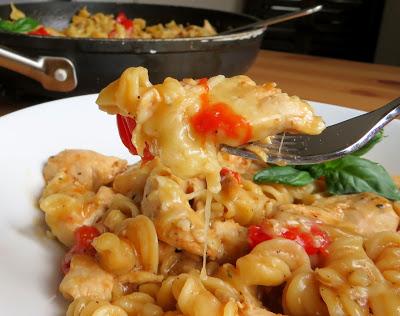 Just look at the ooze of the cheese.  Bear in mind as well that for the larger family, you can very easily double the ingredients It will cook in just about the same time.  Dinner on the able, delicious and perfectly cooked in about 15 to 20 minutes. You can't go wrong! 

Follow my blog with Bloglovin