What special thing did King Richard III do? Leicester had my attention for one day, I didn't want to leave no stone unturned! Keeping my head in the game I boarded a train to a city that was unknown to me. A sense of Coventry, you said? Is Leicester already bringing the shadiness out in me?! Leicester had me on the hunt for a 'Golden Mile' that served to me my first Dosa!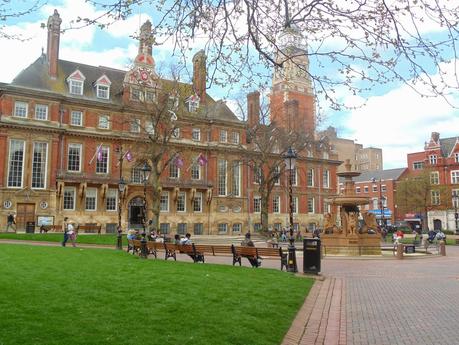 Blessed with pleasant blue skies I relished my chance to get to know Leicester to the best of my ability, I sort of knew what I wanted to see first! Without a shred of doubt Leicester straight up served urban Realness with its multi-cultured scene I could tell that this Leicestershire city would show me an edge of some sort! Choosing Leicester's Town Hall Square had to be done first, I had previously seen an impression whilst researching for my day trip. The architecture acted as stark contrast comparing to what greeted me from the railway station. Leicester's Town Hall Square acted as a pocket of calm within the moving streets of the city vibe, I didn't take much time to take in the moment because I had things to do! Leicester showed me that its a city of many personalities, I was being schooled! OK, I took a seat within the round by the fountain to think where I would go to next?! Let's go L!
Opened in 1876 Leicester's Town Hall was fashioned in the style of Queen Anne, presumably passing a level of Royal Highness?! The weather wasn't being shady in any respect, I just needed to get out of town for a little bit so within a two hour reach I chose Leicester, another logistical compromise. We all take chances, I know my sense did the right thing to choose Leicester! The Town Hall Square represented a feeling of mild sophistication due to the weather bringing people around the fountain and onto the surrounding green, I approved! Feeling hungry I didn't make a great first choice with that fast food choice, I was really hoping for a better tasting second chance. Making my way around the borders of the main shopping area of Leicester I approved of the nearby Horsefiar Street and Market Street, believe me I've seen some colourful quarters! Leicester had front, getting on with its business I wasn't about to question that flow! Leicester has its own game B!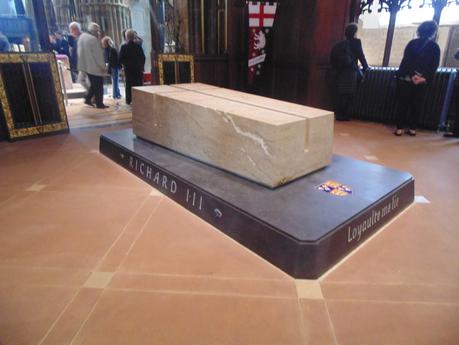 A unknown king was one of the main reasons I chose to discover Leicester, what did King Richard III do that was so controversial?! Found in a car park, this royal rebel has become something of a public figure long after his death in 1485. Making the obligatory visit to somewhere with a religious undertone I stood at the foot of the late kings tomb, his presence caused enough of a stir when I visited Leicester's provincial cathedral with all the tourists wanting a photo of Rich's royal resting place! I wanted those people out of my way! I had my own business to take of! Respecting the environment I took my photos and moved on forth, I just don't like it when people try to kill my blogging vibe with their dithering, go sit down! O, did somebody mention scandal? For a place of worship that King Richard III was causing a stir for those iPad snapping few! Yes, I was out of there before you could of said 'Eucharist!'
It only took me a quick second to be acquainted with the Lanes, a cute combination of aged streets that are only a stones through from Leicester's Cathedral. A surge of development was going on around that rested King for I could only imagine the ripple effect the resurgence of Richard III has brought a wave of visitors from fare and wide to this Leicestershire city?! Stopping by the Globe public house for a pint of cider, I was greeted by a lovely pub that reminded me of the Kaiser Friedrich in Bremen's Schnoor district! My pint was freshly pulled but the Globe pub had been standing since 1720! Leicester, I see the Lanes bringing something back for your city! Moving away from that legendary flare of Leicester's past I found myself within the crazy of Gallowtree Gate, fronted by so many people I took a left into the Highcross Centre but turned back round to re-enter the bustling crowd. I was surrounded within Realness, trading the city center I wanted to spice it up!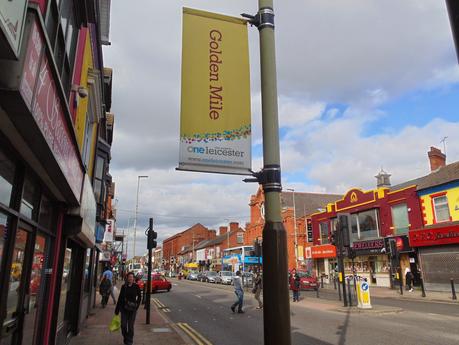 Here's where the Coventry connection rings true for this part of Leicester. Making my way closer to Belgrave Road, the Golden Mile served elements of Coventry's Foleshill Road with the Asian fusion capturing my attention this time in Leicester! Belgrave Road resembled a normal busy street, meeting in the middle but away from the city center I acknowledged the alternative Indian vibe. Several sweet centres passed me as I got to know Leicester's Golden Mile, the colouful Asian fashion boutiques displayed a continual display of beautiful saris. Looking for some sustenance I wasn't prepared to convert to vegetarianism, going against the grain I ordered a Chicken Masala Dosa at Chennai Dosa. I had no idea what I had ordered but with a bit of luck my Indian style spicy pancake tasted like a dream! Getting my sweet fix was key, don't quote me on the names of those sweets but they were great!
I felt like I walked more than one mile along Belgrave Road, I decided to head back for the city to catch my Birmingham bound train but found something else to grab my attention. Taking an unplanned left to find a parade of shops off Belgrave Road I found an Indian style discount shop that sold everything any good Hindu household needed. My sense were guided straight to the incense in the shop that I could smell, I was hooked by the aroma of the box so I purchased two boxes without hesitation! Back to the city I had to run for the loo, stumbling upon the Rainbow and Dove I made the best of a situation by having a pint. Maybe Leicester could be a contender for a night out sometime soon? Helsinki might be a goer with the Rainbow and Dove in the mix?! Leicester's Town Hall Square looked just right in the flesh, I was even impressed by the Realness served to me on Granby Street! King Richard III, keep making those coins for Leicester! That's it, I've got to go!
Leicester serves 'Royal Highness!' 
Joseph Harrison