Kalonji (Blackseed) has been proven for health benefits, medicinal properties, and even cosmetics.
I had shared the overall health benefits of Kalonji. Now, Nature sure has come up with Kalonji tablets besides their Kalonji Oil which we should include in our daily diet to achieve a healthy lifestyle.
So, for all those who don't have much time to use or apply Kalonji oil; they can conveniently opt for Kalonji tablets which are equally beneficial.
One Kalonji Tablet: More than 100 Health Benefits
Benefits of Kalonji are mentioned in many ancient scriptures, including Ayurveda and believed to be useful in more than 100 ailments.
Let me just give you a short brief of its advantages:
Boosts immunity, stamina, and energy.
It regulates blood pressure and heart health.
It helps in managing diabetes.
Strengthens joints and bones.
Rejuvenates body and mind.
Boosts digestive health.
Stimulates brain health.
Useful in sleep disorders.
Besides, it is also beneficial for skin and hair problems.
Skin: Act as an anti-aging and fights common skin problems like acne, blemishes, eczema, and psoriasis due to its antimicrobial and anti-inflammatory properties.
Hair: Due to its antioxidant properties, Kalonji helps in reducing hair fall, prevents premature graying and promotes hair growth.

Pin It
Nature Sure Premium Kalonji Blackseed Tablets for Men and Women
Nature sure Kalonji tablets are extracted from pure, top-grade Nigella sativa seeds and its daily use will help strengthen your body from the inside, protect it against several health risks, provide antioxidants and purify the blood.
A top-quality natural & vegetarian product.
Approved by FSSAI and GMP & ISO-certified.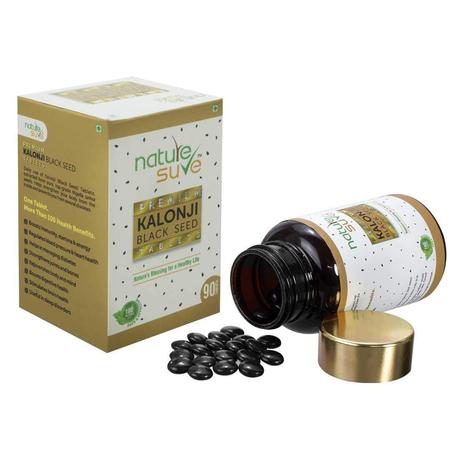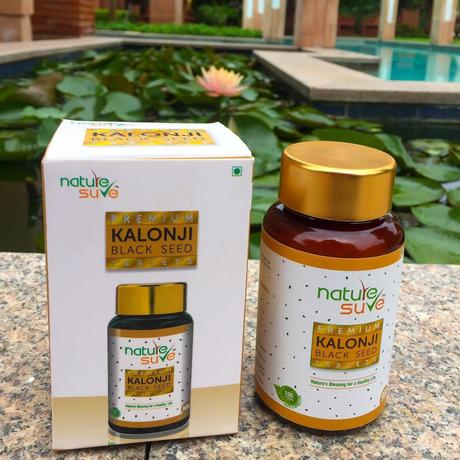 Dosage:
Each tablet contains 300mg Kalonji seed extract.  Take two tablets with water twice or three times a day, or as directed by your physician.
The bottle contains 90 tablets at the price of Rs395/- which is easily available online.
*Note: Kindly consult your physician before consumption of these tablets. Pregnant women and lactating mothers should avoid taking these tablets.
Final Verdict
I was already using Kalonji oil, but not daily, now I can have our daily dose of Kalonji in the form of a convenient tablet.
It's been a few weeks we both are taking it and we could certainly feel the difference. I use to feel lethargic and exhausted soon, but now feel much better.
Just as any supplement is good for health, the same way these kalonji tablets. So, I would like to recommend you add this to your daily diet.
Results may vary from person to person depending upon diet and lifestyle.
It is safe, natural, pure and blessing for a good life!
---
You May Also Like To Read:
Use NEUD Natural Hair Inhibitor to get freedom from Unwanted body hair
Have a peaceful sleep with Nature Sure SOMNI Natural Sleep Aid Tablets
Spirulina: A Natural Superfood that will boost your health
---
*Disclosure: This post contains affiliate links and I may receive a small commission if you
 purchase through them at no extra cost to you.


*Disclaimer–

The content in this post is purely meant for educational purposes only and not meant to be a replacement for a doctor consultation, nor is it a medical recommendation or prescription of treatment.